Why You Need To Be Sending Save The Date Cards For Your Wedding
Just got engaged? Congratulations!

And what's the very first step you're taking towards planning your wedding?
It's Getting A Date Set For Your Wedding Day
Life's busy. People get busy. And there are some individuals you just must have with you on your wedding day. Maybe they don't live near you, maybe they even live abroad.

One thing's for sure. The moment you've got your date set is the moment you need to start sending out save the date cards for your wedding, so that you scoop up all the people who absolutely, positively have to share your big day with you.

So let's look at the options.

You could announce your wedding date on your Facebook page. Well, it's inexpensive for sure but there are a few downsides as well (not everyone is on Facebook, somebody might miss your post, somebody might be miffed they aren't invited .... it also lacks a certain style in my opinion).

You could e mail everybody. Again, that's inexpensive and there are some pretty e cards around but again, there's no way of ensuring that your e mail has been received, you may not have an up to date address and you may - heaven forbid - end up in the spam folder!

The stylish and efficient way of announcing your wedding date?
Sending A Save The Date Wedding Card
That way, you set the tone of your wedding day right from the very beginning. You can choose a classy card that fits in with the mood of the day you want to create. It doesn't have to match your wedding stationery entirely - you probably haven't decided on that anyway and in this case speed is of the essence - but it does alert your friends and family to the Big Day in an elegant way, that they will look on favourably.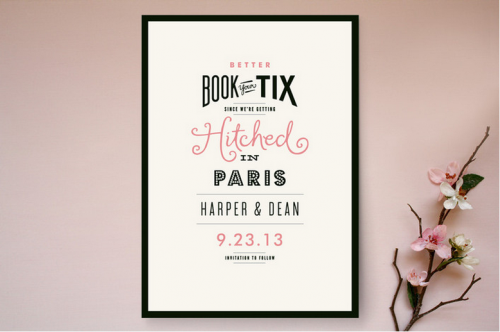 I think you'll love the designs - whether you want to personalise the card with a photograph of the pair of you as a couple, whether you want an abstract design or something that reflects where you got engaged.

What sort of Save The Date card will YOU be choosing?