Make Your Wedding App: Inspiration, Planning and DIY Projects
Produced exclusively for the iPad and iPhone, this brand new Make Your Wedding app for the tech savvy has a lot to offer today's wedding planning couples.

There are 30 original DIY projects where you can create meaningful, handcrafted and personal invites, decorations and gifts. 20 HD videos and photographic step-by-steps make the projects easy to follow. You will also find vibrant photographs that bring your wedding planning options to life and detailed guides help you avoid overload and stay organized.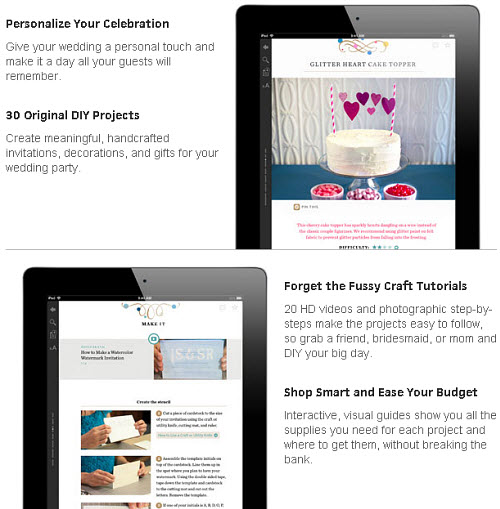 Whether your wedding is rustic, vintage, or modern, you'll find party ideas, planning advice and all sorts of guides to help you create your dream wedding.

This cool app is headed up by former editor for Martha Stewart Weddings. Check it out here.