Woo Whoooo -- WeddingWoo Makes a Brilliant Debut!
Being engaged and not making a wedding website is like not owning a cell phone... Read -- living in the Dark Ages. But with wedding websites being a dime a dozen, how do you choose? Well, WeddingWoo has recently launched and this easy-to-use interface makes building out a website that sophisticated and suitable, dare we say it..., easy!



Some features of WeddingWoo include:



Painless, instant setup


Modern desing


Worry-free, fully managed hosting


No coding


Customization tools


Built-in dashboard to manage content


Unlimited bandwidth


Unlimited photos


Customer support


Simple pricing





WeddingWoo offers a fresh, new way to build a beautiful and simple wedding website. The design features a gorgeous full page background that enables couples to share their special day in a visually modern way. The focus is simply to enable a far greater set of customization options for couples to build a personable website. The layout, colors and fonts give couples countless possibilities to fully personalize their page!

The site was built out to serve as a simple and intuitive tool to effortlessly design a wedding website that doesn't require design or coding skills (eek!) Every design change is immediately previewed for the creator taking the guess work out of important creative decisions. In addition, an elegant, easy-to-use dashboard helps couples quickly publish their wedding information: photos, stories, registries, wedding party members, wedding day information and more.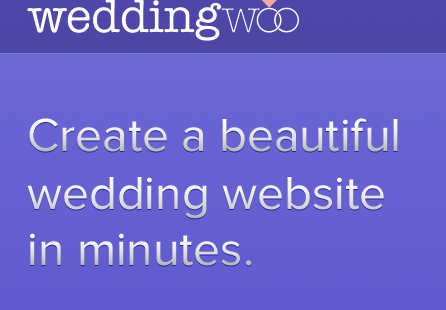 WeddingWoo works with a one-time, flat fee based on duration the site is live. You can currently participate in a 7 day free trial to take WeddingWoo out for a spin.