Dessy Twist Wrap Bridesmaid Dress

As so many of you are looking around for the perfect bridesmaid dress I wanted to remind you of one of our favorites the Twist Wrap Bridesmaid Dress. It's the convertible dress! Change the wrap to change the look. This versatile gown is a chance to design your own dress! Available in cocktail length or full length, your bridesmaid dresses can match or each can create her own style.
Check out the video above to see the twist dress in action.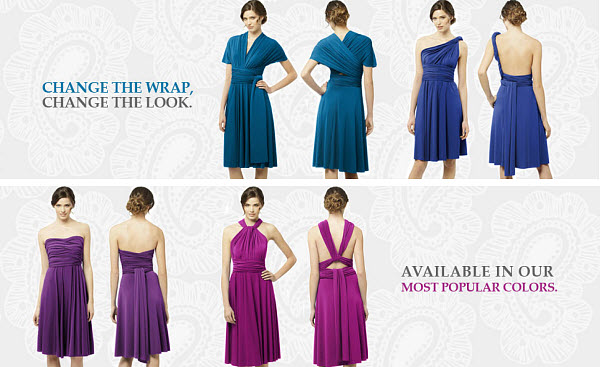 Your bridesmaids could even change their style part way through the day. Constructed in luxurious, hand washable matte jersey (dress is un-lined), the Twist dress packs well and is ideal for destination weddings or even your honeymoon. You could have a different look every night of your trip. The Twist dress can be wrapped in countless ways from demure to daring. From a classic Grecian column to a sexy strapless style, get many looks from the same dress. View the wrap dresses to see all the colors available.