Get your WEDDING PARTY on!
There's a new meaning to "Wedding Party," but don't worry - you'll count it among your besties soon enough...

Wedding Party is a new app that you can personalize to allow your beloved wedding guests to share pictures that they've snapped on your Big Day with a private audience. Guests can upload pictures and write anecdotes on a closed social site that will allow the bride, groom and their loved ones to relive all of the happiness of the wedding festivities for years to come!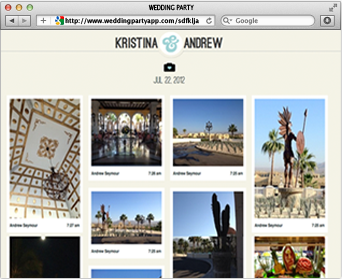 Wedding Party is a fun, interactive medium that acts as a photographic and written diary of all of your guests ceremony and reception experiences. Getting your Wedding Party account up and running is so easy, even the ring bearer can do it! Three simple, straight forward steps and you're up and running. Once you're personalized app is ready you can invite friends and family to participate... Then the fun starts!  Your beloved guests point, click, document and then share. Wedding Party features include:



Batch Photo Upload


Wedding Timeline


Guest Interaction (with the option to like and comment)


Quick and Easy set up for your guests!


Digital Guest Book


Personalized Wedding App Cover Page


Photos Upload to the Internet for Easy Accessibility


High Quality Photos


The Option to Upload Photos to the Facebook


Connect your App to your Wedding Website


This and more.... All for FREE  



From the moment the couple gets engaged to the wedding day, Wedding Party helps capture every memory and document the special moments from the eyes of the couple and their guests. Couples that sign up with Wedding Party will be able to treasure photos from every step of their wedding journey, and guests will be able to interact and share in the couple's excitement in an entirely unique way. Wedding Party is a free app, and is available for both Apple and Android devices.

For more info, check out Wedding Party!