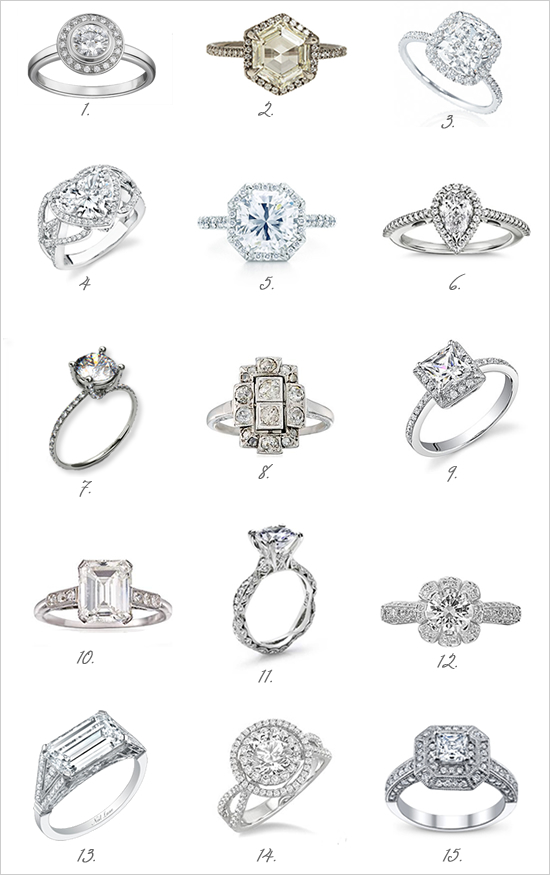 Everyone knows the old saying, "First comes love, then comes marriage..." - but this mantra fails to include an important, and exciting, tradition. The Ring.
Diamonds are not the only precious stone that can make up a breathtaking engagement ring. Emeralds, Sapphires, Rubies, colored and uncut diamonds are consistently growing in popularity for their uniqueness and colorful qualities. The stone is #1, but cut is just as important to your bling ring.





We've taken the guesswork out of stone cuts, by giving a quick 411 breakdown on what differentiates Asscher from "oh no." See below for the inside scoop on what makes the cut!
Princess - Traditional square cut, princess is multi-faceted to reflect a maxmium spectrum of colored light.
Oval - It's one of the toughest cuts to execute because of the precision.
Emerald - A clean cut rectangle stone with facets that run horizontally and vertically to create a rectangle within a rectangle pattern.
Marquise - An oval tapered at each end for a retro, regal look. Marquise diamonds are known to give the illusion of greater size - so if you're looking for the highest standard of size, this is your cut!
Asscher - The perfect combination of cushion cut and emerald cut. The Asscher is a rectangular stone with rounded edges. Asscher is one of the fastest growing cuts - known for its radiance and unique look.
Radiant - Similar to an Asscher but made of 4 mirrored facets giving the illusion of a star pattern from the center of the stone.
Pear - An intricate teardrop shape with a large, flat surfaced face and clean point.
Cushion - A square diamond with blunted corners and a sunburst cut pattern from the center.
Heart - It's a heart! Not much more to say about that.
Round - Classic... cyclical in its inner cut and, like the princess, one of the most radiant options for precious and semi-precious stones.
Happy (ring) hunting!