Do You Want An On-Trend Wedding Day?
Elegant. Sophisticated. With a timeless style.

That's what you're aiming to look like in your wedding dress on your wedding day. (Well, unless you're getting married on a beach in a white bikini which is fine, but that's not the story here.)

One sure way to make sure you don't achieve that classic look is by making sure you're on-trend on your wedding day. Because if anything is going to date your look and wedding photographs fast, it's taking current mainstream fashion and working that into your bridal gown.

Back in the 1980s Dynasty was the must-watch show on TV. It was all oversized shoulder pads, big hair and power dressing as Alexis and Crystal Carrington battled it out for supremacy. The clothes made for great TV and were a big part of the soap. But watch now and you'll be amused at some of the details.
The Classic Wedding Look Isn't About Extremes
Right now peplums are having a bit of a moment. But a wedding dress with a peplum? I don't think so.

Okay, you can give a nod to wedding trends - which is a bit different. Lace is really popular with brides - thanks to the influence of the former Kate Middleton, now The Duchess of Cambridge.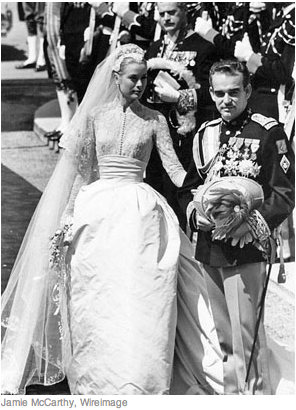 Grace Kelly marries Prince Rainier of Monaco in 1956
Which brings me on to my next point. Kate Middleton's dress was a complete classic. Feminine, pretty and chic - but with echoes of the wedding dress Grace Kelly wore to her wedding to marry Prince Rainier of Monaco back in the 1950's. Just goes to show that Grace Kelly got it so right - as did Kate over 50 years later.
In fact, look at many members of the British Royal Family and most of their dresses could be worn today and still look perfect.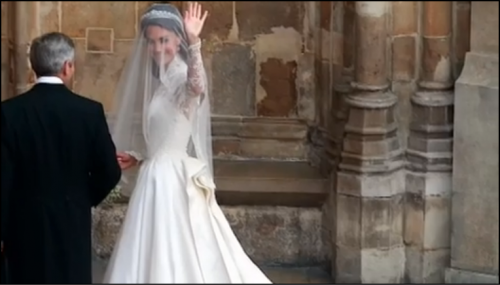 Kate Middleton on her wedding day to Prince William
It's because they've had the confidence to dress simply. Take the elements of a classic wedding dress - length, sleeves, bodice and fabric - and using those rules, work out your style. Wearing a mini-dress might be fun - but it's going to scream 'dated' in a very short while.
If you really can't do the long, white classic wedding dress thing then consider vintage wedding style. You could have a ballerina length wedding dress. A 1920's or 1930's frock. Styles like these are timeless.
The same rules apply to your hair. Don't have anything too 'of the moment'. A classic updo will always look good - or a half-up, half-down hairstyle. (The bridegroom should be thinking along the same lines too. Unless he wants his kids to laugh at his wedding photos, he'd do best to adopt a reasonably timeless short style.)
Dress, hair - which brings us onto shoes. Nothing too cutting edge fashion here. There are some classic white ivory wedding shoes about (although of course there's no rule to say you have to have ivory - a colour peeking out from your dress can look fabulous). So forget the killer stilettos, the platforms, the wedges. You don't want anything that's too definitely 'now'.
Okay styles change - but classic never dates.
Featured image at top via awkwardfamilyphotos.com