A DIY wedding guestbook (and you can frame it afterwards)
You're going to want to keep a record of the memory of your wedding day for as long as you possibly can. Of course, you'll be planning to take photographs and probably a video too - but a wedding guestbook is also key. You're going to want to remember who came to your wedding and it's also lovely to have their good wishes and thoughts on the day.
A Wedding Guestbook That Will Decorate Your Home
Of course, you can always go the very traditional route and have a formal book for guests to sign. But I rather like the idea of having something that you can put on show afterwards - frame and have on the wall of your house so that when you walk by you can smile as a memory of your big day comes to mind.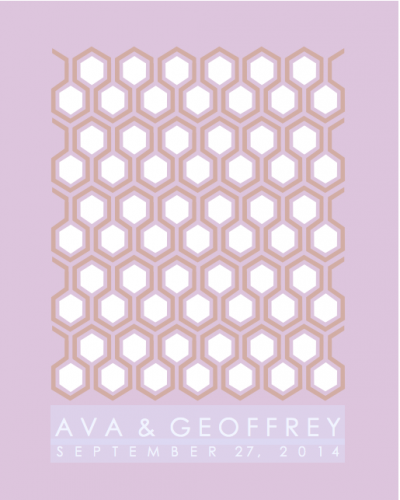 Personalise with the bride and groom's names at the bottom of the poster
That's why I love this clever idea for a DIY wedding guestbook poster which I found on Martha Stewart Weddings. It has a honeycomb design - you just leave the poster out on a table at your wedding reception along with pens and your guests write their names in each of the sections.
Afterwards you can gather up the poster and keep it safe in a glass frame so you've got it for the rest of your life. (And let's face it, a book would just sit on your bookshelf and not get looked at too often.)
It's really easy to make and very professional-looking. You just download the template onto good quality paper and print out using your computer printer in whatever colours suit your wedding colour theme.
Here are the template and full instructions for creating this DIY wedding guestbook. A great project for a rainy weekend.
By the way, if you've any DIY wedding ideas you'd like to share with us, please leave a comment below. We'd love to share them with our brides!