Five Ideas For Wedding Centrepieces
A gasp of admiration.

That's what you want your guests to give when they first walk into your wedding reception and see the tables all laid out.

It doesn't really matter what kind of style wedding you're having. You might be having a chic city affair. A countryside rustic event. Or a DIY wedding in a marquee.
You just want your wedding tables to have the wow factor
And part of that is having wedding centrepieces that set off your theme and look inviting.
You don't have to blow your budget either - wedding centrepieces are an item you can diy in advance.
Having a summer wedding? Visit a garden centre and get some pots of Marguerite daisies (you can buy them for about £5 a pop). Wrap coloured paper around the pot, tie with a ribbon and place in the middle of your tables. Very pretty and very simple.

At a winter wedding, put lanterns on each table with candles inside and don't worry about flowers.
At a countrystyle rustic wedding, put single blooms into simple glass stem vases (you can buy these very cheaply from charity shops and junk shops). Mismatch your flowers - just keep to a colour palette - all whites, pastels or brights
Just fill small jam jars with a line of pink peonies running along the length of the table.
Buy some colourful feathers in a haberdashery department (or online) and arrange on each table in containers. Peacock feathers can look spectacular.
Just remember to keep the height of your wedding table centrepieces low so that your guests can see over the top to talk to one another. A large ornate decoration may look fantastic, but it's likely to prevent communication and chatting across the table - which you don't want. You want laughter, conversation and discussions - at high volume!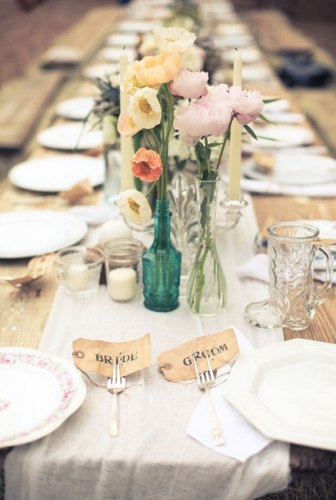 These centrepieces are perfect for a rustic wedding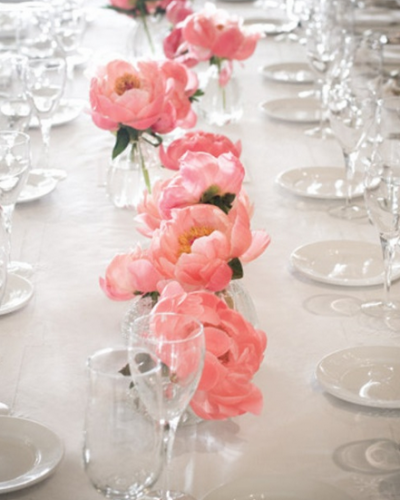 Pink peonies in wineglasses run the length of the table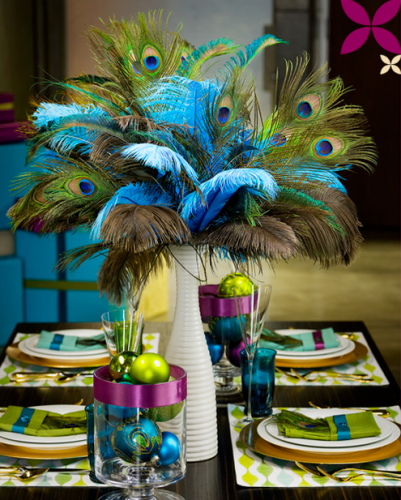 Peacock feathers make a simple centrepiece
Photo credits: Rustic wedding centrepiece via Pinterest, pink peonies via Martha Stewart weddings, peacock feather centrepiece via Pinterest, main featured image via Pinterest.