Ideas For A Wedding In A Garden
Today I'm going to talk some more about weddings in a garden. Yesterday's blog post was about venues and the practicalities of having an open air ceremony somewhere leafy and green.
But now we're going to discuss accessories, theming and the look of your garden wedding.
First off, I'd say that your stationery needs to set the tone right from the beginning. You might be buying wedding stationery off the peg, having it created for you or you might be diy-ing your own invitations.
I love this sunflower inspired wedding stationery from Cherry Gorgeous - if you're having a wedding in June or July it would be perfect (and sunflowers are very easy wedding flowers to DIY yourself).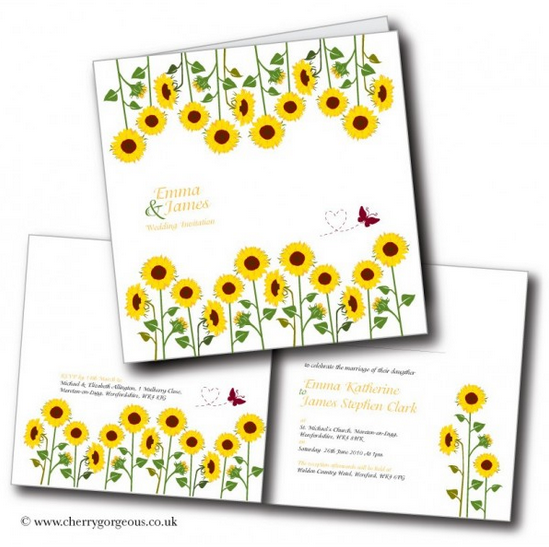 And here are some plantable paper invitations. How eco friendly is that?
Now what about the way you and your bridesmaids are going to look? Florals are big this season and putting your flowergirls in blooming dresses could look wonderful - then they really are flowergirls!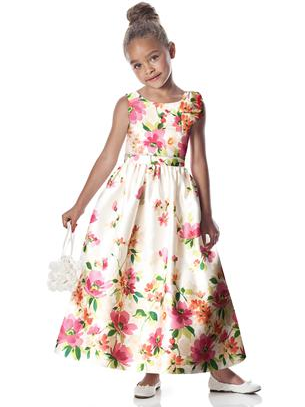 How about the way you are going to 'style' your wedding reception? This starts from when your guests arrive at where the ceremony is going to take place. Topiary trees placed along a pathway (and tied with ribbon) can look wonderful - you could use them just outside the church and then have someone whisk them off to the wedding reception before everybody arrives. (You'll also be able to take them home afterwards as a reminder of your big day.)
You could have the arch of the church decorated which would look stunning in photographs.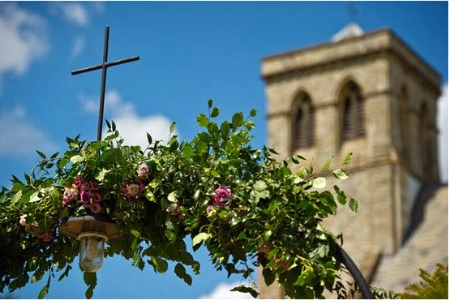 In the church you could decorate the pew ends with flowers (and if they are in their own containers, again these could be moved onto the wedding reception). I particularly like these blue hydrangeas in zinc holders - an idea I found on Martha Stewart weddings. Really easy to make but they look so chic.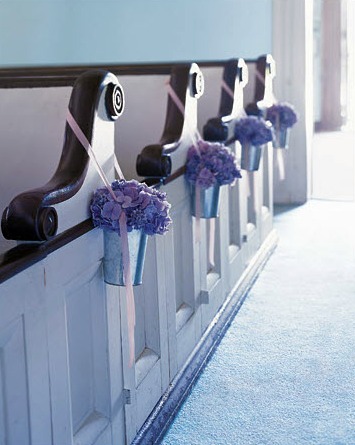 Remember if your reception spills out into a garden and it's a balmy summer evening, then that's when lanterns and fairy lights come into their own. You could hire lanterns, place a large white church candle inside and have them flickering away as the night goes on. What could look more romantic.
If there are trees nearby, hang fairylights (you'll need to talk to the venue about a power source). Some lights are battery operated, so they'll just last for the evening you need them.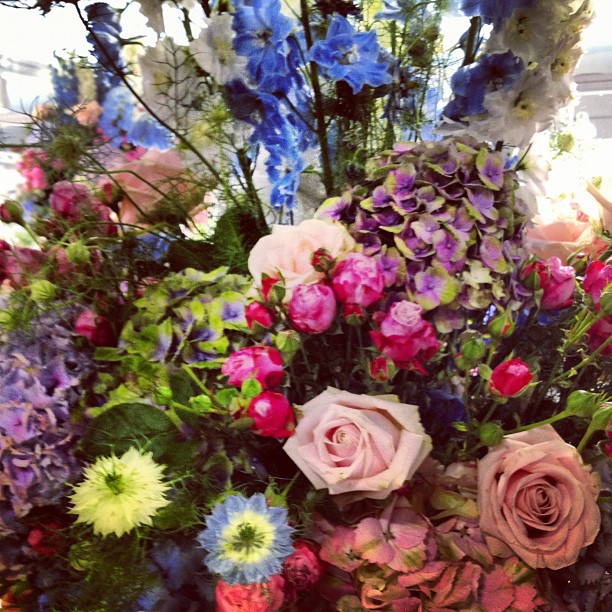 What about the way you dress your wedding tables? At a garden wedding the mood can either be splendid and formal - I'm thinking impressive floral displays with cascading roses, ivy and big blooms like delphiniums and peonies. Alternatively you could go for a more rustic style and have simple posies of wild flowers or roses in country bunches displayed in simple containers - even jam jars can look amazing in the right setting. I also love the idea of these wildflower seed packet favours.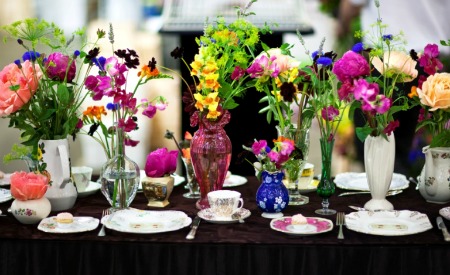 Really, if you're having a garden style of wedding then a floral theme is pretty much key. Think about the sort of flowers you like - if you prefer wild flowers then that's fine too. It's lovely, relaxed, timeless and a classic sort of a look and on a beautiful summer day a garden wedding is just perfect!
Photo credits: Floral flowergirl dress by Dessy. Decorated wedding arch by GLily. Blue hydrangeas image by Martha Stewart weddings. Featured image of organza covered seed favours by Wildflower Favours.