Tips For Dealing With Hot Weather On Your Wedding Day
As the song goes, we're 'having a heatwave' in the UK right now and it looks set to continue.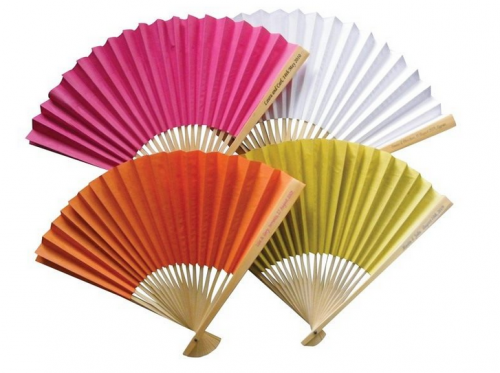 Personalised paper fans make ideal wedding favours in hot weather
Whilst you may have hoped for bright blue skies and a sunny day for your wedding day, a really hot day can be exhausting. So how can you make sure that your wedding guests stay cool and relaxed, rather than tired and weary in the heat?
Make sure that plenty of soft drinks are available to your guests. Jugs of iced water are perfectly acceptable - don't just offer fizzy drinks and fruit juices. Water is very thirst quenching and cooling. Keep the soft drinks flowing - you may find people prefer non-alcoholic drinks in hot weather in preference to drinking wine.
If the forecast is hot for your wedding day, consider offering small bottles of iced mineral water to guests when they leave the ceremony.
In the ladies (and the gents) you could leave out sunscreen, small packets of tissues and deodorant sprays
If you're serving pre-reception drinks outside, make sure there's some shade available. Either the shadows cast by trees or ask your venue to put up some parasols.
A bride with a bright red face is so not a good look, so buy yourself a pretty wedding parasol so you know you'll always be shaded from the sun's fierce rays when you're chatting to your guests.
Your marquee may be hot inside, so ask the venue to raise all the sides so that a breeze flows through. You could also ask for electric fans.
Remember that decorative flowers and table centres will need more water in hot weather, so make sure that whoever is co-ordinating the details keeps arrangements sprayed with a mister and the water is topped up.
If your reception is in a building, ask them to crank up the air-conditioning. Blinds should be drawn in strategic places so no guests are sitting in hot patches of sunlight. If there's no air-conditioning, all the windows need to be opened and you should have some electric fans in place.
If you're having dancing later, ask if you can have a dancefloor erected outside rather than inside. Dancing under the stars is so romantic.
Buy some cheap paper fans for your female guests and leave them in a basket at the entrance to your reception. Or if you haven't organised wedding favours, you could put one at every place setting and have them personalised.
If you have children at your wedding, make sure there's a chill-out room where the young ones can watch a dvd in the cool and be entertained. Children running outside in the heat get tired and grumpy quickly.
Did you get married during a heatwave? Have you any tips to add to these?
Image credits: Main image via Style Me Pretty. Paper fans by Fantastica.