Say No to That Hideous Bridesmaid Dress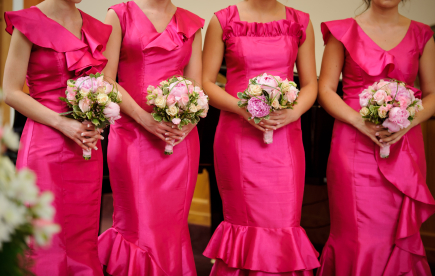 Anyone who has seen the movie "27 Dresses" with actress Katherine Heigl will remember how she tried to convince the wedding writer played by actor James Marsden what it means to be a good bridesmaid and that some of the bridesmaid dresses in her closet "would look good on everybody."

Brides while this is your day, you can't forget your bridesmaids. Your closest friends and family members have accepted to be part of your day as a bridesmaid so it is important to think of them when choosing the right bridesmaid dress.

Here are some tips to make the decision a little easier:






Pick at least five options with different styles for bridesmaid dresses at different price points.


Brides, if you have a specific color/style in mind investigate various lines that will satisfy both your color and style ideas before you present them to your bridesmaids.  It will eliminate any aggravation down the line.


Before you pick a dress, be conscious of the time of year you are getting married. Not all colors work for all seasons.  You wouldn't want to do a dark color in the middle of summer or a light color for a winter wedding.


When you are narrowing your dress choices, take a bridesmaid with you that is top heavy and one that is bottom heavy to help you narrow down your choices in a bridesmaid dress.   You want your girls to feel good about being part of your wedding and in the dress they are wearing.


The bridesmaid dress should in some way compliment the wedding dress, make sure when you and your bridesmaids are looking for dresses that you are keeping this point in mind.


Just because you love a certain color or have a certain color in mind, be aware of skin tones. Pick a color that works for all of your girls.  Have a couple of colors in mind, don't pigeon hole yourself with one color.


Make sure that all girls are present to try on the dresses on before you settle on a decision.







Any bridesmaid dress that does not fit a person's body right will take attention away from you as a bride.


If you are going to have dresses hemmed, the length should be no more than half an inch or three quarters of an inch from the floor. No one wants to see the shoes, no matter how pretty they are.


If you are going to do short dresses, make sure the girls have the same shoes.  And find a shoe that is comfortable and at a good price point.


 Consider chiffon since it can be the most forgiving of fabrics for bridesmaids.  It will hide a girl's imperfections and makes everyone look the same.


Make sure your girls pick a size that is right for them; sometimes measurements can make them get a size bigger than they actually need.


If you are going with t-length dresses, make sure everyone has the same length.


No stockings.  Especially if the shoes are open toe. It is not flattering.


Straps are important to consider especially when it comes to the season, time of day and what the wedding dress looks like. In warmer months,  spaghetti straps are a good option.  In the winter, consider thicker straps that will keep your bridesmaids warm.


As a bride,  educate yourself on trends to get some preliminary ideas of what you may want for your bridesmaids.  But remember not all the latest trends will look good on everybody.