Center of Attention Centerpieces for Your Wedding Day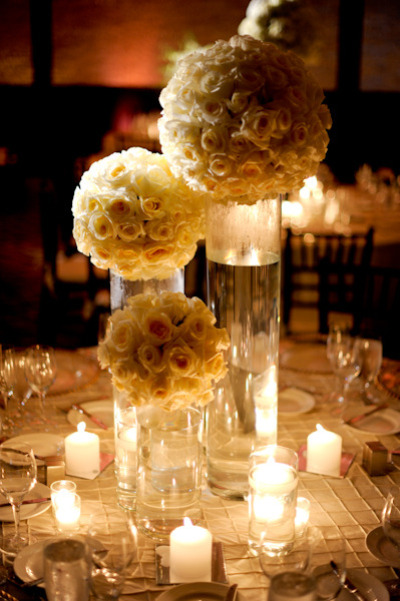 Click to see this centerpiece on Stylemepretty.com.
Something I look forward to when attending a wedding is seeing what the centerpieces on the tables are going to look like. This is especially true when I've been given the chance to hear some of the details about the centerpieces from the bride herself.
I've attended plenty of weddings and often I've been surprised at the couple's choice in a centerpiece and other times I wasn't, because it spoke to whom the couple is perfectly.
When thinking about your centerpieces, you will first want to consider your budget. How much are you willing to spend? Your centerpieces can be over-the-top and extravagant, it can simple and elegant, or somewhere in between. Whichever you choose, this should be one of the first decisions you make when choosing a centerpiece design.
If you are going with a low floral arrangement for your centerpiece, make sure it isn't overflowing making it crowded with other items on the table (i.e. like your plate, silverware). Make sure centerpieces work with the size of each table.
I've found at weddings I've attended that low floral arrangements that are overflowing makes it just as hard to see and interact with others at the table as high rise centerpieces do.
I personally love tall elaborate centerpieces, there is something about how they stand out when you first enter the reception.
Where should your centerpieces go other than guest tables? The gift and the place card tables are good places, but make sure they aren't overpowering in size so there is room left.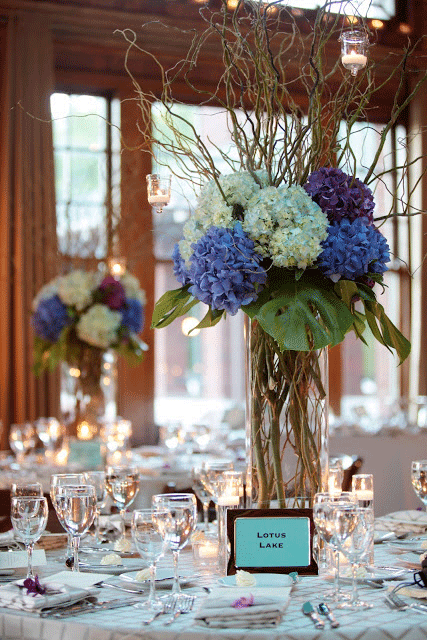 Click here to see this image featured on Honeybeeweddings.com.

If you are going to have candles make sure they are unscented because overly fragranced candles will take away from the aroma of the food.
Attending a wedding this weekend where pretty centerpieces will be? Pick up a pretty clutch to go with your outfit!