I'd like to introduce you to Donna, who's getting married to John in Windsor, England in December.
It's a second-time around wedding for them both and all five of their children are involved on the big day. Donna's daughter Lily is her bridesmaid, and her sons Tristan and Dan will be walking her down the aisle. John's daughter Emma is doing a reading at the service, and his son Matt is his best man. Over the next few weeks Donna is going to be writing a diary for us, taking us through the various stages of her wedding planning, her thoughts, dreams and ideas. Donna has her own business working as a property developer and oversees a lot of the projects herself so she spends much of the day in paint-spattered overalls. It's a long way from wedding dress shopping!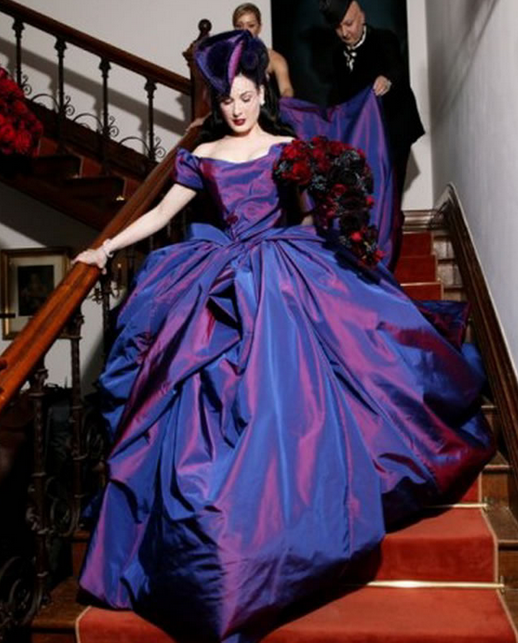 I've been thinking about wearing a purple wedding dress, a bit like Dita von Teese
My First Entry in my Bride Diary
(In which it suddenly hits me that I'm getting married in under six months' time. And I find The Dress.)

I need a countdown-to-my-wedding diary. It has occurred to me that if I don't spend some time each day thinking about my approaching nuptials, I will slide in an ungainly fashion towards the 7th December 2013 and turn up at the Windsor Guildhall in a dress I've found the day before, hair hastily piled on the top of my head, and no food, drink or even a venue for the 120 guests I've told to save the date in one of my rare moments of organisation. (By the way, the Windsor Guildhall is where Prince Charles married Camilla - sweet.)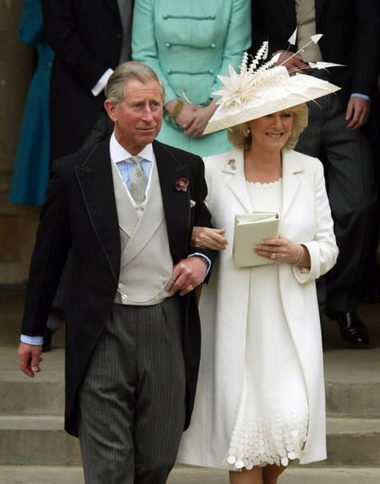 I'm getting married in the Guildhall in Windsor, same as Prince Charles and Camilla! But I don't think I'll attract the same attention!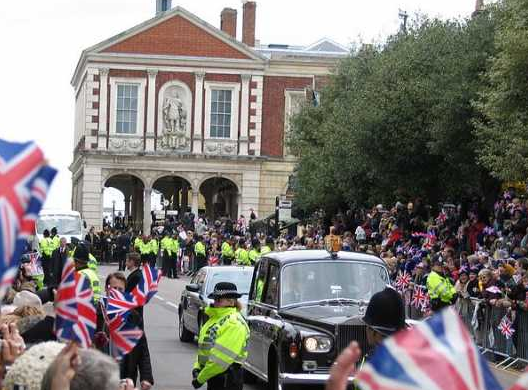 The check-out girl at M&S was horrified (women with engagement rings over-share) when I confessed I hadn't given the dress any thought yet - her wedding is in a year, and her carefully chosen bridal gown is already hanging in her cupboard.

With her scolding ringing in my ears I made an appointment at Ellie Sanderson, a fabulous bridal boutique in Beaconsfield, just a few miles from where I live. I'd driven past several times and liked the look of it and Ellie also came highly recommended by a friend who works in the wedding industry.
"Keep an open mind" she advised. "Listen to what Ellie Sanderson says she'll sum up your figure when you walk in the shop and make the very best of your features."

Walking into the boutique is like walking into a bride's dream - a pretty room with carefully selected gowns by designers like Sassi Holford, Suzanne Neville and Augusta Jones lining the walls. I'd taken my 16 year old daughter Lily with me and she was immediately eyeing up the racks, sighing with pleasure.
Ellie and I had a chat about how I wanted to look, the time of year I was getting married, the bits of my body I like (my bust is a good feature, also my waist) and the bits I'm not so keen on (I'll keep those to myself).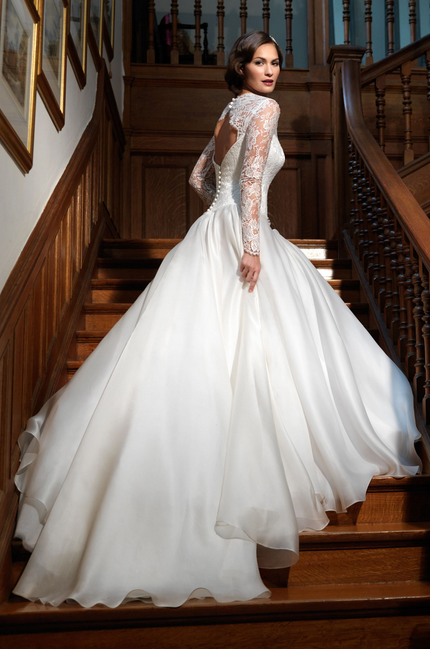 A stunning bridal gown by Suzanne Neville - but it's not mine. I'm keeping that a secret for now!
She pulled out a divine full skirted strapless dress by Suzanne Neville and told me to try it on. It wasn't what I had in mind at all. I'm a second time around bride and I thought I should keep things a little low key and avoid a show-stopping number. Also I'm having a purple-themed day and I thought I might go for a lilac dress.

But boy was this mystery dress a show-stopper and did I feel fabulous when I tried it on! The frock had a fully boned built-in corset that squeezes all the right bits up and into shape and falls away into a fluid skirt that drapes exquisitely. It was in an ivory chiffon that catches the light beautifully. I wanted to be a little more covered up for the wedding ceremony itself so Ellie suggested a lace jacket that is made of the finest Italian lace and is whisper soft, that I could take off for dancing at the evening party. The outfit has the feel of understated glamour.

Well, I was quite ready to flash my credit card there and then and buy this frock, the first I'd tried on. I felt so gorgeous in it and knew that John would just love it!

(Actually, that's the thing about second time around weddings. Really you're dressing for yourself and your husband to be. So if you like your dress and you know he will, then nobody else matters really.)


But prompted by Ellie I tried on three more dresses. The next was more of a column style gown. I liked it but it didn't have the wow factor of the first for me. The next had a tulle skirt and the bodice was of a ruched fabric which was very flattering but no, I still hankered for that first, perfect wedding gown.

Well, reader I bought it. And in a nod to my initial thoughts of having a purple wedding dress I'm looking out for some purple wedding shoes to wear instead (and that's another story).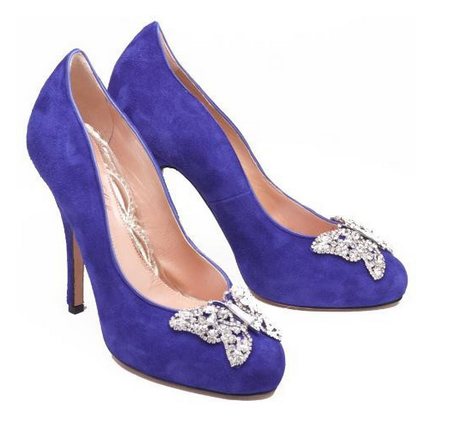 Love these purple suede heels by Aruna Seth
I'll be going back to Ellie for a fitting in the next couple of weeks and I can't wait. But I love my dress and next time I'm in the supermarket I'll tell the checkout girl all about it.
In the meantime my daughter Lily has already reserved my beautiful wedding dress for her own big day, in 10 or so years' time. In 2023 at the earliest I reckon!
My next diary entry will be all about my sessions with my new personal trainer - a Commonwealth athlete no less! By then I should be starting to see some serious results from my new healthy eating and exercise regime. Can't wait to share!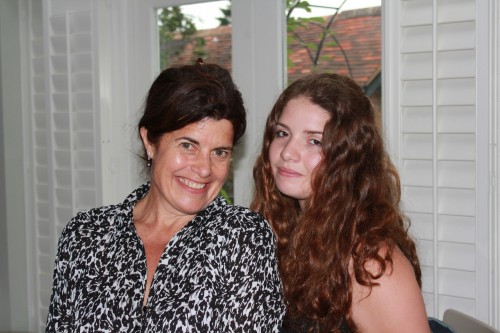 With my daughter - and bridesmaid - Lily