10 Fun Ideas to Keep Your Bridesmaids Occupied on Your Wedding Day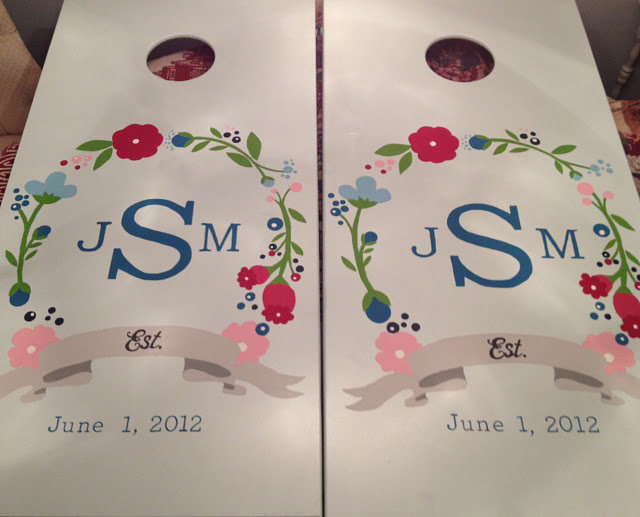 So your bridesmaids have gotten their hair and makeup done, and are all sitting pretty waiting in their dresses for the big event to start. Why not be that fun bride who keeps her girls busy while you finish getting ready? If there is time, (and some may argue there never is on the day of the wedding,) But here are some fun ideas to keep your bridesmaids occupied before the festivities begin:
Have a fortune teller come to the location of where you and your bridesmaids are getting ready. After their hair, makeup is done, have each bridesmaid sit down and see what her future holds.
Set up a game of Cornhole in a room or outdoors (if weather permits) of where the bridesmaids are waiting. The object of this game is to each player or team toss a bag of corn to a raised platform. A bag in the hole scores each player three points. Players get one point for getting the bag on the platform. The winner is determined once a player or team reaches 21 points. Have a little goodie bag filled with fun stuff like small bottles of champagne, lip gloss, gum, candy for the winner(s).
Click here to see how you can make this before your wedding day!
Set up a wine bar with assorted wines, cheeses and fruits at the location of where your bridesmaids are waiting. Keeping your bridesmaids well fed, is important for the wedding day.
Want to be the best bride ever? Send the groomsmen beer in the shape of a wedding cake and have a cigar bar with their own personal cigar maker where the groomsmen are waiting.
Play wedding day bingo, have little prizes for your bridesmaids when she yells Bingo!
Play "Who knows the bride best" (have the bride answer several questions beforehand) and whoever gets the most answers wins a prize.
This game is a great conversation starter among the bridesmaids: On large index cards put names of places, people, items, television shows, movies, and celebrities. Tape the index cards on each bridesmaid's back. Then have each bridesmaid ask the other "Yes" or "No" questions about what they are until they guess the answer. Make it wedding themed with various wedding related topics, famous celebrities who have recently gotten married, destination locations, anything will do. This game could go on for a while and it's a great way to calm the nerves of your bridesmaids. Have one of your bridesmaids tape one on the your back and ask each of them questions, this could relax you as a bride too!
Schedule foot massages at a local salon or spa for your girls. They will be on their feet all day and will need some foot pampering.
Have brunch set up for your bridesmaids after their hair and makeup is done.
Have your girls put Instagram to work! Set up a special hashtag (#) for your wedding day and let the girls go photo crazy! Get the party started!
Looking for a cute prize for the games? Pick up various jewelry pieces, if you haven't already for your girls, by Dessy.