Mothers of the Bride - Some Role Models
Playing the mother of the bride isn't the easiest role.
Whilst the bride and groom are centre stage, the mother of the bride is also going to garner her fair share of attention. Her dress sense, deportment and composure will all be noticed and she may be feeling more than a bit emotional as her little girl finally walks down the aisle away from her.
She's also going to have a new role to play as she's going to be a 'mother-in-law'- to her daughter's husband with all the jokes that brings.
At her daughter's wedding, the mother of the bride has to tread carefully. She doesn't want to steal any thunder away from her girl but she wants to look her best as well and most definitely not frumpy.
Just because you're a mother of the bride doesn't mean you have to fade into the background though. Like the bride herself, it's a good time to go into a specialist boutique and try on a range of outfits that flatter you. As the years go by, your colouring will have changed as will your figure. Shades that suited you in your twenties may be different now - your bustline may have filled out - although not necessarily your waist!
To entertain you (and maybe help with your mother of the bride moodboard) , we've put together a list of outfits worn at weddings by famous mother's of the bride - along with our comments, which you may or may not agree with.
In addition, Dessy dresses come in a variety of cocktail styles which may be ideal for the mother of the bride - so take a look.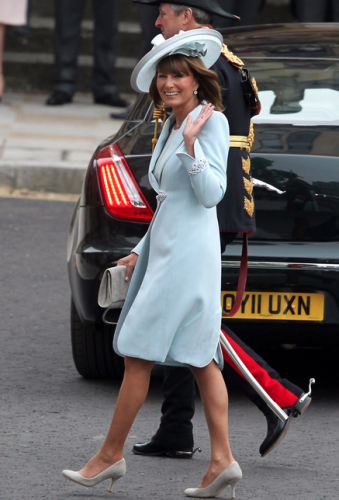 Carole Middleton - now mother in law to Prince William
First off, we bring you Carole Middleton. In our book, she didn't put a foot wrong at the Royal Wedding. Dressed in powder blue Catherine Walker (a favourite designer of the late Princess of Wales) Mrs Middleton looked supremely elegant, composed and we just adored her hat (which didn't obscure her face but still looked dressy). We can't wait for daughter Pippa's wedding now.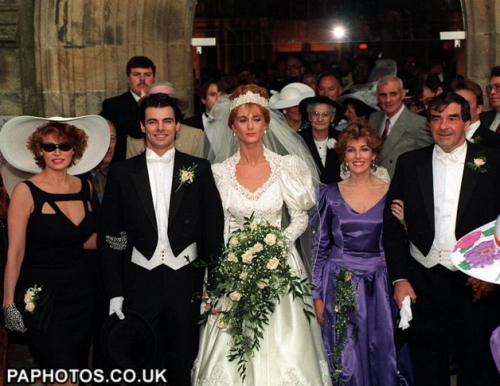 Fancy having a film star as a mother in law?
When Raquel Welch's son married in 1991, his mother played up her movie star looks and figure in a dramatic, figure hugging black frock. Well, she did look beautiful but at the time there was a lot of discussion over whether or not or not she was upstaging the bride in her body-con dress. Our solution? Don't marry the son of a celebrated film star or if you do, elope somewhere and do it quietly!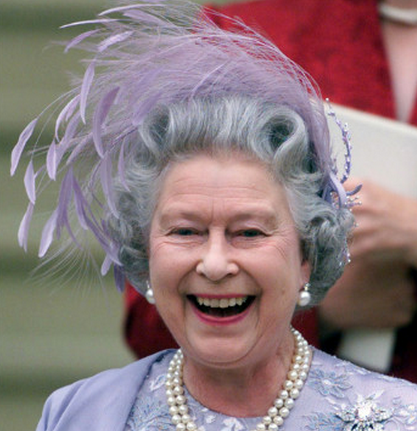 That's the way to do it ... soft pastels for Queen Elizabeth II at her son Edward's wedding to Sophie Rhys Jones
We think the Queen has dressed impeccably for her sons' weddings. At the most recent, the wedding of Prince Edward to Sophie Rhys Jones, HM wore a delicate lilac coat dress, a fabulous feathered fascinator and jewels to die for. She also looked extremely happy.
In fact, when it comes to dressing for your daughter's wedding there are no hard and fast rules (except for not upstaging the bride of course). And that's largely because the mother of the bride could be any age from her mid thirties onwards until her seventies - girls are marrying later and the mother of the bride could have had her own children young or not until she was in her forties.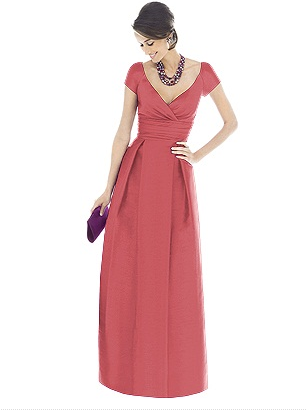 A stunning evening gown for the mother of the bride to dance the night away at the wedding reception. Alfred Sung Style 501 in Coral.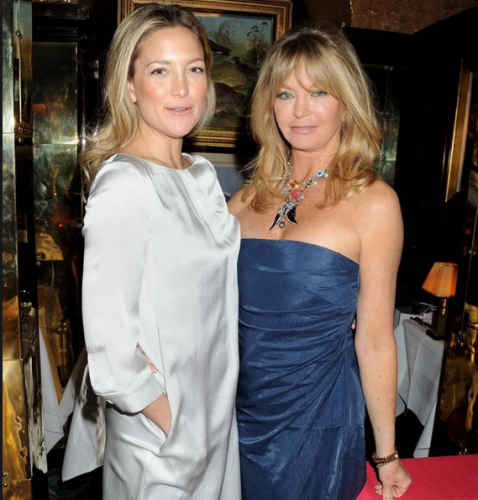 Goldie Hawn with married daughter Kate Hudson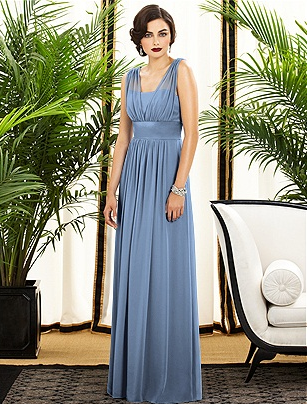 An light and floaty evening gown in a pale blue - Dessy Style 2890
We couldn't finish without mentioning the Kardashians. Forget not wearing white at your daughter's wedding. Kris Jenner did. In fact, the whole clan turned up wearing white. Well, as long as the bride was ok with it ...