Why being a bridesmaid now is better than ever before
"Will you be my bridesmaid?"
Now it may surprise you to hear this, but some girls dread being asked that question.
They have visions of bridezilla hell. Being squeezed into a dress that doesn't fit, in a colour that clashes with their hair and drowning in ruffles.
The film 'Bridesmaids' struck a chord because it's such a cliché of the horrors of being a bridesmaid.
But to be honest, today's brides are a bit more savvy. They've probably been bridesmaids themselves and know what to do and what to avoid.
More choices for the hen party
It's usually the job of the chief bridesmaid to organise the hen party. And today there are so many options open to celebrate the bride's 'last days of freedom'. A tipsy night out on the town doesn't have to be on the agenda if that doesn't suit. Depending on the budgets of the bride and other bridesmaids you can organise a girls' weekend away, a spa break or a city break with a bit of culture.
If time and budgets are tight, then how about a hen party tea party or a hat making masterclass? Or even a day all learning how to bake cupcakes.
Hen parties are supposed to be fun for all involved but today's bridesmaids have many more options to offer the bride - meaning that everybody is happier.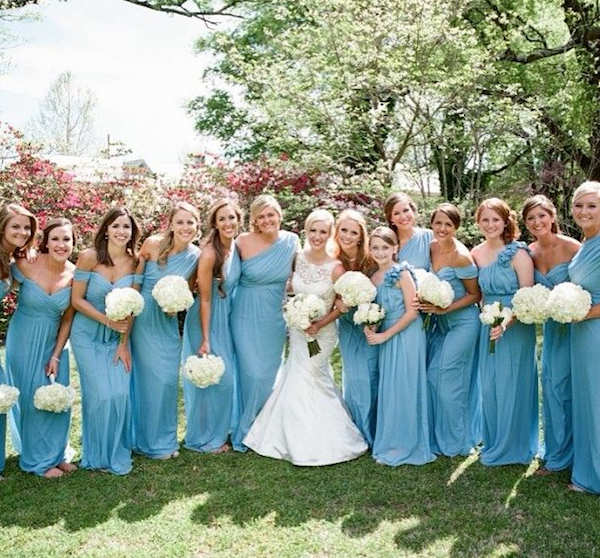 Look at the variety of necklines here. All pretty. All by Dessy.
A bridesmaid dress that really suits you
The days of being told what you're going to wear as a bridesmaid are almost gone, thank goodness. Today's brides are much more fashion savvy. Looking at our Facebook page, we know that some brides have given their maids a choice of necklines, sleeves and skirt lengths so that they can play up their good features and camouflage the not so good!

As for colours, ombre is having a real moment right now. So if the bride is planning a pink themed wedding, she doesn't have to put all her girls in hot pink. She can go for 50 shades of pink - through from a soft blush down to a deep magenta (with Dessy dresses in masses of different colour choices it's easy).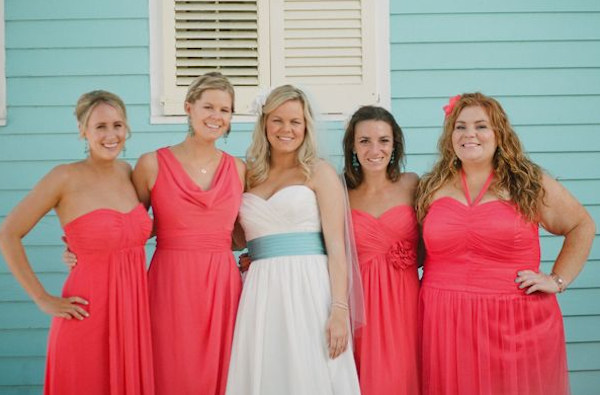 Vibrant coral as a theme ... but with individual necklines. Dresses by Dessy.

Or, the bride could go two different shades that co-ordinate - oranges and russets (in autumn maybe) or yellows and greens for a spring wedding.
Happy feet
Some girls love heels. Some love flats. So the rule nowadays is that there is no rule. Brides just stick to a colour that co-ordinates with the frocks and let the girls choose what they feel more comfortable in (and what they can dance in!).
What do YOU think?
Do you think the bride gives too much say to the bridesmaids nowadays? Should she just do what she wants or is it right to give her maids a bit of a choice?
Personally we think a happy bridesmaid equals a smiling bridemaid which equals a good atmosphere and wonderful wedding photographs.
Just take a look at the variety of ways brides have dressed their girls on the Dessy Real Weddings Pinterest board - not a frown in sight!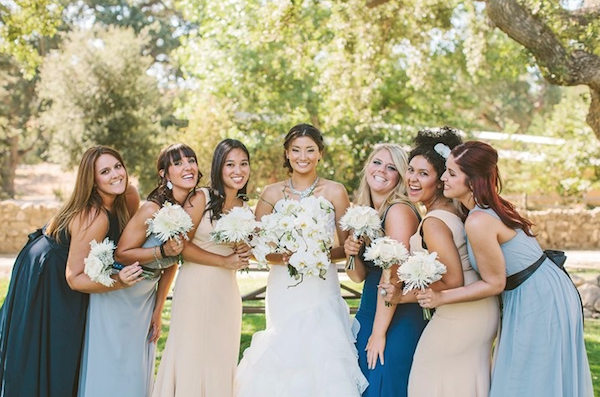 Smiling maids in Dessy.
All images via Dessy Real Weddings Pinterest board.