If The Shoe Fits...Wear Them With Your Bridesmaid Dress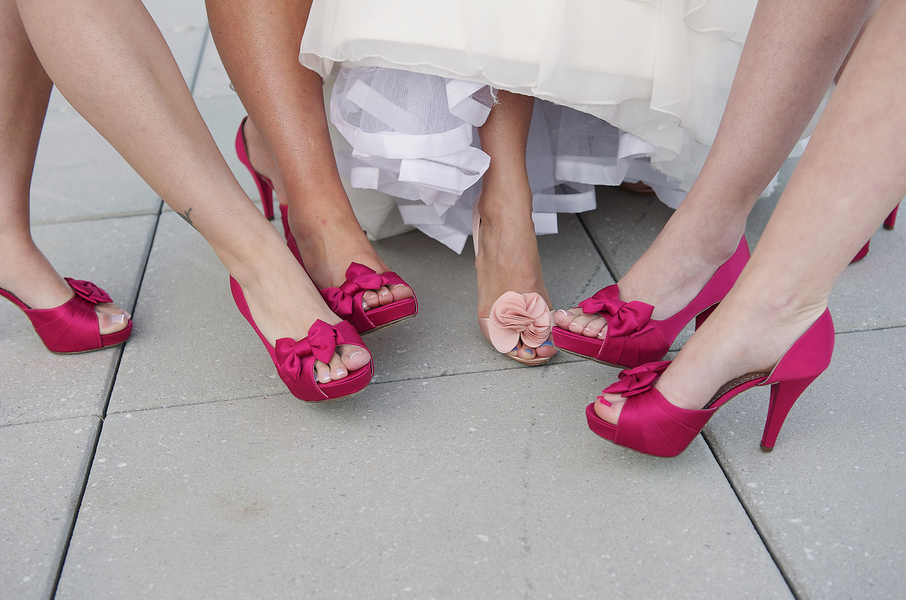 When all of your bridesmaids have great pairs of bridesmaid shoes, pictures like this one get to happen. This photo was taken by Janine Collette Photography.
The shoes you wear with your bridesmaid dress are a very important and there are many things to consider when picking the right shoe for your bridesmaid dress. Once the bride settles on a bridesmaid dress, begin researching the right shoe for the dress.
So if you are a bridesmaid, here are some things to consider before you make the shoe purchase:
Make sure the bride is in agreement with your possible shoe choice. While many brides will say they don't care what shoes their bridesmaid wears, some may be sticklers to a particular color, style and even brand. So make sure you ask the bride before you make a purchase.
If you do have free rein over your shoe choice, pick a shoe that is both comfortable and reasonably priced and that you can actually wear again. You would be surprised how your bridesmaid shoes can be worn again for other festive functions.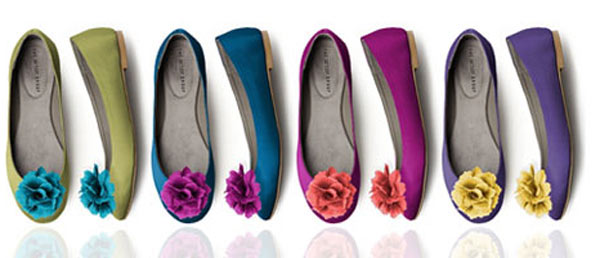 These Colorful Ballet Flats by Dessy are perfect for any style bridesmaid dress and just the right shoe to dance in!
While many expect that shoes will come off once the music starts, if you are one of those bridesmaids that plan to wear her shoes throughout the entire wedding day festivities, get a shoe that will allow you to do that.
If you are planning to wear a shoe that has a four-inch heel or higher make sure to get good cushioning so that your feet aren't screaming by the end of the wedding.
Materials and colors are important when picking a shoe. This is where I would ask the bride what she prefers in terms of color and material and that it coincides well with the material of your dress.
From my own bridesmaid experiences and I am sure many others, I recommend brides ask their maids what shoes they want to wear. This will avoid complaints. Nine times out of ten, your shoes are buried under a long dress anyway. I recommend brides consider their bridesmaids' thoughts about the shoes they want to wear.
In the weddings I have been in, the bride usually picked a few options and the bridesmaids picked which ones fit them best and felt the most comfortable. Some brides simply just told their maids the color and particular style they wanted and the bridesmaids just picked what they liked based on the bride's preferences.
I would recommend choosing a relatively neutral color like brown, black, silver or gold so bridesmaids can wear them again or wear what they already have. I also think brides can choose a color, but let the bridesmaids pick the style because not everyone is comfortable in the same thing. A shorter girl may want a taller heel, whereas someone who may have foot issues might want a wider/shorter heel. If you as the bride must pick the shoe yourself, have the girls come with you to make sure everyone is comfy in them.
In the end, whatever shoe you choose always make sure to have a great pair of flip-flops handy for the reception and enjoy the wedding!