Making sure your suppliers get your wedding colours RIGHT!
Now we love colour co-ordinated weddings. In fact Dessy's real stand-apart feature is the choice of colours that our bridesmaids dresses come in.
And as the bride, you may be looking to colour co-ordinate as many aspects of your big day as possible, apart from the dresses. Shoes, socks for the men, invitations, table centres, your cake - maybe even the car you arrive in.
So how can you make sure that your colours match? After all, there are 50 different shades of light green, so how can you make sure your wedding invitations come in the exact shade you want?
Well, we knew this could be a problem, which is why we developed our Pantone Chiplettes along with Pantone.
They work really simply.
Say you've chosen "Pretty in Pink" as your overall wedding colour, then just get the Pantone Chiplette of the same shade. Then give each Chiplette out to your wedding supplier so they can match up. There are nearly 200 colours to choose from so you're not exactly going to be short on inspiration!
So enjoy yourself. Browse through all the shades on offer before you make any choices and remember that all shades will match up to Dessy bridesmaid dresses (so you can mail the Chiplettes through to your bridesmaids too).

Tick. That's another aspect of wedding planning sorted then!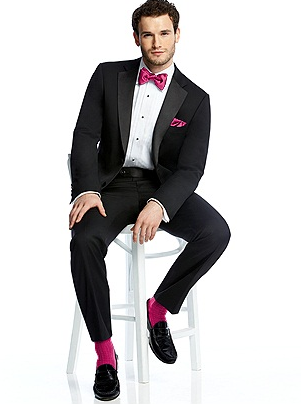 And the groom could have matching socks and accessories in the same Pantone colour shade!