Where will YOU tie the knot in 2014?
So you're engaged. Congratulations!
The period before you get married is such an exciting time and there's so much to do, think about, plan and decide!
One of the major things you need to talk about is where you get married. More and more couples are now choosing to get married outside of the UK - it can be a lot less expensive, you're more likely to have good weather and you can honeymoon just where you tie the knot!
So what are the hot spots for wedding destinations? I talked to ABTA (the Association of British Travel Agents) about their must-visit wedding destinations in 2014.
Destination wedding venues to be thinking about for your 2014 wedding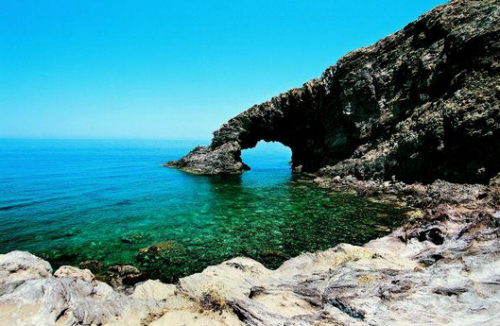 One of Sicily's hidden beaches

Sicily

Italy, with its picture perfect scenery and wide range of accommodation options , is a consistently popular wedding destination for British couples. Sicily, the largest island in the Mediterranean, may have been overlooked as a wedding destination in the past but with new flight routes heading there in 2014 ABTA predicts that this beautiful Mediterranean island will become more and more popular with couples.

Greece

A classic wedding destination €" showcased to perfection in the film Mamma Mia! More and more luxurious accommodation options have sprung up recently in Greece, which are perfect for your special day. And you can stay on and enjoy a honeymoon too. Try the northern Aegean and the green and thickly wooded islands of Thassos and Ikaria or the islands of Alonissos and Skopelos in the Sporades further south. For truly spectacular views and five star luxury, the volcanic island of Santorini is unbeatable.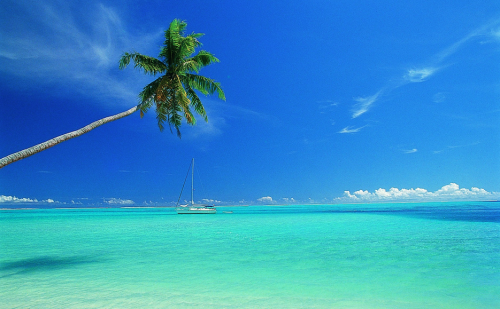 A beach in Paradise - for your destination wedding and honeymoon

Mauritius

The Indian Ocean island of Mauritius would be most people's idea of a perfect paradise island and this is exactly why so many people choose it for one of the most important days in their lives, their wedding day. The island is a melting pot of African, Indian, European and Oriental influences which is reflected in its cuisine and people. Mauritius is surrounded by a reef creating shallow lagoons washing against white, palm fringed beaches. But there is more to the island than the beach; inland you will find lush forests of ebony and eucalyptus trees, interspersed with waterfalls and warm natural pools ideal for a romantic dip. The Tamarin falls is probably the most spectacular site and for lovers of wildlife a visit to the Black River Gorges national park is well worth a visit. The island has a wide selection of good quality hotels and very affordable options. Starting from May, visitors can benefit from new direct flights from Gatwick.

Mexico €" The Pacific Coast and Baja

Whilst Cancun and Mexico's Caribbean coast are well known by British couples looking to get married abroad, the Pacific coast and Baja peninsula are relatively undiscovered due to a lack of direct flights from the UK. This is set to change in 2014 with Thomson and First Choice launching a new exclusive route into Puerto Vallarta on the Pacific coast for summer 2014, with stays on the island of Holbox. Puerto Vallarta has an idyllic mountain-backed location with lush countryside and rivers where fresh water dolphins can be spotted. The Baja peninsula is one of the world's great beauty spots, sparsely populated and dramatic inland; its coastline is dotted with stunning white sandy bays with whale watching available between January and March. At the southern tip of Baja lies the resort of Los Cabos with a mild, sunny climate and average year-round temperature of 26C. Rumours are about that Jennifer Aniston may get married here!

The iconic Rio de Janeiro landscape

Brazil

It's going to be impossible to ignore Brazil in 2014 as this football mad country gears up to host the World Cup. For a football mad fiancé, where better to enjoy the most important match of your life? Stay on for your honeymoon as Brazil's beaches are some of the most beautiful in the world and the country loves to party €" the friendly people will be sure to join in your celebrations.

And what to wear?

Remember that dressing for a destination wedding in a hot country means you have to think about your bridal gown very carefully . You'll want light fabrics that travel easily and are cool to wear. Your bridegroom might to get in on the act too by wearing a destination wedding suit in classic seersucker.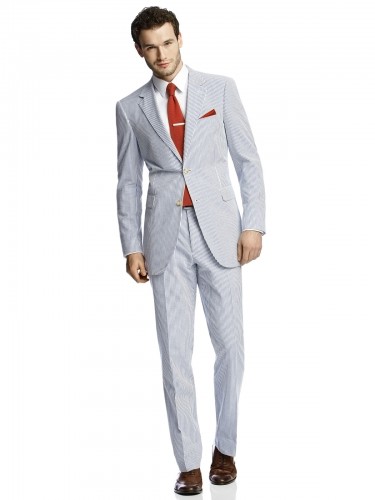 And for the bridegroom - a classic and cool seersucker suit, perfect for tropical beaches

Photo credits: All images via ABTA except for Dessy seersucker suit