Why your girlfriends may NOT be thrilled to be asked to be a bridesmaid!
Hard as it may seem, we girls aren't always delighted when we're asked to be bridesmaids.

Okay, so it's an honour to have your friend asking you to play a major part on what is probably going to be one of the happiest days of her life!

What we're really thinking

But on the other hand, you're immediately going to think "OMG, what is she going to make me wear? Will I look like a frumpish horror in satin frills on her wedding day and be remembered forever like that in the photographs. Even if there's a hot man at the wedding, he's hardly going to look at me if I resemble a lump of candy floss."

Yes, that's just what our initial thought processes are likely to be. And to be honest, when you see what some bridesmaids have been made to wear (and sometimes even been made to buy - which is worse still) it's hardly surprising that they might seem non-committal when the bride pops the question.

Be like Gok Wan when it comes to your bridesmaids

To get the excited reaction you're looking for (and the support you're going to need) you need to make it very clear early on that you're never going to put your friends in frocks they don't like.

Right from the start let them know that you'd like to go shopping together for a dress they're going to love wearing (and a bridesmaid dress that is in fact so flattering and gorgeous they're going to want to wear it over and over again). Truly.

Ask them what they feel comfortable wearing - what they feel flatters and what they'd never wear in a million years. And with that in mind, go and look at some bridesmaid dresses. (And the Dessy website is a great place to browse with literally hundreds of different bridesmaids dresses in different styles and colours.)

Cocktail length. Full lenth. Ballerina length?

There's nothing to stop your maids wearing dresses in different lengths as long as there is a theme that brings it all together - which may be the base colour you've chosen for your wedding day.

If it's pink then dress your maids in shades of pink (you'll find a Pantone colour chart really helpful here for helping you decide on the exact shade).

Even if your chosen bridesmaids say they loathe pink and it doesn't suit them, there is going to be a particular hue which actually does flatter their skin tone. For example blondes can look fabulous in pastels, whilst brunettes and those with darker complexions may suit a hot pink.
Let your friend show off her fabulous shoulders. Alfred Sung Style D607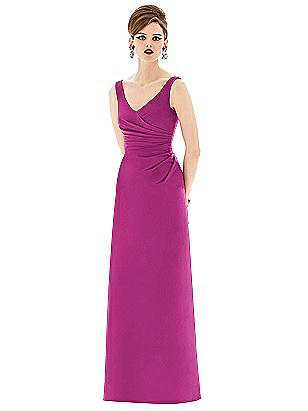 Ruching can hide a less than perfect waistline. Alfred Sung Style D645

You could have the same colour - in six different ways. Make those necklines work. Put a flat-chested friend in a halter style to show off her shapely shoulders and a better endowed friend in a dress that makes her feel fabulous (but well supported too!).
Keep going until everybody is happy. And you know what you've got when you've got happy bridesmaids? Friends for life. A gang of pals that are onside on your big day. Oh, and fabulous wedding photographs!
Did you ever have to wear a bridesmaid dress you hated? Tell us about it on the Dessy Facebook page!