Say \"I Do\" to the New Wedding App iDoo
When it comes to saying that all important "I do" it's important to make sure everything is as close to perfect as it can possibly be... Enter new wedding planning app iDoo (get it?) This new app is more than just clever wordplay on those special, sentimental words, it's your new best friend - no offense to the maid of honor.



iDoo is a FREE app available on iTunes that is designed to streamline the planning an execution of a wedding of any size. Have 25 people to a small, destination wedding? iDoo has got you covered. Same for a 350+ church ceremony and banquet reception.

What may be the most helpful aspect of iDoo is the Guest Tracker. It allows you to see where you stand with responses and to sort invitees by status (yes, no, maybe, no response). It makes solidifying your list infinitely easier when you know which great aunts and uncles you need to have your parents poke for a response. It's also very helpful when it comes time to seating your guests. When you're putting together a finicky puzzle of 147 individuals you really don't need to see the additional 33 nos names on the list... You've got enough on your plate!

Speaking of the seating chart.... iDoo also has an interactive, color coded seating chart. It's pretty basic, but it's easy to use and uncomplicated. It serves it's purpose with little by way of bells and whistles. But again, when you're dealing with seating there's not much that can help to move the process along. Only you know the intricacies and incidents of family drama. Let's not even mention friends!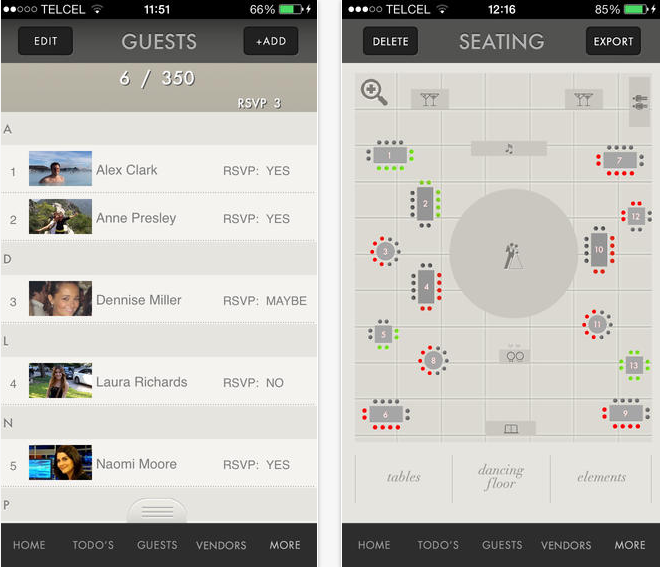 Lastly, iDoo features a diverse directory of vendor suggestions as well as creative wedding ideas. iDoo also features basic planning aides like a wedding countdown, Pinterest-style inspiration board, to do manager and budget tracker.

Happy planning!