Wedding food trends for 2014
What sort of food are you going to offer the guests at your wedding?

Are you going for the formal sit-down, three-course meal? Or are you having a buffet? Or maybe something a little more DIY? Maybe a hog roast, a mobile fish and chip van and an ice cream cart?

Trends in catering come and go but one that's certainly coming to the fore is using locally sourced produce that's in season. It's a win, win. You keep your green credentials, you get better quality food and you get a better price because you're not having out of season fruit and vegetables flown in.
If you're going for a less formal theme, say inspired by a festival, keep your food easy. A mobile ice cream cart could be a winner here!
But how is food being dished up?
I talked to food designers Tapenade who gave the following hints and tips.
Theatre and entertainment is creeping into the wedding breakfast. Couples are forgetting about having dessert served at the table in favour of something more informal and fun. Candy or cake bars, ice cream bikes, pancake and waffle stations or dessert canapés add a fresh twist to the end of the meal and encourage guests to get up and mingle.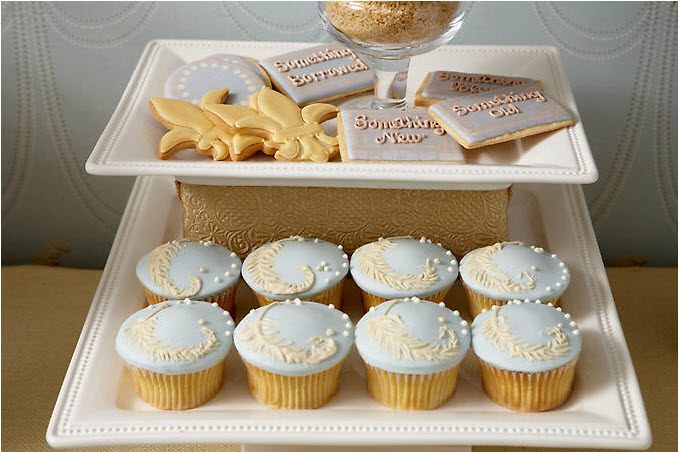 How about having a cupcake and cookie bar? This one is by Amy Atlas.

€œMaking dessert informal and fun is a great way to finish off the wedding breakfast and create a contrast to the earlier formalities,€ says John Hearn of Tapenade. €œPeople love catching up with friends and relatives at weddings and this approach gives them more time to do that.€

At evening events following the wedding, couples are moving away from the traditional buffet in favour of more fun options, including much loved British favourites such as burger and chips, fish and chip cones and cheese cakes. €œIt may be something to do with the warm, familiar feeling people get from these kinds of foods, almost a kind of nostalgia, but traditional foods are certainly gaining popularity,€ says Hearn.
For a summer wedding, what could be better than a visiting ice cream van offering dessert?

Late night snacks and goody bags to take home are also becoming popular, with warm cookies and doughnuts being the preferred choice of treats to reward guests and send them on their way. €œSending people off with a delicious treat is a perfect way to round off the evening and leave a lasting, warm impression on guests,€ says Hearn.
What will you be serving your guests on your wedding day?
Do you think this new informality is here to stay? Is it a good advance because it lets your budget go further and gives the more relaxed mood you want? Or do you think a wedding should be more formal? We'd love to hear your views.

Featured image via Tapenade, mobile ice cream cart via www.festivalbrides.co.uk, ice cream van image via www.nataliejweddings.com.