Yummy Candy Tables For Your Wedding or Bridal Shower!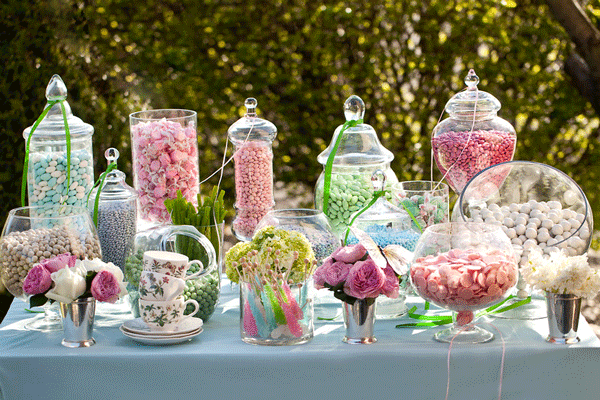 Candy tables are becoming all the rage these days.  And why not? Candy is fun and make the perfect bridal shower or wedding favor.  The candy table can be one of the major focal points of any wedding or bridal shower with a variety of different candies.

What is great about candy tables is that no two tables are the same.  Each table is unique to the tastes of the bride-to-be for a bridal shower or the bride and groom for the wedding.  Here are some tables that we think are just yummy!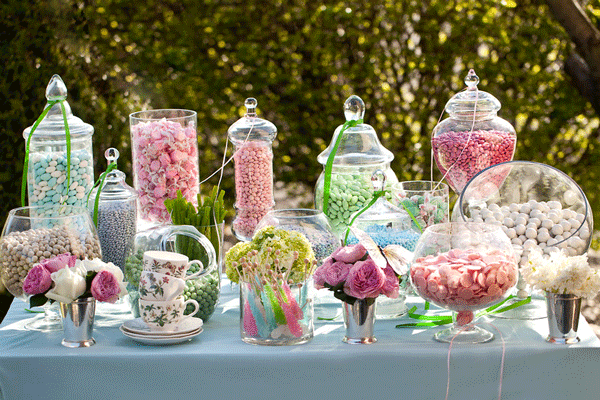 Whether you are planning a spring wedding outdoors or this table is for your bridal shower, this spring themed candy table is just one of many ways to celebrate the season! Photo featured on Nuts.com.
The Theme: When designing your candy table, you will want to start by thinking about the color and theme you want.  You can follow the colors of your wedding.  What is great about candy tables is that they are interactive and again are the perfect party favor.
Picking Out the Candy:  The options are endless!  This is where it gets fun, you will want to pick out loose candy in bulk and possibly individually wrapped candies.  You can also pick candy that is more for decor and filler than to be eaten. You can mix the candies so that guests don't miss out on any of the goodies you have to offer.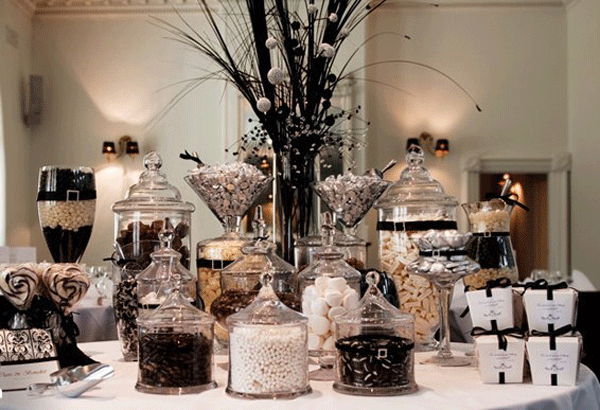 Planning a black tie affair for your wedding? This is just the type of candy table you would want for it! Photo featured on Blovelyevents.com. 
Setting Up the Table:  If you are setting the candy table up yourself, set the table up before you purchase the candy so that you know how much candy you will need for the containers and jars.  Purchase the containers you plan to use first before you buy the candy in order to do this.  Use clear containers when doing a color coordinated table so that you properly display the color coordinated candy.   You will want to do several trials of table set ups before deciding on one you will go with.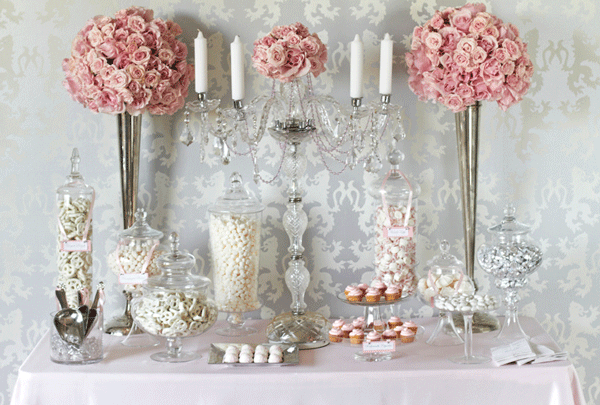 Having a vintage themed wedding? Here is just one way to celebrate your wedding or bridal shower! Photo by Weddingwindow.com. 
You will want to have the taller containers in back and the shorter containers in front. Make sure the tall containers aren't so tall that guests aren't able to reach into them.  Put the bulk candy in the middle of your candy table, shorter containers or jars are appropriate in this area.
So how much candy is too much?  You will want to consider eight ounces for each guest.  For individually wrapped candy, limit to one per guest.
Finishing Touches for the Table: You will want the candy table to be a major focal point for your wedding or bridal shower, so you may want to draw attention with the table cloth or have a fabulous centerpiece.  At this point in the set up, you can add little touches that add to the overall theme of your table.  Personalize the table with names of the bride or the bride and groom for the wedding.
Want one more DIY idea?  Why not create your own bridesmaid cards?  Check out our "Will You Be My" Bridesmaid Cards on Dessy.com!