Five bridesmaids dresses your maids will want to wear over and over again
To my way of thinking, it makes a lot of sense to choose dresses for your bridesmaids that they're going to love so much, they'll want to wear those frocks over and over again, and not just on your wedding day.
It makes more financial sense - they're getting more from a frock so the overall cost per wear goes down
It probably means you've chosen a frock they love which they feel flatters
It may mean you're gone for the mismatched maids look which is right on trend (and the way ahead judging by all the comments I hear from brides to be)
There's no reason why a pretty, well designed bridesmaid dress shouldn't double up as a cocktail frock or evening gown
So I've picked out five bridesmaid choices from Dessy that your girls are sure to want to wear more than once. I've picked out just one colour - suede rose - but remember because they're Dessy bridesmaids dresses they'll be available in a rainbow of colours ...
1. Dessy's iconic twist-wrap dress now comes with a chiffon skirt option. Just that little bit more dressy, but still a practical choice when you want to change the look, or pack a dress that packs beautifully and just shakes out on arrival. Twist Wrap Dress w/ Chiffon Overskirt: Short £93 (Oh and there's also a floor length version).
2. Cocktail length. Tick. Floaty gorgette fabric. Tick. This is a dress that's going to make the wearer feel pretty every time she puts it on. Watch those compliments come in! Dessy Collection Bridesmaids Style 6687
3. My granny used to say "that's a dress that will take you anywhere." To the ball, to the wedding, to a party. This is one of those dresses. Social Bridesmaids Style 8137
4. Time for a little strapless glamour. A pretty sundress that's spot on for drinks on the terrace of somewhere smart. Dessy Collection Bridesmaid Style 6506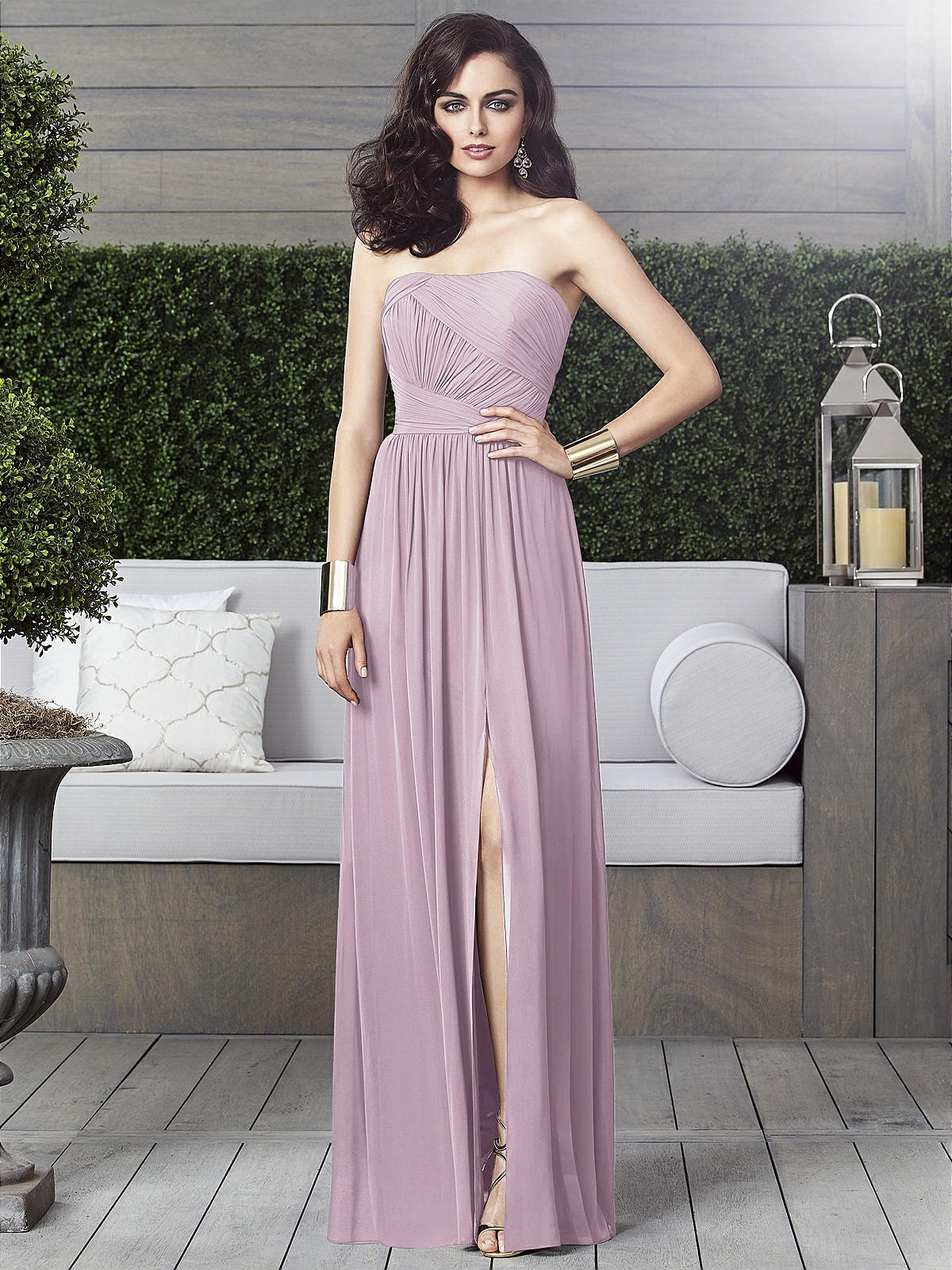 5. When you want to ramp up the wow factor - this dress has a subtle side split that gives it that red carpet look. Got a friend who's not keen on being a bridesmaid? This is the dress that might make her change her mind. Dessy Collection Style 2910