The Romantic Elements of a Backyard Wedding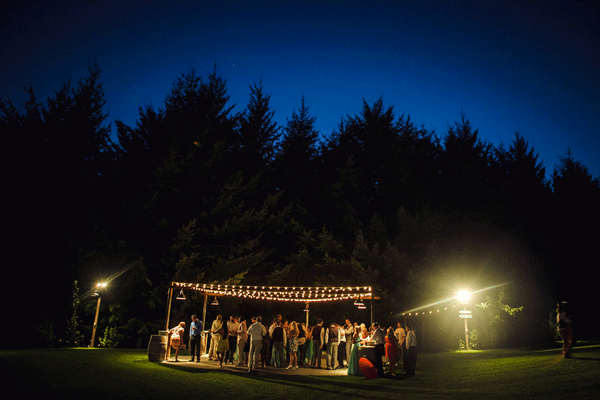 Party to all hours for your backyard wedding! Have lights strung across the dance floor and party away! Photo by Sikora Photography
In 1991, most people remember when Steve Martin's character George Banks in the movie Father of the Bride envisioned the perfect backyard wedding for his daughter Annie, played by Kimberly Williams - Paisley. His visions were filled with picnic tables, a barbecue and even a chef's hat! While having that kind of a backyard wedding wasn't what his daughter had in mind, these days it seems more and more couples are returning to the romantic, rustic themes and having a backyard wedding.

If you are one of those couples and are planning a summer wedding in your backyard or close to it, here are some ideas you may want to consider!

Delicate Florals: Drape your chairs and tables with light colored flowers. Have them be the centerpiece at each table, offering an overall romantic look and feel for your wedding.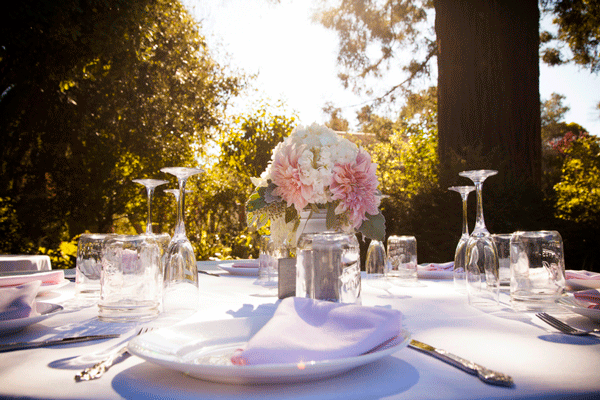 Delicate florals like these in Mason jars, how beautiful is that? Photo by Town & Country Studios
String the Lights: Sting lights on surrounding trees so just as the sun goes down all you see are the beautiful lights criss-crossing above the dance floor and tables. How beautiful is that?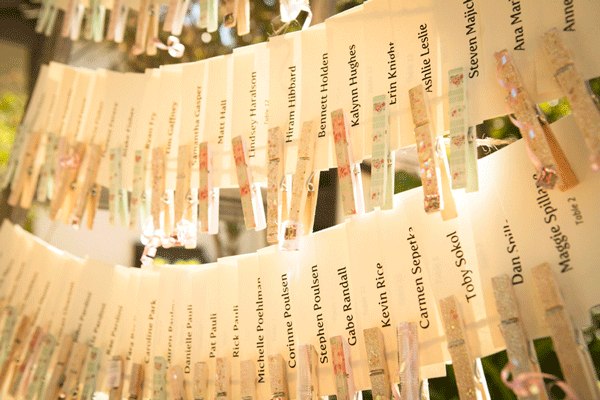 Add to the overall rustic motif with clothes pins for your place settings! Photo by Town & Country Studios
Bring a Little Something: Ask close family and friends to make something for the dessert table, even ask that they incorporate a recipe! This adds a personal touch and closeness between the guests and the couple at the wedding.

Rustic Decor: Mason jars, burlap, wheel barrels ... anything goes! Elements like this should be incorporated throughout your wedding. Mason jars are sold in bulk at various locations and can be used as glasses at the tables. Couples can also have these glasses as a take home favor with a bag of mixed candy. Burlap can be wrapped around the silverware or on the tables as a table runner with the table cloth.

Proper Signage: Lead your guests to cocktails, food and dancing!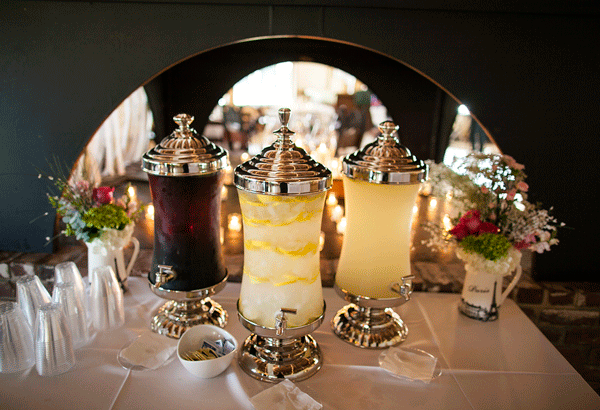 Have a table like this outdoors for your cocktails! Photo by Ivey Pictures
Backyard Menu: Depending on the overall theme you are looking to have for your backyard wedding, you can either go all out with the menu, have caterers or you can make it more simple, and do a barbecue style menu. Short ribs, burger sliders, hot dogs and french fries. This aspect of the wedding allows you to cut corners or go all out! Have lemonade, fruit punch or any summer backyard cocktail too!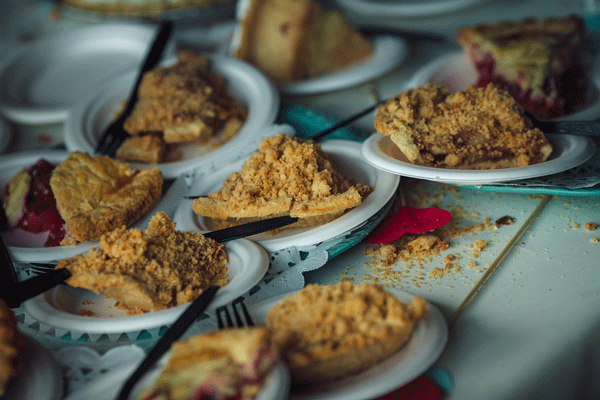 How delicious does this look for a wedding? Photo by Sikora Photography
Need your bridesmaid dresses in a hurry? Don't fret! Check out Quick Delivery Dresses available by Dessy!