Jewel Wedding Colours To Inspire A Dazzling Big Day
Are you the sort of person who finds it hard to make a decision? What car to buy, where to go on holiday, whether or not to take that job, where to live?

If you are, then planning your wedding might be giving you a bit of stress on the decision-making front.

Fear not - I have the answer to one of your wedding planning concerns. It's about the colours you choose.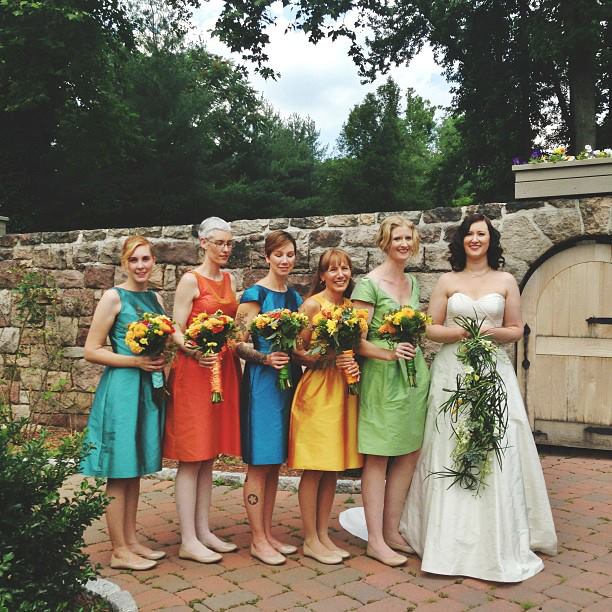 Because you know, you don't have to feature just one single colour on your wedding day. You can have several - provided each shade works in harmony.

You can go down the ombre route if you're particularly taken with a special hue - say pink - and work it through your colour scheme in all its different tones.

Or you can go for a more dazzling, vibrant effect and dress your bridesmaids in jewel colours - beautifully shown in the photograph above which was posted to our Dessy Real Weddings section. (Yes the bridesmaids are all wearing Dessy gowns.)

Check out Dessy's rainbow of bridemaids dresses and you'll find a jewel box of shades waiting to inspire you. Ruby reds, amethysts, aquamarines, emeralds, sapphires, topaz, yellow diamonds ... and bridesmaid shoes to match or alternate. (How on trend to have a scarlet shoe with a turquoise frock!)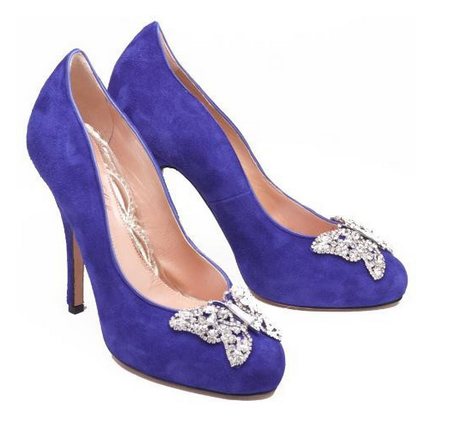 Love these purple suede heels by Aruna Seth - true jewels for the feet!

Your bridesmaids will love this option because:
They can choose a colour that flatters their skin tone
They could choose the neckline style of their dress (I'd really recommend this by the way, for all sorts of reasons which you can read about here)
They'll probably get to wear their bridesmaid dress over and over again - particularly if it's a cocktail style dress. And they'll want to, because Dessy bridesmaid dresses are soooo pretty and beautifully cut.
Jewel colours also work at any time of year - to brighten up a wedding day in the depths of winter, in spring sunshine, at a classic summer garden party wedding and an Indian summer wedding in September.
And of course, you can carry through this colour theme to your table decorations, chair backs (have the sashes in alternating jewel colours), stationery and the groomsmen - who can each have different coloured waistcoats and cravats to tone in with the bridesmaids.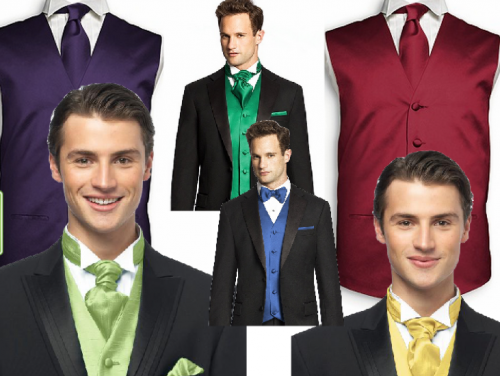 Peacock jewel colours for the men too - waistcoats, cravats and ties by Dessy

Now - have you made your decision yet?