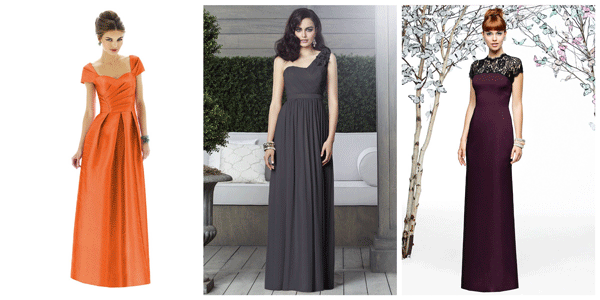 Left to Right: Alfred Sung Style D575,Dessy Collection 2909 Lela Rose LX196
Believe it or not, not every bridal gown or bridesmaid dress is strapless. Some brides and bridesmaids don't necessarily feel comfortable with a strapless dress and would prefer to have a dress with sleeves or with straps. So we thought we would share some of our favorites that you can find easily on Dessy.com!

Here are some reasons the bride or her bridesmaids might consider straps/sleeves:

1. The bride or her bridesmaid aren't comfortable having bare shoulders and arms and would prefer to be covered up.

2. In some religions, showing your shoulders is prohibited. It is important to find out what is allowed and what isn't before finding your dress. If you are set on a strapless dress for your bridesmaids, you may want to consider a Pashmina/Evening Shawl, available at Dessy.com.
3. The season and weather. While the weather is unpredictable in any season, having straps and/or sleeves may be a good idea. When it comes to seasons, you may want to pick a dress with straps and/or sleeves simply because the weather may be chillier. Late fall weddings and winter weddings are probably the seasons to consider this style of a dress.
4. Are you a bustier bride or do some of your bridesmaid have big busts? Straps are a way to go! Its always important that both the bride and her bridesmaids are comfortable the day of the wedding. Straps also work for the less bustier bride and bridesmaids.
5. You may want to consider straps for just the maid/matron of honor so that she looks different than the rest of the bridal party.
6. If full straps or sleeves isn't your style, maybe a one strap look is just what you may want to consider?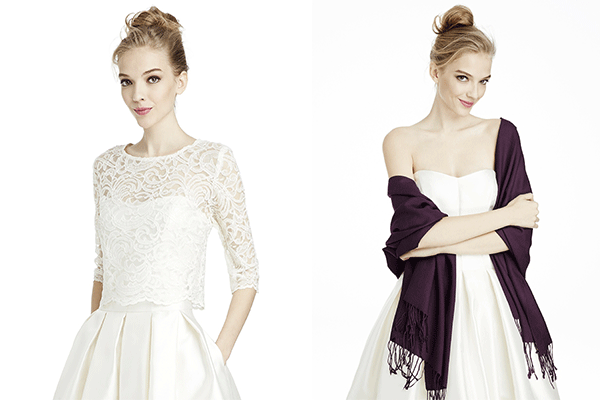 Love a dress, but it's strapless? Here are two ways to have the best of both worlds! Left to right: Lace Top and Pashmina Shawl