Add a Pop of Color to Your Proposal with The MRS. Box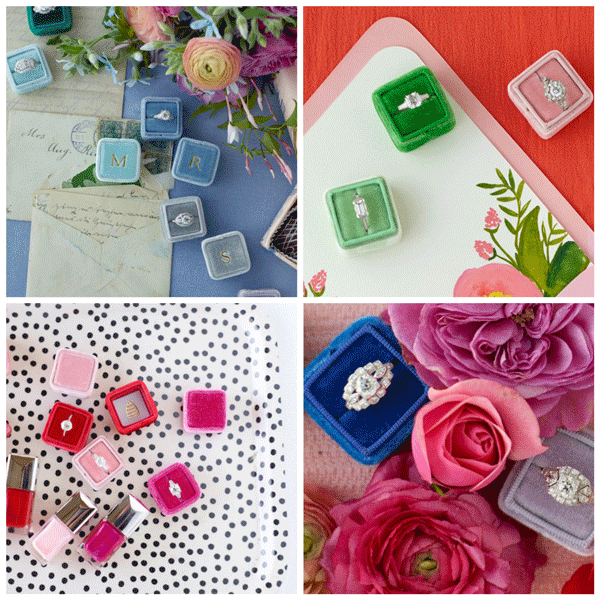 If you are about to pop the question to your girlfriend, or you're a bride looking for the perfect gift for her bridesmaids, we came across The MRS. Box Wedding Heirlooms, a company that will take you back to a time when our tiniest pieces of jewelry were held in the most beautiful of boxes, and were treasured as more than just a container to hold your tiny prized possessions. It will make your ring or tiny piece of jewelry even more beautiful, and a treasure years to come.
View the entire collection of these beautiful boxes at TheMRSBox.com
The MRS. Box began out of the "love of color" and bringing back to life these tiny boxes that have long since become an afterthought and doomed to spend eternity feeling overweight and dressed in shabby colors, according to the company website.

The company has brought back the tiny boxes in a rainbow of colors that are just beautiful. They are made from vintage French velvet and promise to be both an heirloom and a showcase for your jewelry. The ring will still be given the center of attention whether you are a Miss., Ms. or Mrs. or for your fiancé, for yourself, a friend or your bridesmaids.
According to its website, quality textiles today are harder and harder to find, so a collection like this out of the finest quality pre-war vintage French velvet is definitely worth it. The materials come from mills that are no longer in existence, so due to the rarity of remaining pieces, each color is limited edition.

When we came across this website, we couldn't help but think of how many times our old jewelry boxes, even tiny ones like these are left behind like an afterthought especially if they didn't have jewelry in them anymore. Upon seeing these boxes, we know like the jewelry pieces, these boxes are a real treasure.

Looking for the right color for your wedding? Check out Pantone Wedding Guides to help you make your color decision much easier!

If you're a bride looking for the perfect gift for your bridesmaids, some great gift ideas are available at Dessy.com.