The Best Bridesmaid You'll Ever.... Hire?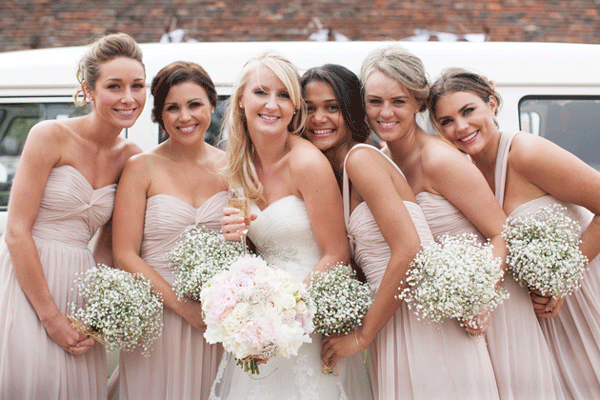 When it comes to planning a wedding, every bride needs her bridesmaids to take on some of the biggest and smallest of details when it comes to wedding planning. Well, one bridesmaid took the job very seriously, so seriously she launched Bridesmaid For Hire and used the skills she learned from being a bridesmaid to help other brides who need it.
More ABC US news | ABC Health News
The "company gives stressed out brides an assistant that takes the grunt work away from the hassled bridesmaids," according to a recent New York Magazine article.
The company offers various packages from a "virtual bridesmaid" which includes a consultation sessions, via an online video, collaboration tool to assist with planning, problem solving and putting together itineraries and to-do lists, to "bridesmaid by your side" package which provides weekly sessions online videos to assist with the planning of events and activities that lead up to the wedding, according to the company's website.
So how did this all begin? In 2012, when founder and pro-bridesmaid Jen Glantz saw all of her friends get engaged, it was the first time she had been asked to be a bridesmaid. The offers to be a bridesmaid started rolling in as more friends were getting engaged.
"Before I knew it - my tiny NYC closet hugged more bridesmaid dresses than I had hangers for," she says on her website.
Glantz then put out a Craigslist ad for professional bridesmaid where she thought she could use the skills and knowledge she had picked up along the way to help the bride and the wedding party. Within a matter of hours she was receiving letters from brides all over the world.
Glantz says that her bridesmaid training actually began in 2010 when she started traveling the country as a consultant for a national sorority. Each week she found herself hoping off a plane in a new city and working with a group of women she had never met before. Glantz said she would help these women organize and delegate their to-do lists, problem solve overwhelming situations and cleanse their lives of any chaos that ensued.
She learned "how to make strangers into friends and turn difficult challenges into stress-free adventures," said Glantz on her website.
We're sure many of you are thinking, why didn't I think of that? Because so many bridesmaids are excellent planners and organizers, but no one stops and thinks (except for Jen Glantz of course!) they could in fact help other women.
Want to keep your bridesmaids organized for your big day? Download our Bridesmaid Planner app!
Our featured image of Dessy Bridesmaids was taken by Lucy Birkhead Photography