What These REAL Brides Got Right On Their Wedding Days
No pressure, but your wedding day is the real deal, isn't it.
It's not a dress rehearsal (although we'd always say that's it's well worth having a rehearsal of the ceremony beforehand if you can and a bit of a run through).
Which is why it's a good idea to do as much research as possible before YOUR big day
In this blog we aim to condense all the useful hints, tips and visual inspiration you need to get your day just as you want it to be.
One good way of doing this is to check out what other brides have done on their wedding days and learn from them.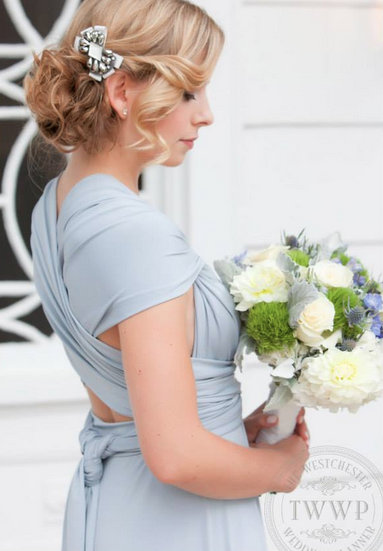 Beautifully co-ordinated flowers and dress - bridesmaid frock by Dessy

1. Colour co-ordinating flowers to dresses. Choose the right shades and your flowers could really complement the look of your bridesmaids. Certainly something to think about well in advance. Talk to your florist about the colours you've chosen and see what blooms are on offer at the time of year you're marrying in. We also like the use of a simple but effective hair accessory here - perfect with a simple updo. Hair accessories work on bridesmaids with both short and long hair and can really add the finishing touch if you choose carefully. They're not expensive either.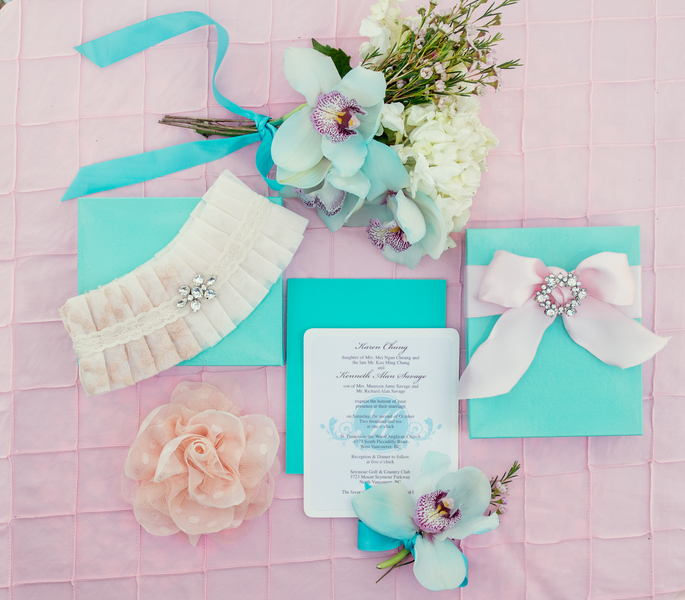 2. Having a photograph taken of all the wedding stationery and flowers. Put together all your invitations, save the dates, order of service sheets, favours and ask the photograph to take a mood shot. It'll be a long-lasting memory of your big day and certainly one for the wedding album. You're going to be really busy in the run up to your wedding and on the day itself and this is something that might otherwise get forgotten.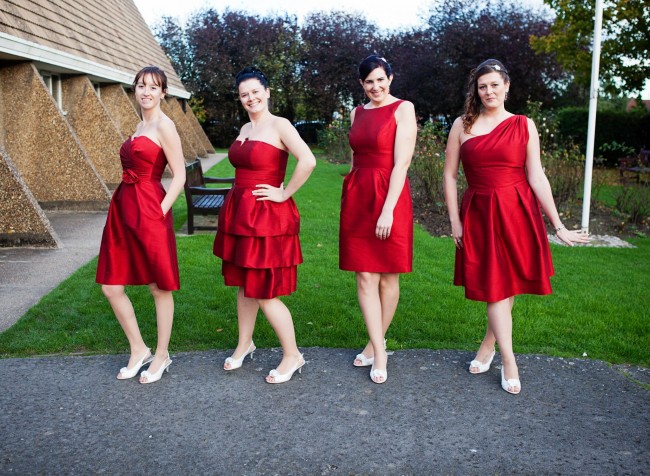 Four girls, four different frocks. So each girl can flatter show off her best points!

3. Putting your girls in different bridesmaid styles. One frock certainly doesn't suit all - so investigate different designs and hang the look together by choosing a single shade (although you don't have to do that either). The result? Happy, smiling girls in your photographs who look and feel their best. Dessy says that every bridesmaid dress has a colour (and every colour has a bridesmaid dress) so look through what Dessy has to offer, show your ladies and enjoy having a choice.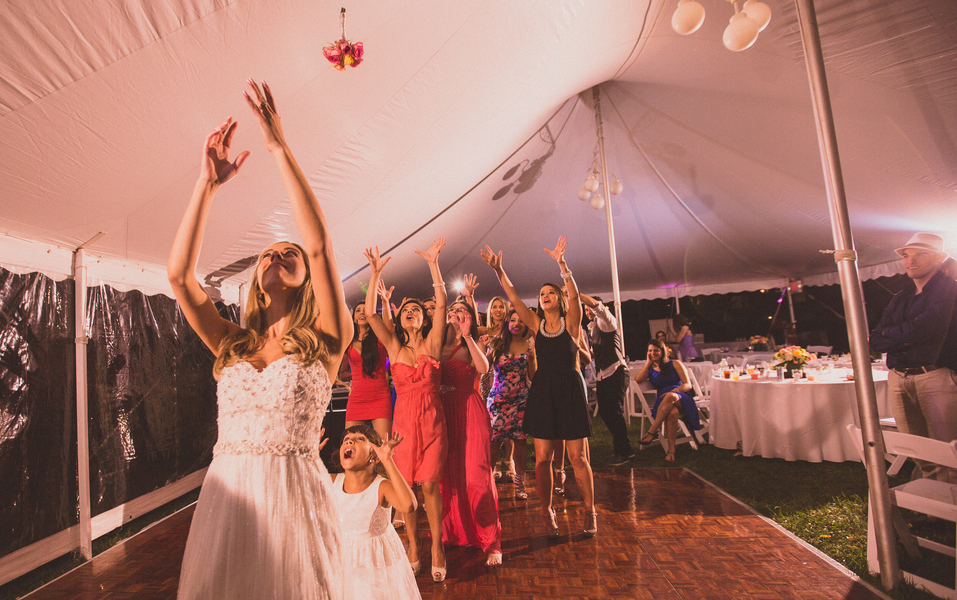 4. Having a toss bouquet. Do you like the tradition of throwing your bouquet to the female party, with the idea that the girl who catches it is the next to get married or engaged? But you really would like to keep your bouquet as well? In which case, have another spare bouquet created that resembles your precious wedding bouquet. Use that at the reception for fun (but keep your own bouquet for yourself).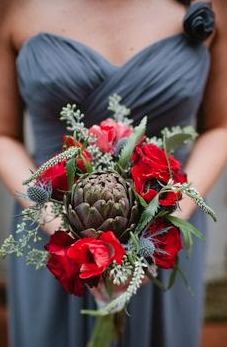 5. Choosing non-traditional wedding colours. You don't have to put your bridesmaids in pastels. Think about your colour choices carefully - and use the principles of interior design to contrast colours that work well together - like this stormy grey stunningly matched with scarlets. Dazzling, and what an entrance your bridesmaids would make at the ceremony. Also you don't have to put only flowers in your bouquet - succulents work well too - and this bouquet has an artichoke to lift it out of the ordinary. Design a wedding moodboard here for free to see what would work for you.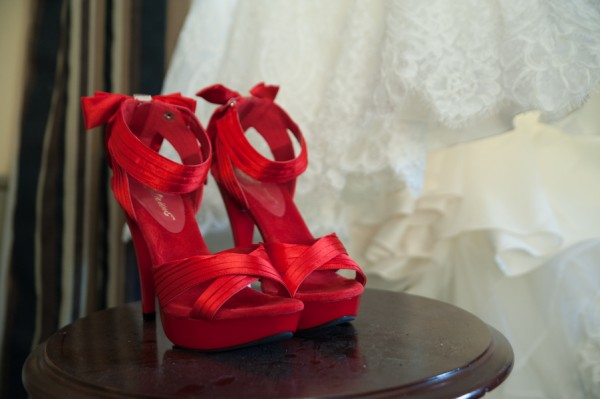 Love these scarlet shoes the bride chose. Wear white or ivory if you want to, but if you choose a statement pair of shoes you'll almost certainly get more wear out of them - so you can buy the pair of your dreams
6. Not following the crowd by wearing white or ivory shoes, but adding an accent colour. There's no rule that says you have to wear white shoes with your frock - so maybe splash out on the pair you've always wanted in red, sapphire blue, green, gold or silver. You'll get a lot more wear out of them in the future and a pair of coloured wedding shoes peeking out below your gown looks fabulous.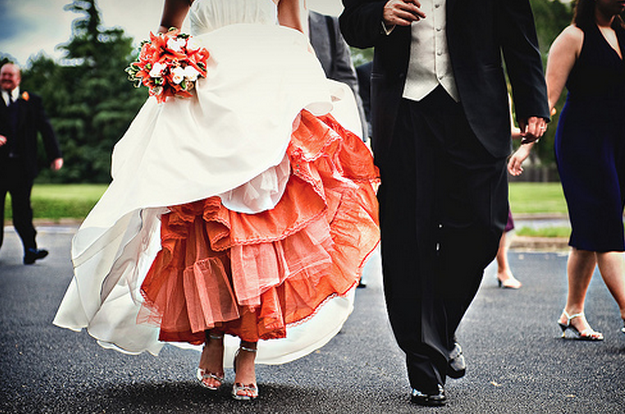 7. Wear a coloured petticoat under your wedding gown. Not only will it look wonderful in your photographs but it's a good way of adding a subtle colour to the skirts of your dress. A coloured petticoat will add a tone to white or ivory and make your dress stand out. You don't have to go for something really bright either - maybe a pink, a pale blue or a soft green - all would work well.
Have you been to a wedding recently and thought 'now that's something I'm going to do at my wedding?' If so, please share your ideas and thoughts with us. We'd love to hear about them!