REAL WEDDING - A Beautiful Fall New York Wedding with Lela Rose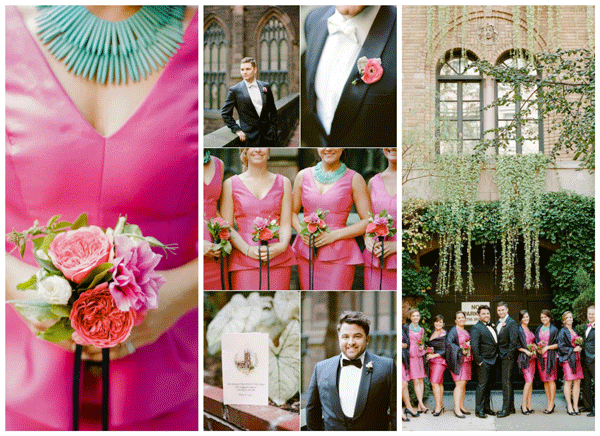 There is something magical about New York City in the fall. We recently came across this beautiful New York wedding and it was simply too adorable not to share! Especially since the bridesmaids wore Lela Rose Style LR186 bridesmaid dresses in Pantone American Beauty!
Why do we love this dress?
This Lela Rose bridesmaid dress is a cocktail length sleeve V-neck gazar dress with a split peplum and matching self-belt at the natural waist. The style is flattering and great for several body types!
It's All About the Accents:
What we also loved about these particular bridesmaids; was that grooms Trifon and David gave each of the bridesmaids unique pieces of turquoise jewelry, according to Little Black Book blog by Style Me Pretty.
The bridesmaids also wore dark blue pashmina shawls, which looked so elegant with this dress. Looking for pashminas and unique jewelry pieces for your bridesmaids? Check out our beautiful accessories at Dessy.com!
The Wedding:
The grooms got married in a Greenwich Village church, and followed it by a luncheon reception at a west village restaurant, One If By Land Two If By Sea. Read the full blog post and view the full image gallery at StyleMePretty.com!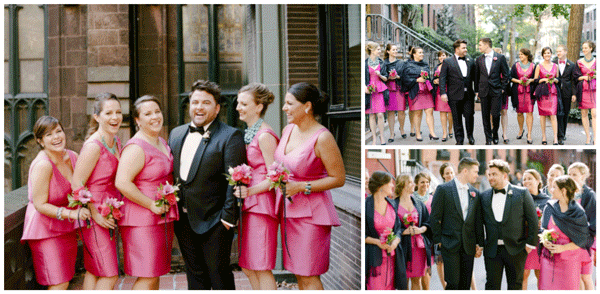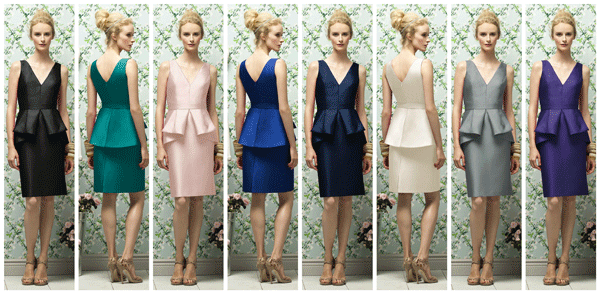 Loved the fuchsia color featured in the wedding? Check out Lela Rose Style LR186 in these other beautiful Pantone colors!
Know two grooms getting married this spring? Make sure they check out all our tuxedo styles at AfterSix.com.
Wedding images by Rebecca Yale Photography