13 Common Wedding Invitation Mistakes and How to Avoid Them!
When sending a wedding invitation, it is so easy to miss the little details with your wedding invitation. That's why it's important to always check before you send!
Here are some common mistakes every couple makes with their wedding invitations.
Not ordering enough invitations. Even though you have your headcount for your wedding, it is so easy to accidently not order enough wedding invitations. Make sure you know how many invites you are sending to each household, and always order extra just in case!
Not sending enough invitations. It is usually one invite per household, along with any additional adults living in the home you are sending it to. For example, if you are sending it to a couple with grown children, it is good etiquette to send one separately to the children.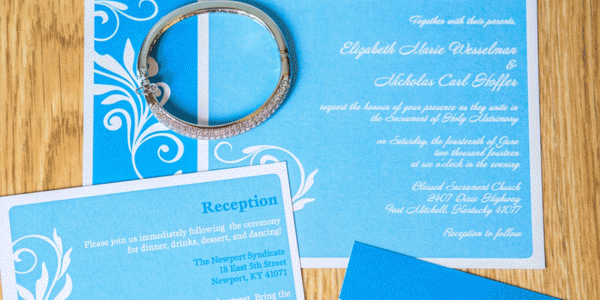 Not having the right return address on the return envelope. Wanted to have the invites sent to your parent's house? Then decided to have them sent to your own home, but forgot to make that change before you gave the go ahead on your invitations? Make sure details are checked before you order them.
Incorrect spelling of someone's name on your invitation. Even one letter missing, could cause chaos with family. The last thing you need is your future mother-in-law asking you how you could misspell her name.
The wrong design for the invitations. This may not necessarily be your fault, it could be the designer's fault, but in any case, it delays the process of sending out the invitations in a timely fashion. Check and double check that you and your designer are on the same page when it comes to the design of the invitation.
Not providing written directions to the wedding reception and ceremony. Not everyone has a GPS and not everyone knows how to use them. Don't assume that everyone is technologically savvy and will just use Google Maps or something similar to find your wedding. Some guests may still feel comfortable doing it the old fashioned way.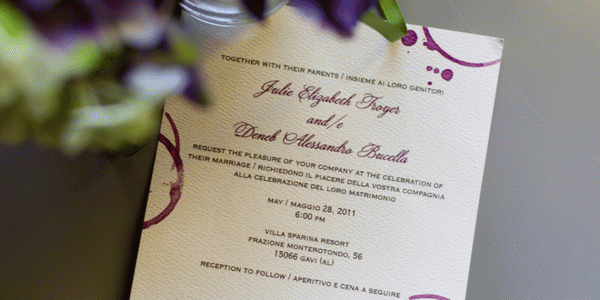 Image by Andrea Weddings
Not having enough postage on your wedding invitations. Make sure you are up to speed on the wedding invitation rates before you send out your invitations. You are not using regular postage for these types of invitations. We came across this nifty site that provided that information – WeddingStamps.us.
Not providing dress code information for your wedding. The invitation, the venue you have listed and/or the type of wedding you are having should dictate what kind of attire your guests should be wearing at your wedding. However, it is important to include something along the lines of: "Black tie Affair" or "Formal Attire" "Semi-formal Attire" or "Casual Attire." Anything that gives guests a good idea of what they should wear to your wedding.
Sending the invitations too late. You will want to send your invites about a month and a half to your wedding. This should give your guests enough time to respond in a timely fashion.
Not including an RSVP date on your invitation. Of course we all have to assume couples would include one, but in the off chance this is a forgotten detail, make sure to include and RSVP date. Also, it is good to ask that guests respond two weeks before the wedding.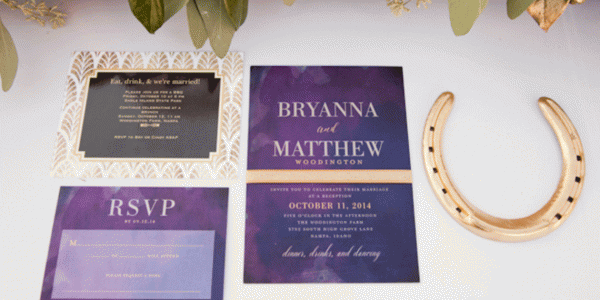 Image by McWed
Not asking guests if they have any dietary restrictions. On the response card, if you're asking people what they prefer to eat, traditionally steak, chicken or fish, make sure to ask if anyone has any dietary restrictions or allergies to any specific food.
Not listing everyone on the invitation. Don't forget to include your parents and his on the invitation. This wedding is about the both of you, not just you and not just him.
Not having or sending invitations to the right address. This could cause a little bit of an issue, so make sure you have everyone's address way before you start thinking of invitations. It could cause a problem when a close family member thinks they aren't invited to the wedding.