Frocks That Play To Your Bridesmaids' Best Features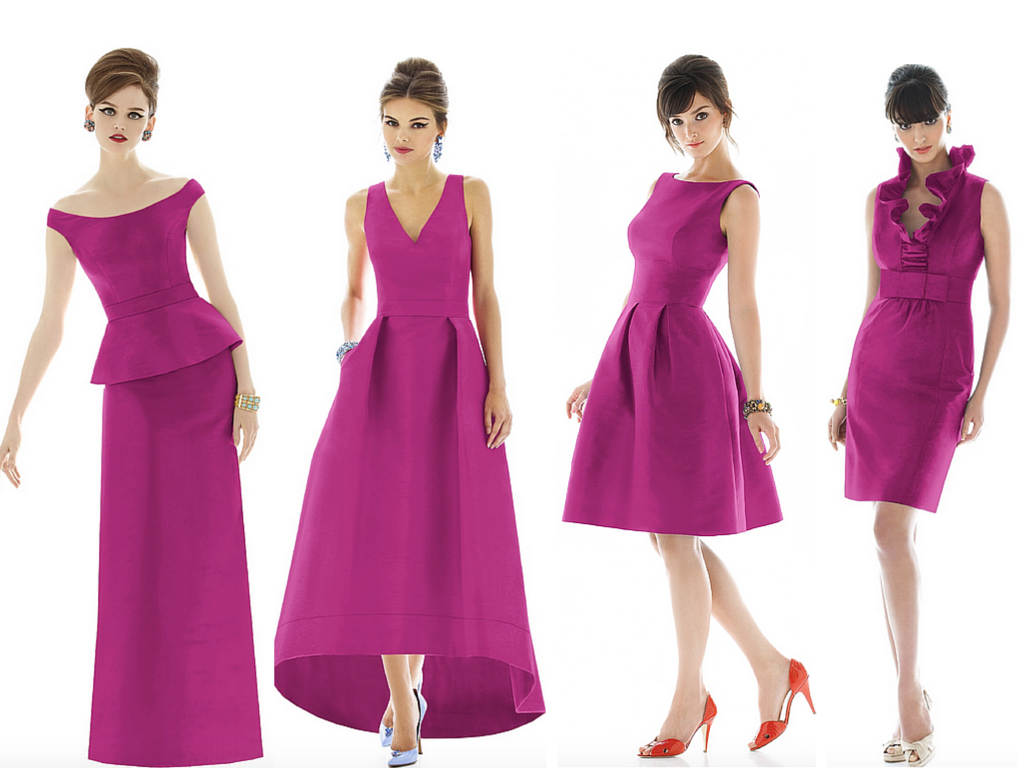 None of us are perfect.
We've all got bits of us we quite like, which we'd consider our best bits. And other bits we'd rather hide. Might be our legs, our knees, our hips, our tummy, our arms ...
So when you're dressing your maids you need to be sympathetic about all this.
It's no use draping your bridesmaid in a strapless gown if she's very flat-chested. It's not going to flatter her.
And if she hates her legs, then don't put her in a short dress that finishes above the knee.
It's all about communication
Chat to your girls. Ask them what bits of themselves they do like. What they like to show off and what they'd rather not.
And then shop for bridesmaid dresses with this information in mind. Show them designs you like and get some feedback from them. That's the way to have happy smiling girls on your wedding day and photographs you love.
Dessy's frocks come in a variety of styles and so I've picked out a few to flatter and camouflage. See what would work for you.
From left:
If your bridemaid is a bit self-conscious about her tummy then this style - Alfred Sung D637 - is the perfect camouflage. The all-forgiving peplum draws the eye away from the stomach area and hides any lumps and bumps. Instead the focus is on the top bodice - with the long line skirt lending height and elegance.
Does your girl hate her legs - except for her ankles? Then this frock Alfred Sung D589 will show off a neat ankle to perfection and hide a less than skinny knee and thigh area. The A-line skirt flatters hips and thighs and the V neckline works for girls with medium to large busts too.
Feeling a bit pear shaped? Unhappy with her hips? Style Alfred Sung D440 flows out over the hips from the waistline in a flattering A-line shape. There's nothing tight or fitted about the hip area and the boat neckline flatters the smaller bust.
If your maid is flat-chested then this is the perfect frock to choose - Alfred Sung D470. The ruffled neckline actually detracts attention away from the chest area with its detail and instead frames the girl's face and neck. If she's got a neat waist, then the belted waistline will also flatter.
Any other styles you'd recommend?