How To Make Elegant (But Inexpensive) Wedding Chalkboards
Here's an idea for wedding DIY that's simple, easy, effective and budget-friendly.
Make your own wedding chalkboards.
Chalkboards are ideal for a rustic, countrystyle wedding day.

You can use them for your seating plans, to direct guests to different areas and to give instructions.

You'll Need:

Old mirrors, blackboard paint, white chalk paint, masking tape, paint brushes, newspaper (to put the frame and mirror on whilst you're painting).
First off, search for old mirrors in junk shops, on Ebay and at jumble sales. Don't worry if the frames don't match - that's all part of the effect.

I just found this mirror on eBay for 99p


Go for different sizes of mirror to suit your purpose. For example, for a table plan you're going to need a large mirror to fit all the names. For a simple sign, like 'parking' then it can be a lot smaller.
If you can, remove the glass from the frame carefully.
If you don't like the frame, you can paint it with white (or another colour) chalk paint. I like chalk paint by Annie Sloan, which is very easy to work with and gives a fabulous shabby chic effect.
Once the frame is dry, paint the mirror itself using blackboard paint (which you can buy here). If you haven't removed the mirror from the frame, then you're going to need to mask the frame to protect it from the black paint. (Or you can paint the mirror before the frame if you prefer, whatever works easiest for you).
You may need to give the mirror and the frame more than one coat of paint to get the finish you want.
Reassemble the mirror in the frame.
Now you can write on the blackboard with chalk or you can use white lettering paint - you may find a stencil helps here.
If you're using a large mirror, you can prop it up on an easel at your reception so it's at eye level and easy for guests to read.
Any other wedding DIY ideas to share with us?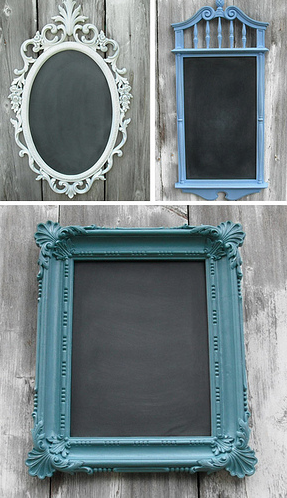 Image via Flickr
Featured image via Revived Vintage (who sell readymade vintage chalkboards if you'd rather go down that route).