Wedding colours and palettes
How to Choose the Perfect Wedding Colours for your Special Day
When you come to think about the overall 'theme' of your Big Day, wedding colours schemes are crucial to setting the tone (pardon the pun) of the whole thing. It's not about dressing your bridesmaids in the 'latest' colour - it's about loving a colour so much that you just HAVE to have it at your wedding.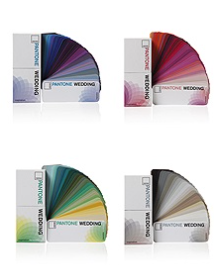 The essential Wedding Colour Tool
Be inspired by your childhood
In the mood-board below, I've taken inspiration from a real Dessy wedding which dressed the bridesmaids in elegant Icelandic Dessy Collection 2896. I love the way the bride has teamed it with such vivacious, happy bouquets and it reminded me of those rhubarb and custard sweets I used to love so much as a kid. That pretty pink and yellow combo still makes me feel so good! And look how well it would go with the groom in his matte satin Buttercup Yellow cravat and waistcoat. You could even accessorise your ballet pumps or heels with a Flower Shoe Clip to bring the whole thing together.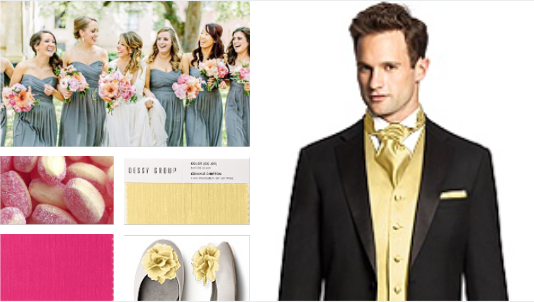 Beautiful Icelandic Dessy dresses with complementary bouquets for a stunning impact, courtesy of Dessy Group #dessyrealweddings
You might want to go all purples and lilacs like Lily James in Kenneth Branagh's Cinderella in that divine ballgown, or, dare I say it, you might be inspired with celadon, mint, cyan and other glacial colours like Elsa in THAT film singing THAT song...
And although you might want your own dress to be ivory or white, there's nothing to stop you having fun with the flower girls and bridesmaids dresses. Of course, many of the best colour palettes are those found in nature and if you keep it seasonal, it will be so much cheaper (and far more beautiful) for sourcing your flowers.
Where to start
If you need a little help on where to start, take a look at the Dessy Pantone Wedding pages which have a collection of wedding colour planning tools.
Here are a few tips on the basics of colour planning:
Every colour can be described in terms of three main attributes:
hue - the colour family or name e.g. pink, purple or blue
saturation - a measure of purity of the colour, i.e. how sharp or dull it is
brightness - a tint is a lighter version of the colour, shade is a darker version of the colour
Like all great artists, it's best to limit your colours to four or fewer, relying on tints and shades to give you depth of choice.
Remember, monochromatic or analagous colour schemes are like relaxing in a comforting bathrobe - they make you feel all warm and cosy inside; complementary colour schemes are like standing in the rain in your bikini - they make you feel alive and buzzing!
Make them sigh at the romance of your colour choice
An analogous scheme is a group of colours close to each other on the colour wheel and can be used for a soft, delicate and gorgeously romantic look.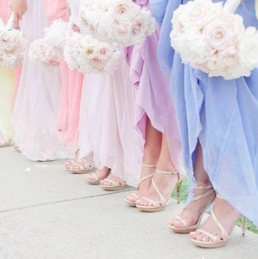 Choose analogous colours near each other on the colour wheel for a heavenly look
Wow your guests with complementary wedding colours
Complementary schemes use colours that are opposite each other on the colour wheel; choose one or two vibrant colours to stand from the rest but use them sparingly for best effect.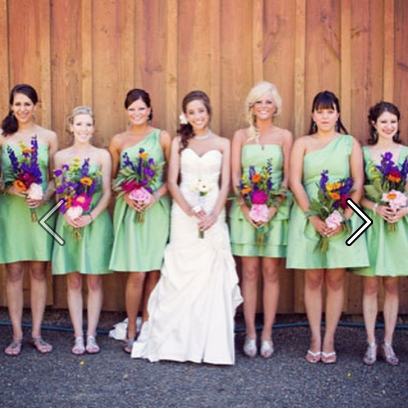 Complementary flowers with these Appletini Alfred Sung bridesmaids dresses create a stunning look
What is the inspiration for your colour scheme?