Destination Wedding Ireland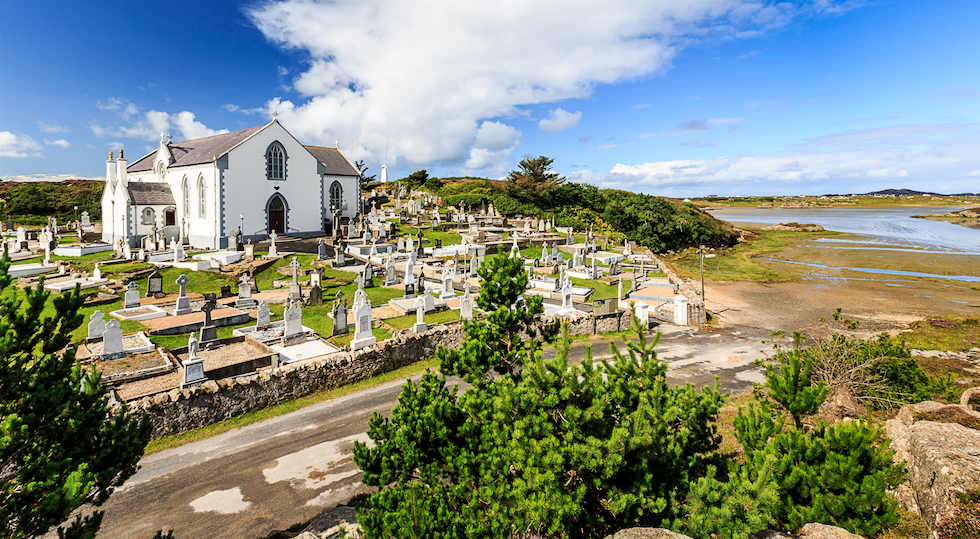 Who wouldn't want to get married here?

Lena Bjorck, who's been happily living in the UK for over twenty years, had the choice of London; her homeland, Sweden; or her fiancé Fin's home in Ireland. Both Sweden and the west coast of Ireland have pretty stunning views, so the fact that Fin had a large number of relatives back in the Emerald Isle (whereas Lena has relatively few in Sweden) swung the decision - Destination Wedding Ireland it was!

Working as Creative Director for one of London's leading catering companies, Food Show Ltd, Lena was unfazed by the thought of organising her wedding from a distance. On a visit to Fin's family, she saw the beach next to Cruit Island Golf Course and knew immediately where she was going to pitch her tent for the wedding!





Because the view was so stunning, Lena organised a marquee with transparent sides and a pretty picket fence so that everyone could drink in that view all day long.

Hay bales were placed around outside for casual seating and were strewn with reams of soft material.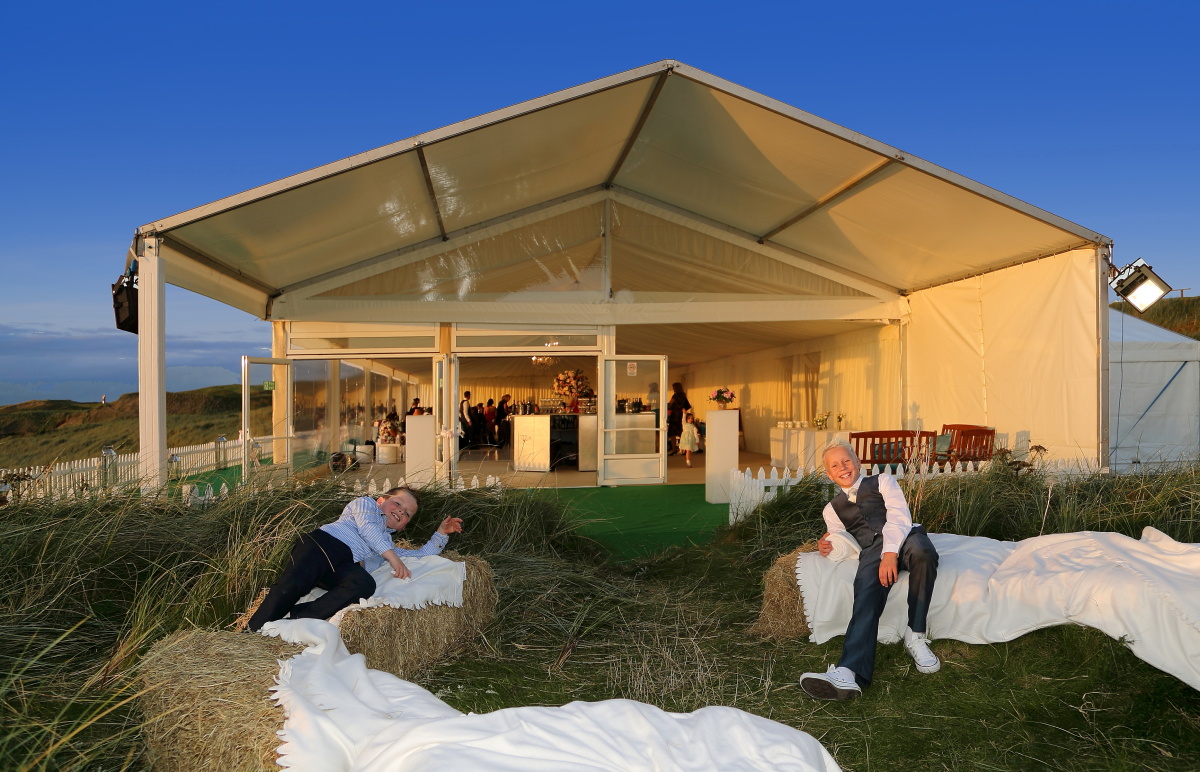 The bride's dress was made by Sophie from Elizabeth Todd in Chiltern Street, London; Lena had in her mind the style of gown she wanted and Sophie interpreted her brief to perfection - vintage-style, flowing and exquisitely elegant in the most beautiful ivory silk.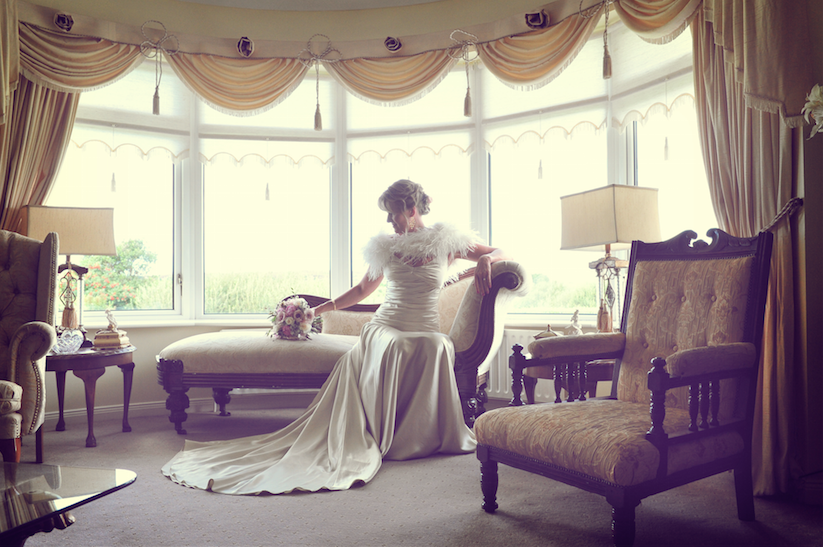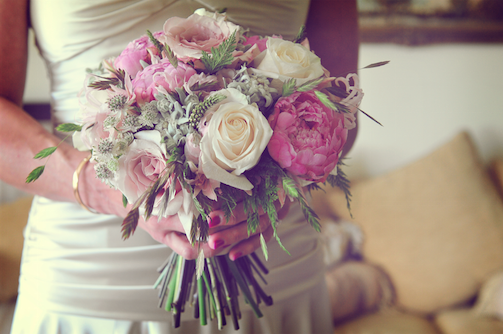 The bridesmaids' and flower girls' dresses were equally as beautiful and relaxed: the Maid of Honour was in a blush coloured, free-flowing full length gown which echoed Lena's dress design; the bridesmaids and flower girls were in soft white with flower details round the waist or neckline. Their nosegays picked out the dusky roses, grasses and off-white notes from Lena's pink peony and old-fashioned cream rose bouquet to create an easy harmony that was a visual delight.





Lena's father had passed away a few years' back so Lena had asked her mother to walk her down the aisle. And so she did, looking absolutely fabulous in a purple, pink and green floral outfit, purple fascinator and a huge smile!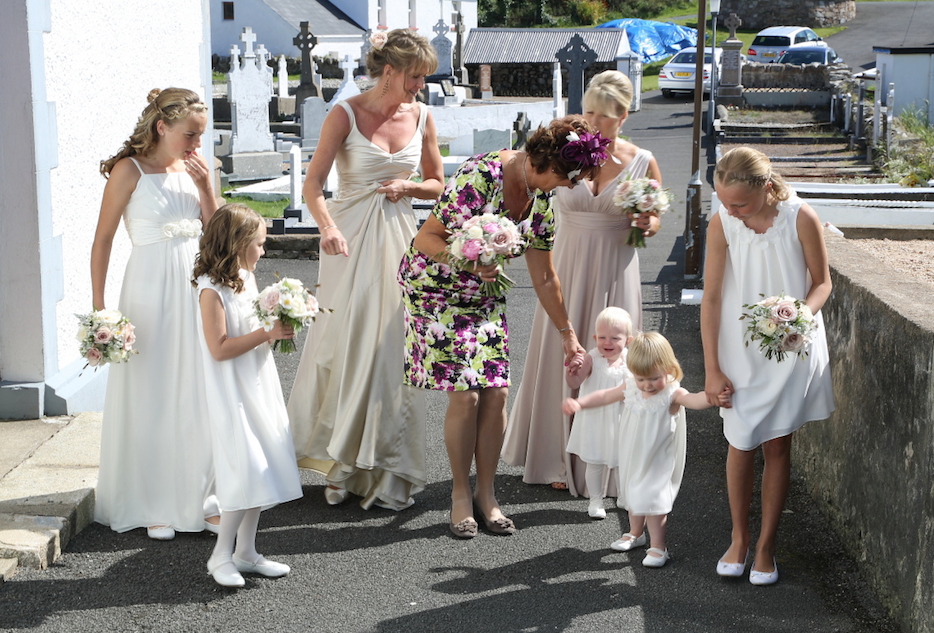 Lena and Fin had spent a weekend with Father Kevin, who was to marry them, to ensure that he really knew the couple before the big day, enabling the ceremony to be as stress-free and happy as possible. I think his strategy worked!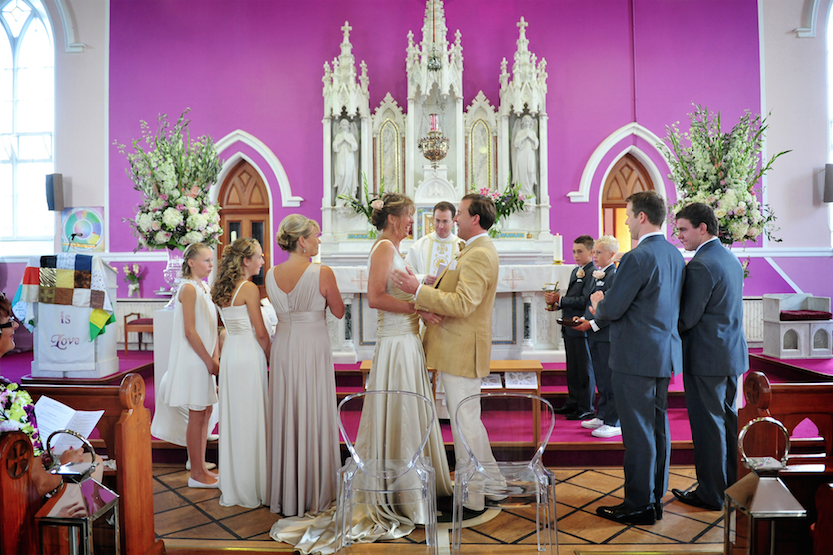 Looking at the sky, that view and those smiles, you've got to ask yourself why aren't we all going for Destination Wedding Ireland!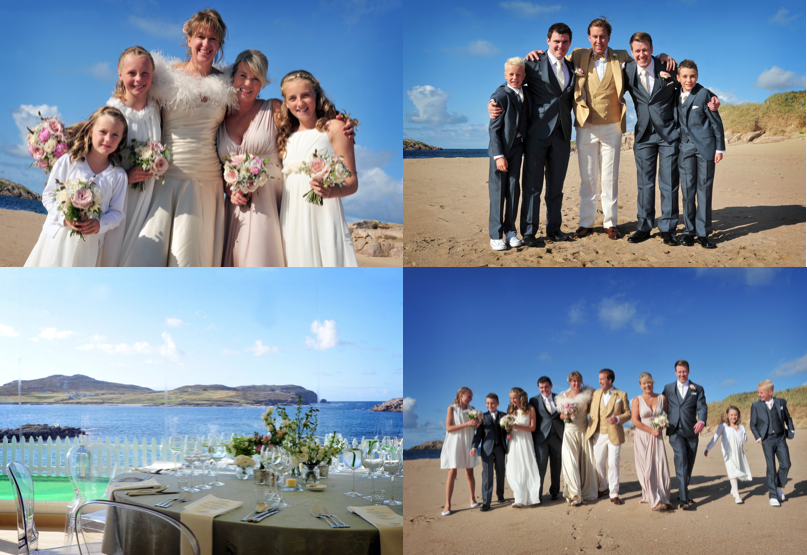 My warm thanks go to Lena and Fin Breslin for sharing their wonderful wedding with me, and to the two fabulous photographers Pamela Blow and Steven Morris who between them captured every joyous moment of the day.
If you'd like to achieve a look similar to Lena and Fin's bridal party, take a look at the following from Dessy.com





From left: Dessy Collection 6667 in Palomino; Dessy Collection 2897 in Blush; Junior Bridesmaid JR 835 in white; Venetian Gold waistcoat and matching bow-tie.