A Fiery Autumn Wedding
Although a music and singing teacher by training, Gill Kilvert isn't averse to being a Wedding Photographer herself, and so she's all too aware of the importance of visual coherence in a theme. So when it came to organising her own wedding to Robin Barrett, she took her inspiration from the most British of seasons; blazing oranges, reds, yellows, cream, green and a deep, velvety brown wove seamlessly through the entire Bridal Party's outfits, creating a beautifully rich palette which was echoed in the woodland and hedgerows outside. It was a veritable fiery Autumn Wedding!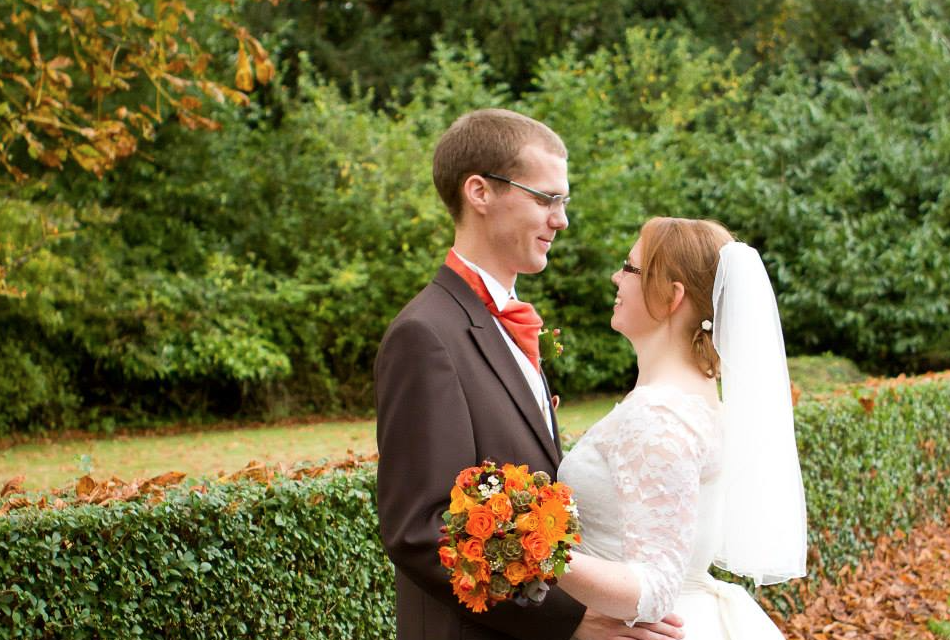 Gill's three bridesmaids wore stunning, halter neck dresses in vibrant orange, a colour picked up by: the orange Gerberas and roses in Gill's bouquet; the groom and Father of the Bride's rose buttonholes; their fabulous orange cravats; and ,for the groom, orange lego cufflinks!

The ushers, groom and Father of the Bride were all sporting deep brown suits and cream waistcoats, with chocolate brown, satin cravats for the ushers and yellow rose buttonholes.

The cream of the men's waistcoats was echoed in the bridesmaids' posies of roses and in Gill's bouquet, with all of the hand-held flowers sporting dark coppery foliage, green seedheads and shiny red rosehips.

The reception, in a beautiful brown-timbered and cream hall, was bedecked with bunting in all the autumnal colours, as was the wedding cake, topped with Gill and Robin Lego characters drinking champagne!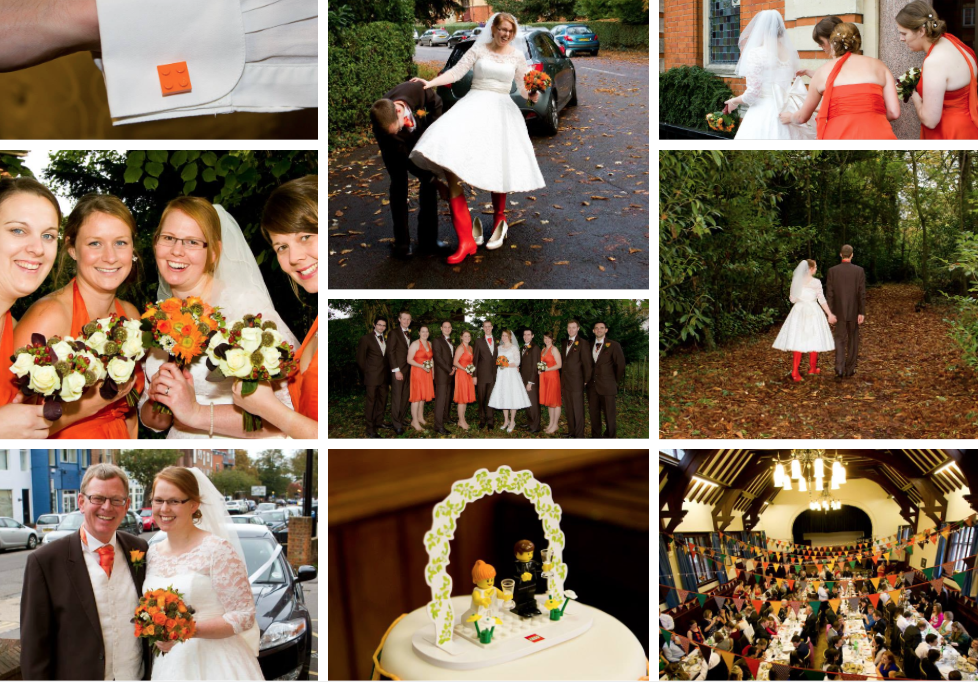 When you get married in the autumn in the UK, you had better be prepared for some rain and Gill was taking no chances! Not wanting to ruin her beautiful satin shoes as the happy couple made their way from the Church to the hall, she wisely changed in to a pair of bright red Hunter Wellies!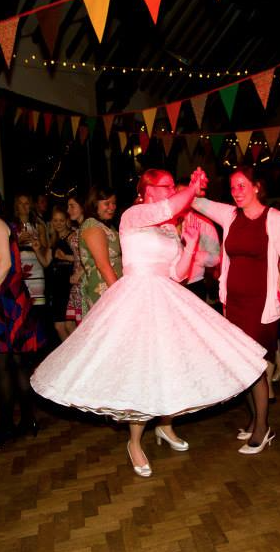 But the piece de resistance was undoubtedly Gill's fabulous, below-the-knee gown. When you love dancing and singing as much as Glee Club UK Captain Gill, it's just got to be a Fifties-style wedding dress with the fullest skirt imaginable, from Fifties-Style Wedding Gown specialist, Candy Anthony. It doesn't get much more joyous than that!
With huge thanks to Gill and Robin for sharing their wonderful Autumnal wedding with us, to the talented photographer Helen for her wonderful images (contact her at www.Helenlightphotography.co.uk and the perfect seasonal flowers and bouquets by Emma at Signature Flowers.
If you'd like to look at glorious orange bridesmaids dresses; orange and brown cravats; or brown or cream waistcoats, take a look at Dessy.com for their extensive range and local stockists.