West Dean - An Historic Wedding Venue in West Sussex
Ever since I read 'Beauty and the Beast' as a child, I've been enthralled by the idea of getting married in a grand house set in beautiful surroundings but would never have known where to start looking! But now I've found the Grade II* Listed West Dean House - a wedding venue in West Sussex which pretty much ticks every box in the fairy-tale wishlist!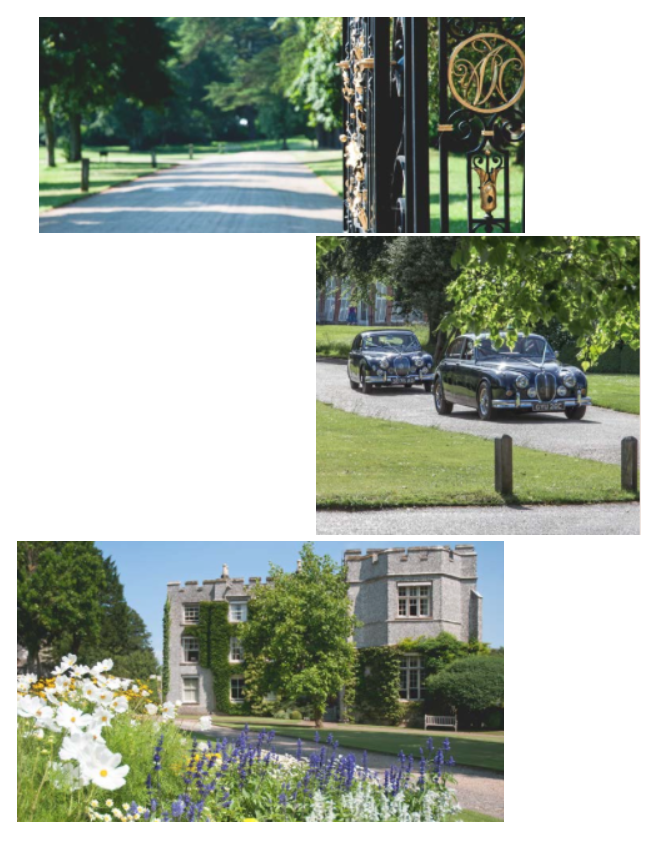 To start with, there is a magnificent driveway up to the 19th Century flint mansion through its beautiful parkland setting which nestles in the South Downs. One of the (many) joys of West Dean, an internationally-acclaimed arts college, is that it is incredibly versatile, and its dedicated wedding team will guide you through the options, from a spacious marquee for 200 on the Picnic lawn to the pomp and circumstance of a Wedding Breakfast in one of the atmospheric State Rooms in the historic house itself.
Either way, take inspiration for your wedding from the award-winning gardens which are delightful in the extreme. Think about the time of year you will be getting married there and then ask about the flowers and plants that will be in bloom around the various parts of the estate. It is worth meeting your wedding photographer there in advance, along with a member of the Wedding Team, so that you can plan your photos and even your wedding colours. Think how beautiful your bridesmaids would look wearing burgundy and claret dresses as they posed with you underneath this romantic rose pergola.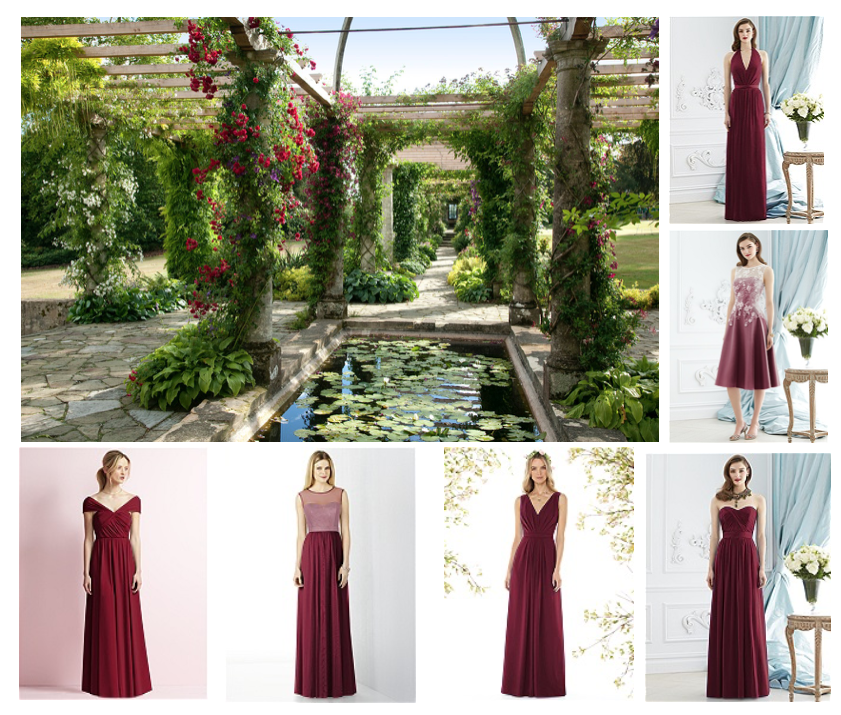 The Bridesmaids above are shown, clockwise from top right, wearing Dessy Collection 2941 in Burgundy; Dessy Collection 2947 in Burgundy; Dessy 2942 in Burgundy; Social Bridesmaid 8157 in Burgundy; After Six 6726 in Burgundy; and Jenny Yoo JY501 in claret.
Or use this wonderful combination of forget-me-nots (SO romantic) and rich wallflowers to marry the softest of blues with a ruby red.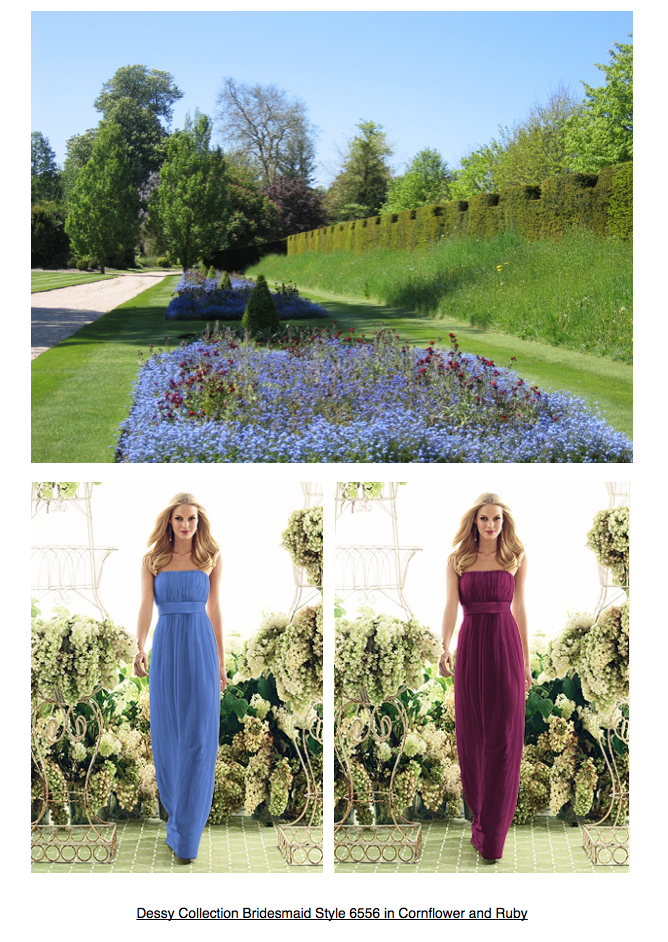 Perhaps the West Dean gardeners should also go into Wedding planning, as I just LOVE this mix of citrus colours with the deep purple in the flower beds below - I've collected Alfred Sung D520 in Daffodil, Dessy 2876 in Clementine, Alfred Sung D587 in Pistachio and Social Bridesmaid style 8158 in Bordeaux.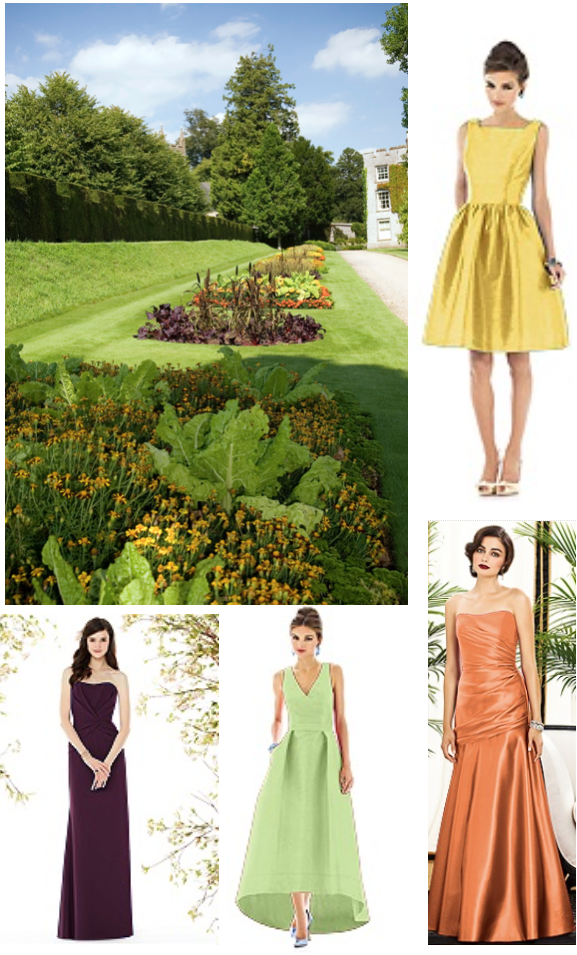 Of course, you're not restricted to the Gardener's Choice - the wedding that was held in this marquee was a delightful mix of pastel pinks and mauves and just see how charming it looked.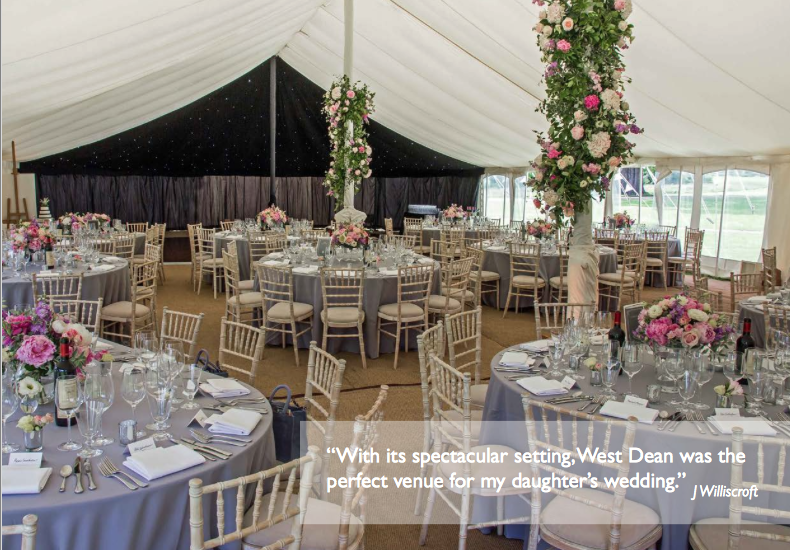 The State Rooms inside offer a range of different-sized rooms so that you can tailor your wedding to suit your budget and desires to perfection, and the in-house chefs use locally-sourced produce to produce a variety of menus for all tastes.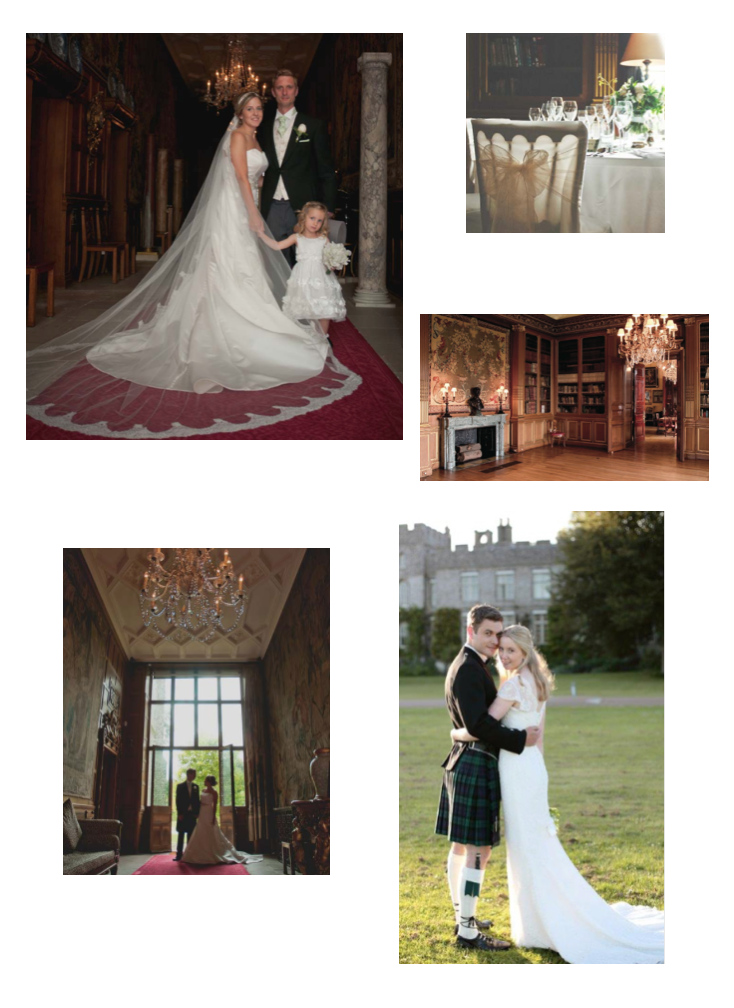 And perhaps one of the BEST things about West Dean, is that not only does it boast a beautiful bridal suite, it also offers The Vicarage, located just behind the main house. Here, your nearest and dearest can take the 10 en-suite bedrooms, complete with private garden and swimming pool, to extend the magic of your wedding with you until the following morning. And may you live happily ever after.

With many thanks to the team of West Dean for use of their wonderful photographs and for sharing this superb venue with us. If you would like to get married here (and let's be honest, who wouldn't?) then contact weddings@westdean.org.uk or call 01243 818258.