Black and Pale Pink Winter Wedding
There is nothing more jolly than mixing pleasure with work, and so it happened at the weekend when I was at a London lunchtime party. On the kitchen table, doubling up as a whatever-you-want-we-have-it bar, was a HUGE bowl of the most beautiful hydrangeas I've ever seen. The solid hemisphere of blues, pinks and creams was heavenly and each bloom was in the most perfect condition. The overall effect was sublime in itself, but I was particularly taken by the pink, double hydrangea which I had never come across before. I soon tracked down the creator of this fabulous arrangement, only to discover that she was none other than Ming Veevers Carter, one of London's top floral designers.
So of course, I hot-footed my way to her website VeeversCarter.co.uk and came across this fabulous photograph from a Black and Pale Pink Winter Wedding...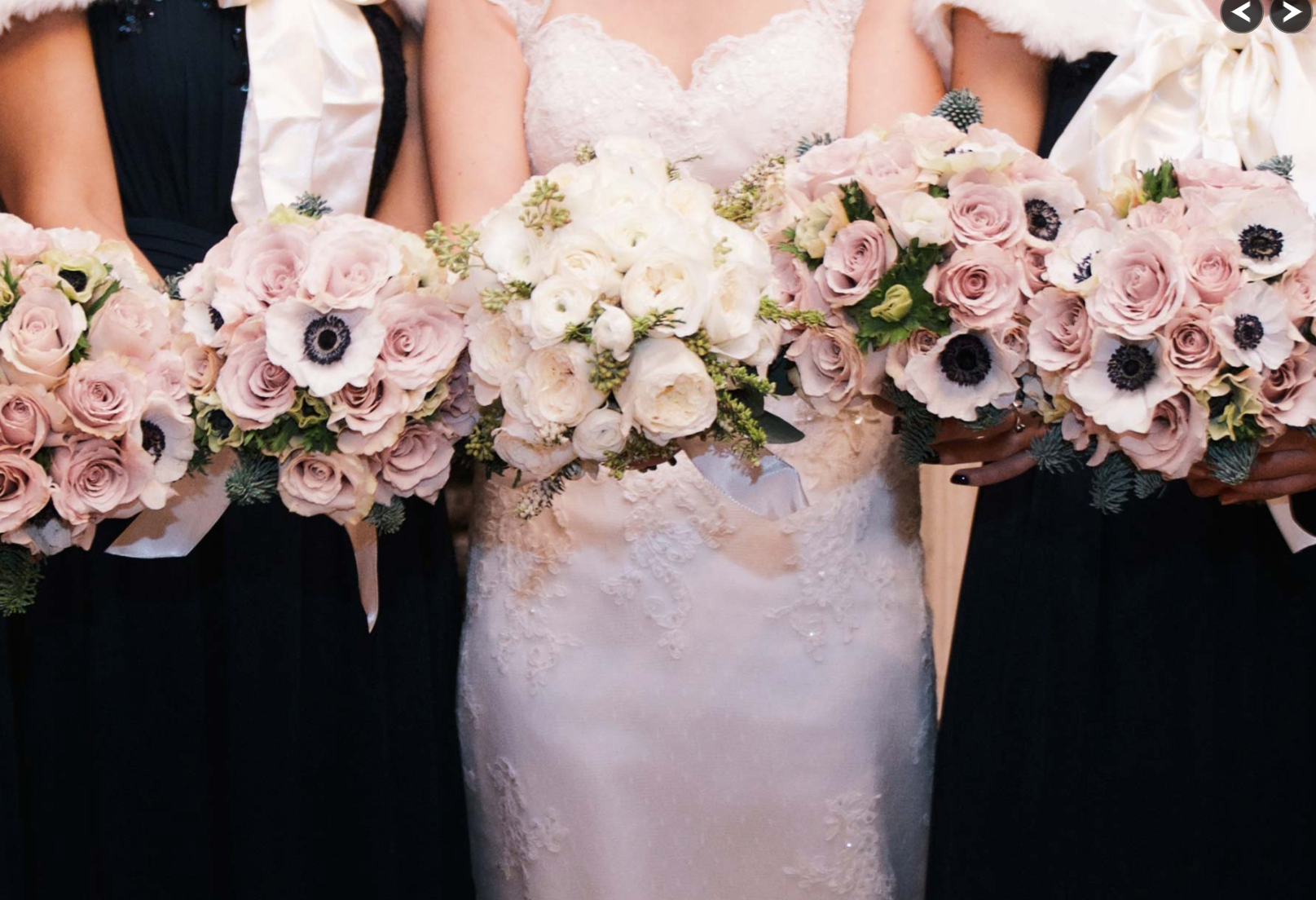 For a truly glamorous, city wedding in the depths of winter, what could be a more joyous colour combination than that?
The black gives you depth, solidity and sophistication; the pale pink oozes romance and love; and the white sings the purity and beauty of the bride - it would be fab if it snowed too!
Did you notice
the clever little details of winter grey-blue foliage in the bridesmaids posies which provides a perfect foil for the pink whilst softening the effect of the black of their dresses
the wide, delicately-edged white satin ribbon for the bride's bouquet and the pale pink, plainer satin for the bridesmaids' posies
the lucky white heather giving another visual and structural dimension to the bride's hand-tied flowers
the black nail varnish?
I've selected a few Dessy bridesmaids dresses below which I thought would be stunning with these flowers: you'll notice that for some I've gone for a slightly different idea than the bride above, but all work with the black and pale pink winter wedding theme.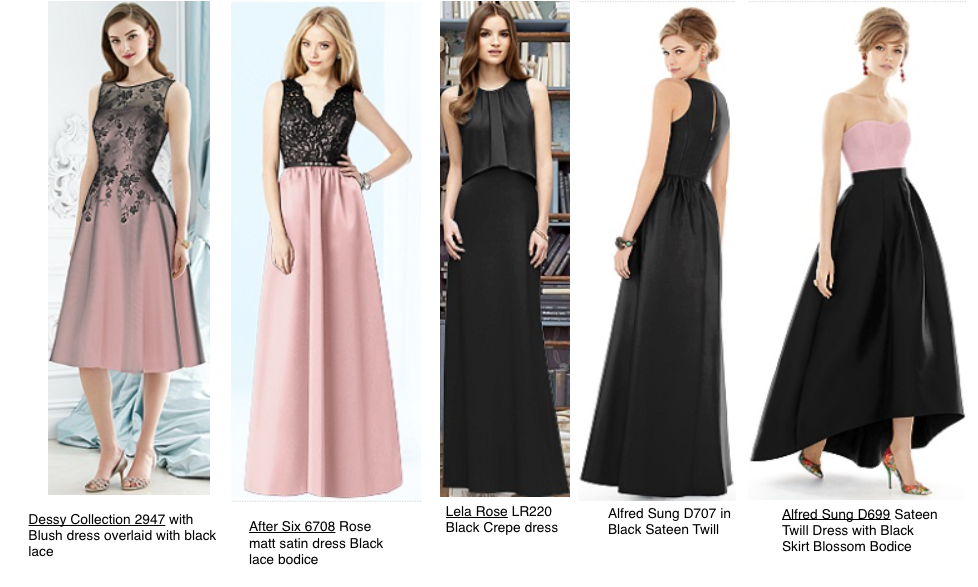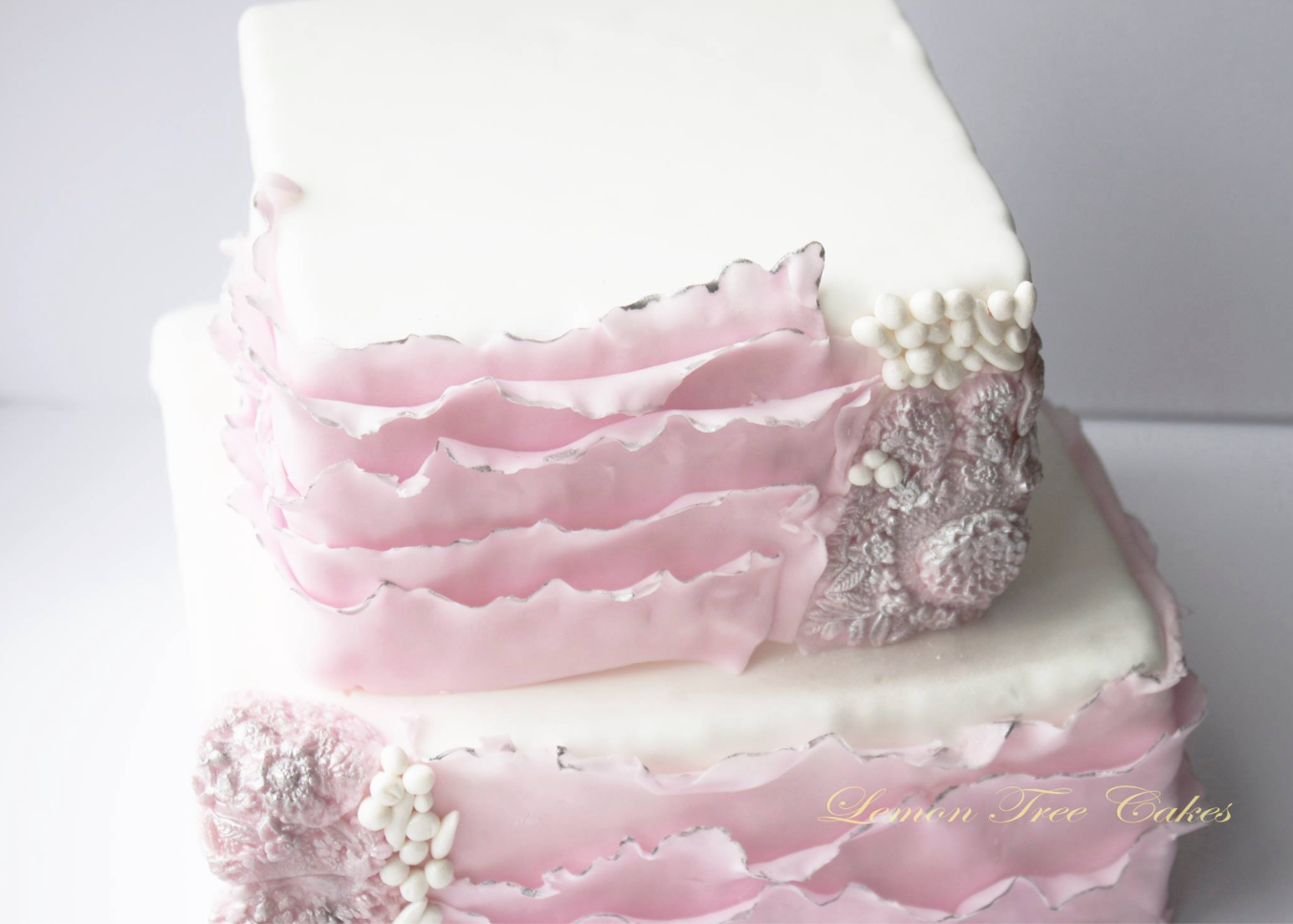 I was bowled over by the delicacy of this wedding cake from the Lemon Tree Cake Company and thought it was perfect for the black and pale pink winter wedding theme; the dark silver touches to the wispy pink 'ribbon' hints at the black, whilst the frosted pink flowers gives a nod to the season.
And last but not least, don't forget the wonderful groom - even if it's just a pair of new, pale pink socks on his wedding morning!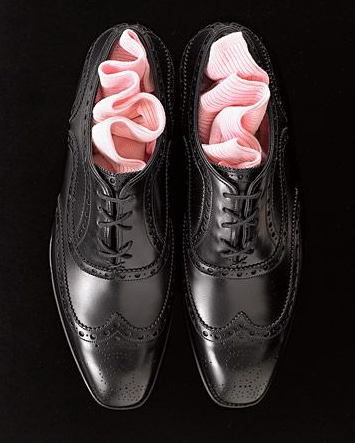 With thanks to Veevers Carter for their inspiration, and Lemon Tree Cakes Company for the beautiful cake.