Pick Plum Coloured Bridesmaid Dresses for an Autumn Wedding
As the sun loses some of its warmth and the days shorten, darker, richer wedding colours seem a natural choice. At this wonderful wedding captured by SB Child Photography for Tara Nicole Weddings and Events, the bride and groom embraced the changing seasons and went for a luxurious dark purple theme for the entire bridal party's outfits to a super effect.
The one shouldered, plum coloured bridesmaid dresses had straight skirts echoing the bride's own dress shape which was adorned with gorgeous ruffles. All the girls had their hair pinned up in elegant yet relaxed styles, with the bride wearing a short, silver edged veil which complemented the pretty silver design on her waist.
The flowers were a triumph: various shades of purple and pink old-fashioned roses gave the bridesmaids' hand-tied posies a ruffled look of their own, with additional white flowers in the bride's bouquet to match her dress and the groom's tie and pocket handkerchief - it's attention to that kind of detail that is so clever and just adds an extra note of cohesion to the whole event. The groom's ushers looked extremely dapper in their grey suits with plum ties and pocket handkerchiefs matching the girls' dresses. All absolutely harmonious as the pictures show.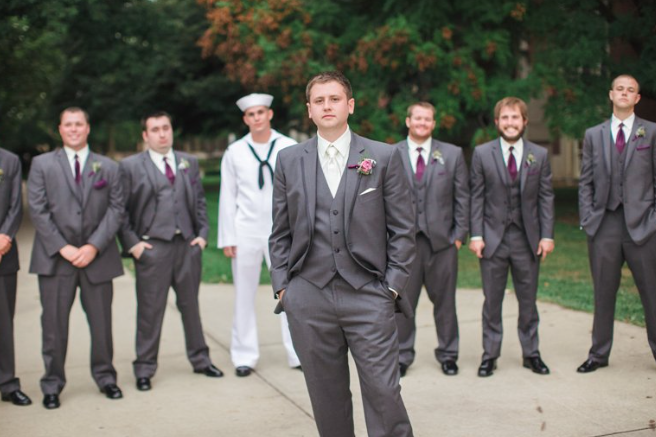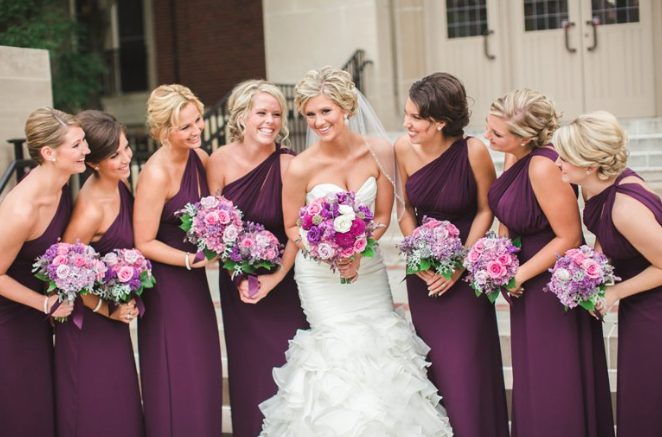 To shop for similar plum coloured bridesmaid dresses, take look at Social Bridesmaid Style 8156 from Dessy, shown here in Ruby.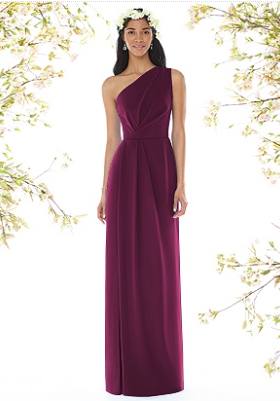 Happy picking!