Pashmina Wrap for Wintry Weather
Well, having enjoyed an Indian Summer that we just weren't expecting, the British Media have decided to rain on our parade by announcing that the UK is going to be in the grips of a four-month Snow-Fest any moment now!
So if you are tying the knot in the next few months, order your Pashmina wrap now from Dessy so you won't be scrabbling around at the last moment on your wedding day trying to find something warm and beautiful to wear over your dress! As you would expect from Dessy, we take colours very seriously and so each pashmina wrap is custom dyed for flawless matching with Dessy dresses and accessories. They are the perfect blend of softness and warmth, being 40% silk and 60% the finest merino wool. At approximately 27" wide and 72" long (plus fringe), these lovely shawls will keep the chill off, without spoiling the lines of your chosen gown.
As the bride, you can play it two ways. You can go the exquisitely pale and delicate route by choosing Ivory, Palomino, Venetian Gold, Blush or Dove to wear: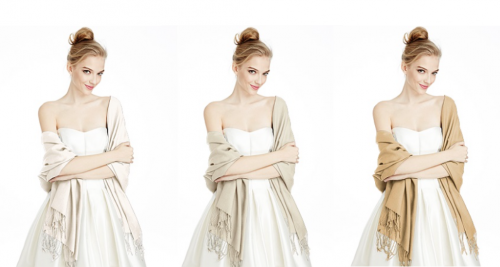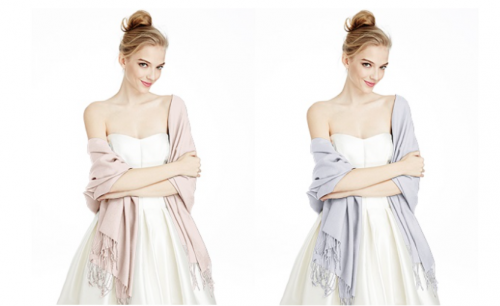 Or you can go all out colourful - maybe with matching shoes like these heavenly Teal Dragonfly Kitten-heeled Sling-backs from my favourite specialist shoe designer, Mandarina.com.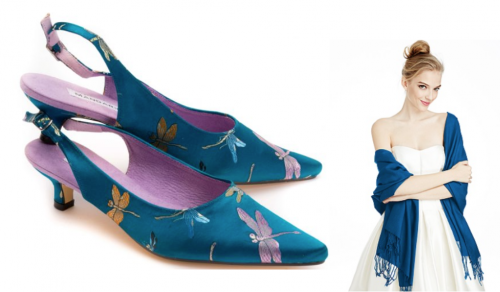 or go complementary and EXTREMELY funky with these divine pink boucle ankle boots with purple lining (also from Mandarina.com £168) - perfect if the weather really does take a turn for the worse!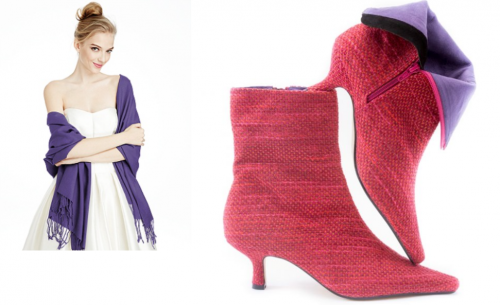 Of course, don't forget your bridesmaids and flower girls. At only £21, these silk and wool pashmina wraps will not only keep your girls warm but will make them feel very loved too on your special day. With dozens of colours to choose from, it's easy to find the perfect shade.
Shop on Dessy.com before those snow storms hit us!