Pastel coloured wedding dresses
Gowns in pale pink, gold and ivory - just a few of the options for pastel coloured wedding dresses in 2016. Take a look at these dresses and I think you just might be persuaded that it's a trend worth following!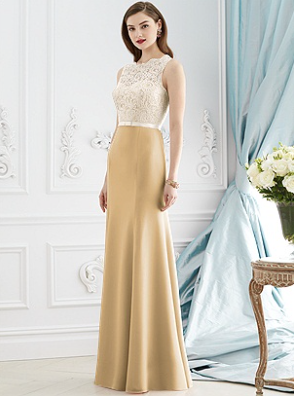 This is undoubtedly one of my favourites and spot on trend for 2016; not only is the dress of a pastel Venetian Gold topped with delicate ivory, but its trumpet skirt will swing glamorously as you walk providing you with the all important 2016 'wedding dress with movement'!
Its sweetheart bodice is covered by a beautiful marquis-lace, bateau neckline which is possibly one of the prettiest and most demure of lines; all the better therefore for having a fabulous cut-out back for contrast!



A similar look can be found at the divine Barcelona Wedding Designer Pronovias.co.uk; again, beautifully modest from the front but quite daring from the back!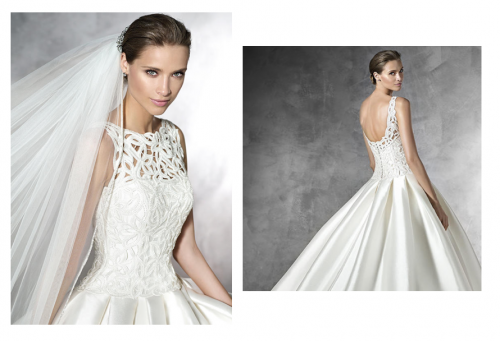 An alternative is this gorgeous, lux chiffon pastel coloured wedding dress (below) in that most delicate of pinks, Blush. Dessy Collection 6715 has a classic V neckline which calls out for a simple pendant necklace and coordinating earrings. The ivory lace bodice has an elegant sheen which easily befits a bride, particularly when wearing a veil, and its matching grosgrain belt and bow at the natural waistline makes this a super cut for the slimmer bride.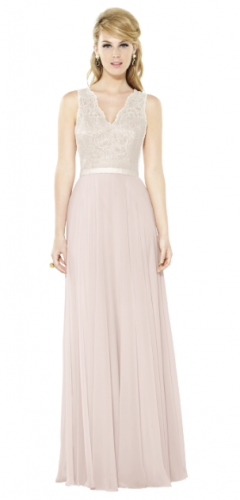 For more complex Blush pastel coloured wedding dresses, take a look at the lace one below, also from the Pronovias 2016 collection.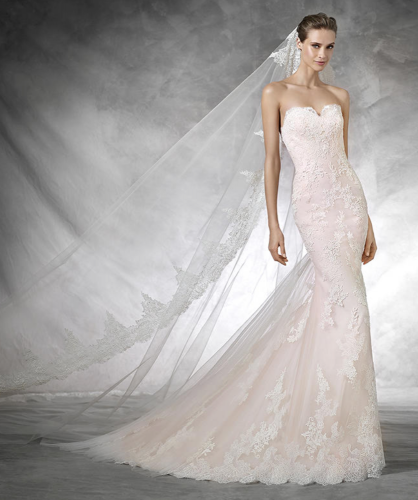 But if you want to really stand out in 2016 as the bride, you could go for an even bolder pastel with a Rose-coloured dress like this After Six 6675 in luxurious matt satin, one of my preferred fabrics for next year. With its neat bow detail at the waist, lace bodice and elegant skirt, this really is an exquisite choice; would you dare choose it?