Half the fun of watching any awards ceremony is the eyeing up of the glamour and style of the red carpet gowns beforehand; some years there is a definite trend whilst in others, there is wide interpretation of what is 'in'.

And the British Fashion Awards 2015 last week fell more into the latter camp, with the possible exception of women wearing either men's tuxedos or all-black, full-length gowns, which always looks fabulously sexy and smart although neither are solely a 2015 phenomenon.

But I guess there will always be the temptation to wear a red gown to a Red Carpet Event and sure enough, Lady Gaga, Salma Hayek and Charlotte Olympia Dellal, the Winner of the Accessory Designer of the Year Award, all wore post-box red, full-length gowns and quite a dash they cut.

Both Lady Gaga and Charlotte wore sheath gowns with straight-across-the-top bodices, the former with an illusion neckline and the latter with spaghetti strap bows. I rather like the move away from the sweetheart neckline for a change, but to be honest, I'm not a great fan of primary red.

So I've selected a few strapless Dessy gowns in a variety of reds that I would choose from, taking inspiration from the celebs. First up is this Lela Rose LR192 in Flame-coloured Duchess Satin for the ultimate Vamp-look with its trumpet skirt to help you sashay up that carpet!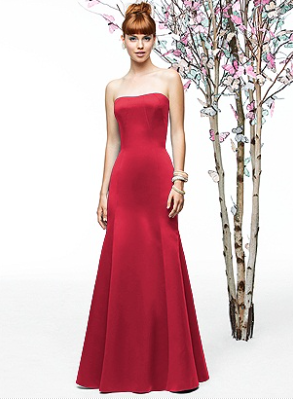 For a slightly more relaxed style, I'd go this fuller skirted Dessy Collection 6732 (below) in Flame with Spanish Red lace in lux chiffon. The deeper colour of the classic lace overlay adds a beautiful depth to the bodice.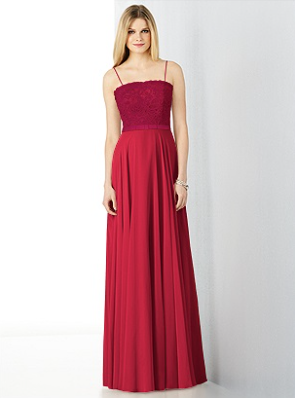 I always think that a Peau de Soie is a glamorous fabric so I would also be tempted by this full length Alfred Sung D617 with is elegant pleated skirt and sassy flat bow detail at the back - always important to have a feature when you turn around!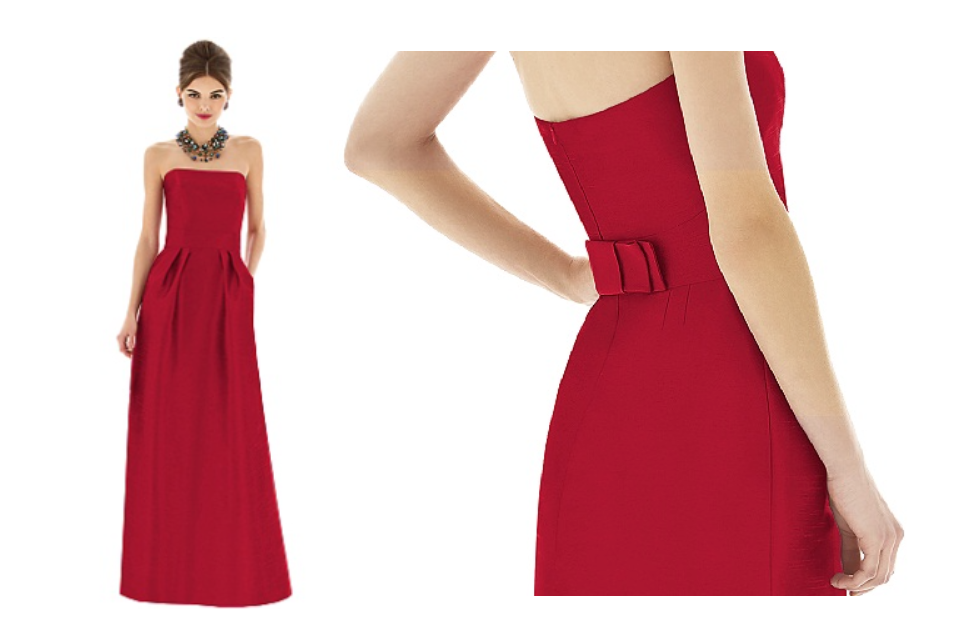 Of course aside from the back detail, flashing a bit of leg is almost de rigeur when you're wearing a red carpet gown so this Dessy Collection 2910 in Flame is perfect for bringing out the siren in you!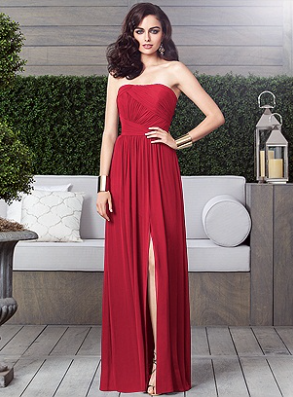 But if you are lucky enough to be invited along whilst still in your teens or early twenties, I'd really recommend either the beautiful Social Bridesmaid Style 8122 at the very top shown in a luscious dark Valentine red, or this pretty yet elegant Alfred Sung gown D583 in Poppy with its fun hi-lo hemline and fuller skirt - perfect for any Red Carpet event. And it looks particularly fab with those pale blue shoes!