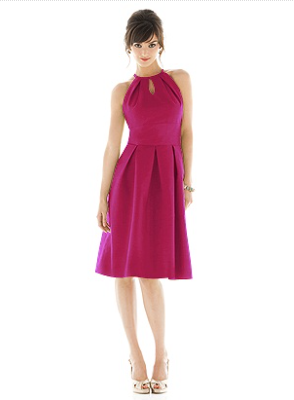 I love the look of keyhole dresses - whether the opening is in the front of the dress or at the back. There is a rumour that they were created in the 1960s as a way of showing a tantalising bit of cleavage whilst still retaining one's modesty!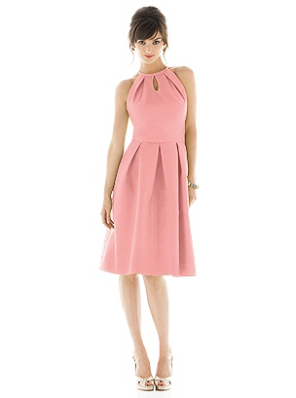 These two examples by Alfred Sung, above left D449 in Sangria Dupioni and D441 in Apricot Peau de Soie, are too glamorous to be considered a tease. They are both actually halter necks with a very pretty pleated neckline which is particularly suitable for those with a slightly flatter chest. The wide waistband and pleated skirt again suit the thinner girl and create the illusion of a more shapely figure.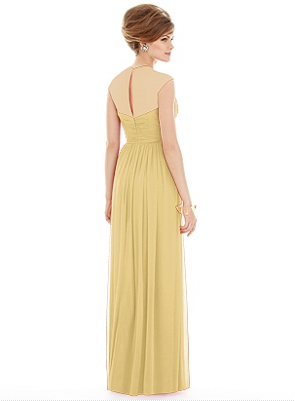 This delicate shade of yellow (left) is called Maize and here it shows the elegance of a keyhole back to a dress - all so important given how often the bridal party will have their backs to the congregation during the ceremony. Another Alfred Sung, this style D693 is made of a delightful chiffon knit which has a fabulous flow to it as you walk. The shirred midriff is good for girls who are perhaps a little pear-shaped.
Meanwhile, this heavenly Alfred Sung D690 is almost the essence of sophistication with its peplum frill, modified halter neck and slim skirt.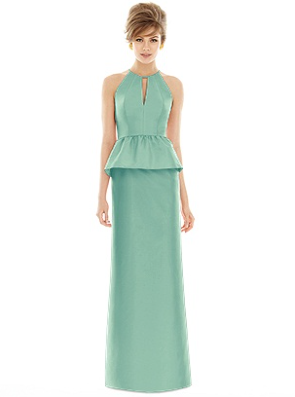 The short version, Alfred Sung D687 (below left), shown here in Azure, is perfect for a smart, daytime reception, rather than a more relaxed affair: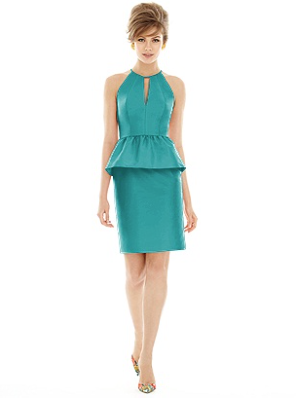 The Social Bridesmaid 8150 (below right in Cornflower) is an unusual design with a keyhole front and a pretty side bow detail at the left side of the neck.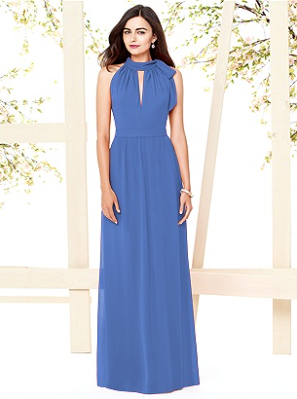 And last, but obviously not least, is the Social Bridesmaid 8149, shown at the very top in fabulous Sangria, and below in Majestic - what a stunning dress.