Easy crafting - paper flowers to dress up your wedding day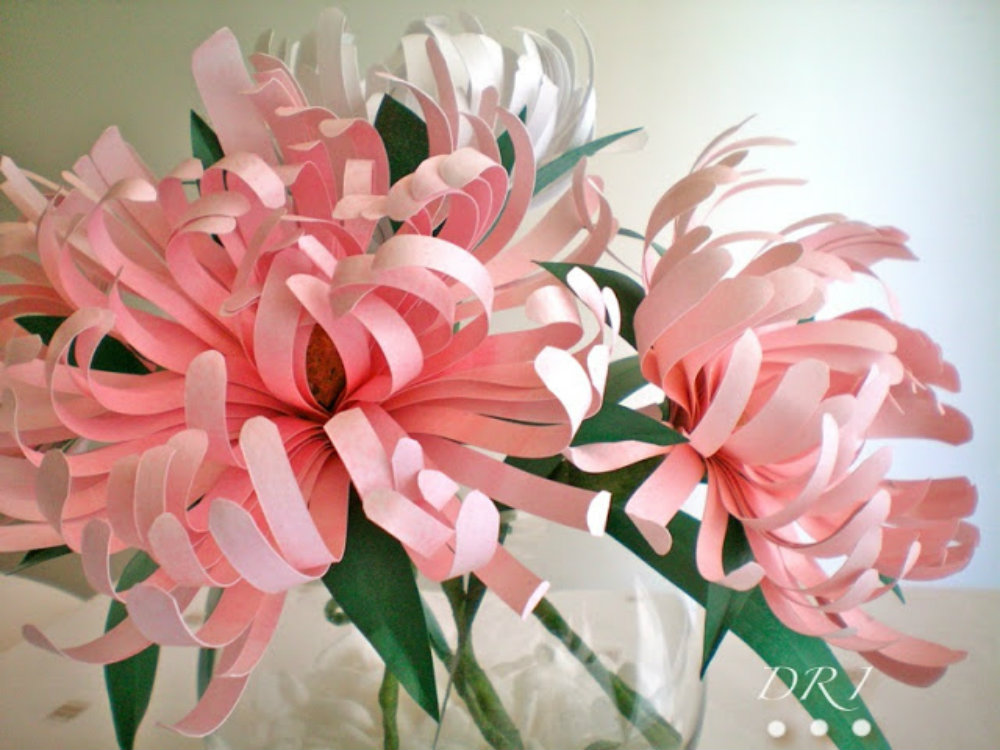 Just sometimes, you get to craft something and it's great. By which you mean you can follow the instructions and the finished result looks fantastic. Professional and something to be proud of (rather than a bit of a disaster).
Which is what we think you'll find when you follow this easy tutorial for making paper chrysanthemums. The ones here have been made in a soft pink but actually chrysanthemums come in many different colors - whites, yellows, creams, golds, rich deep purples and hot pinks - so you pick out the colour that's going to suit your theme (or maybe even more then one color.)
You will need:
Paper of 180 gsm or a thin cardboard (in a colour of your choice)
Craft knife
Sharp scissors
Florists wire
Florists ribbon
Masking tape
Watercolor paints
Paintbrush
Cork
Method
Paint the paper horizontally with watercolor and dilute the brush in water to layer the color. (You don't need to do this if you've bought paper in a color you already like).
Cut the paper into strips of less than 1cm. It can be cut with scissors. Don't worry if the strips aren't exactly the same width.
Wind the scissors round the tips of the petals and curl with the edge.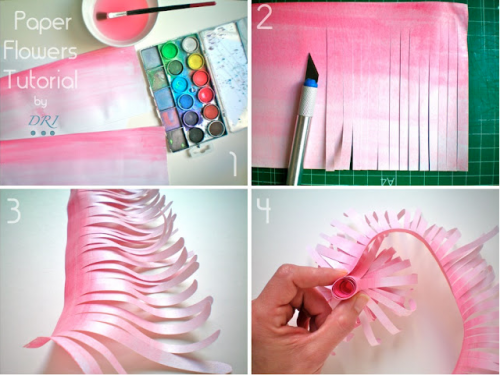 Cut the leaves from green paper.
Fasten them to the flower with masking tape.
Cut a piece of cork, pass through the wire and turn it.
Push it gently through the middle of the flower.

With masking tape secure the flower to the wire and just cover it to give body to the stem.
In the middle of the stem add a leaf.
Make the flowers in different sizes to add variety and realism
You can also create flowers that look like buds or some with fully open petals.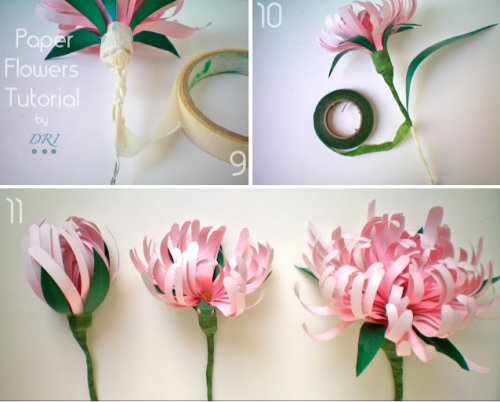 Using Flowers For Decoration
So where to feature your flowers once you've made them? Well, you could use them to decorate chair backs at your wedding venue. Tie them onto napkins to decorate place settings. You could make a bouquet out of them for the bridesmaids.

Doorways always look good decorated with flowers, so if you've the inclination, why not make enough to create a garland to go around the entrance to your reception.
Original blog by DRI