Why You Should Keep An Open Mind When Shopping For A Wedding Dress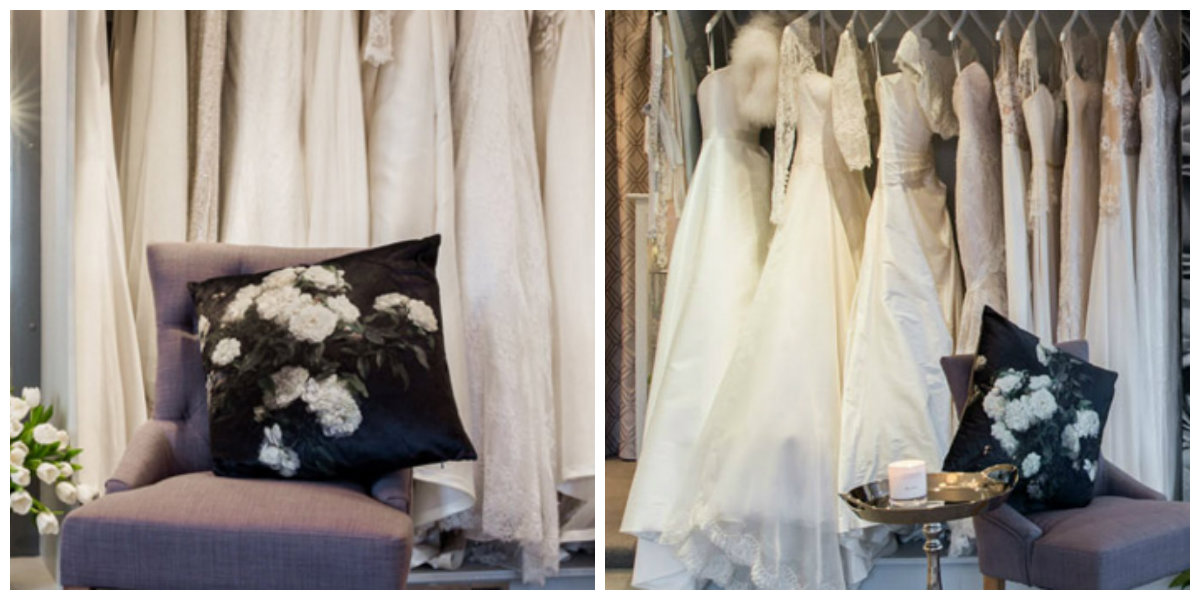 One of my girlfriends is getting married in December - she's had a bit of a whirlwind engagement - and because she knows I write about weddings she asked me to join her on a wedding dress shopping trip.
I was so honored. So at the duly appointed time, I met her and her teenage daughter at the wedding dress shop for the appointment she'd set up, at Ellie Sanderson's shop in Beaconsfield, Buckinghamshire.
Fixed ideas about a wedding frock
It was a real eye opener to me. My girlfriend had arrived with a moodboard and she had very fixed ideas about her colors, the style of dress she wanted and the fit. (Her daughter is quite involved in the wedding planning side of things and had a very efficient-looking file with her).

My girlfriend (I won't name names in case her husband-to-be is reading this!) had a look around at all the gowns, and then chatted to Ellie about the sort of wedding day she was planning, the time of year it was, where the ceremony was being held and the time of day.

Experts like Ellie Sanderson look at a bride's whole personality - as well as figure - and I was impressed at how quickly Ellie summed up my friend's being.
Dressing For Your Fiance
The bride to be is a bright, bouncy kind of a person - it's a second marriage - and she wants to look amazing for her fiance (no surprises there then).
Ellie pulled out a selection of dresses from the racks - talked about why she thought they would suit and the pair of them then went off to the changing rooms, whilst teenage daughter and I chatted and waited impatiently. At this point you should know that my girlfriend had arrived in jeans and a shirt - so when she swept back out again in a floor length full bridal gown, with her hair pinned up off her shoulders, there was a total transformation.
Play Up Your Good Points
My friend - let's call her D - has great shoulders, lovely skin and a good bustline. All of which were accentuated perfectly in an ivory, strapless frock with a hidden built-in corset which gave her a wonderful shape. The duchesse satin was pleated across the front (a confidence trick if you're less than perfectly happy with your tummy) and then the whole gown fell below to a wonderful full, sweeping skirt with a small train. D looked quite the princess. She immediately said 'this is the dress I want' but we persuaded her to try on a few more, which brought out different features. Each had their good points - but we all agreed that the dress she first tried on was The One. Which is interesting, because that's not always the case. Brides to be often arrive at a shop with a particular idea of a gown they've seen in a magazine and demand to try it on but are disappointed when it doesn't look quite right on them.
Listen To The Experts
If you think about it, the experts in bridal shops see so many different girls a year and know the different specialties of different designers - so with just a look at you they can sum up what is going to show off your good points and flatter, and what will diminish your not so good characteristics.

Anyway, about an hour and a half later, D went back to the original dress and put it back on. As it was strapless, she felt she needed more of a cover-up for the ceremony itself and has chosen to wear a delicate lace tie back top made by Sassi Holford which gives a perfect day to night look. (She also looked very pretty in it.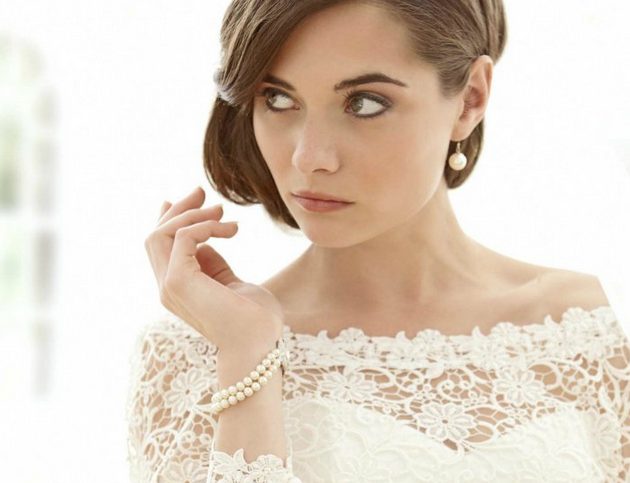 Lace top by Sassi Holford

Originally D had wanted a purple wedding dress - to introduce a note of purple I suggested that she wear some purple shoes instead - an idea she loved for the quirkiness of it. Of course, she's getting married in December so purple is a wonderfully rich winter color for flowers too.
So to sum up. When you're wedding dress shopping:
Take a moodboard with you so that the shop knows the kind of look you're after

Talk about the sort of bride you want to be and how you see the event going
Let the experts look at you, your shape so they can judge what will suit you
Choose some dresses yourself but let the experts also make suggestions - you may well be surprised and that may end up being the dress you wear!
Think about colored accessories like shoes
If you have teenage daughters and nieces, don't be afraid to invite them along. If you look good they'll tell you, if not they'll also tell you honestly!