20 Things You Should Know About Bridesmaids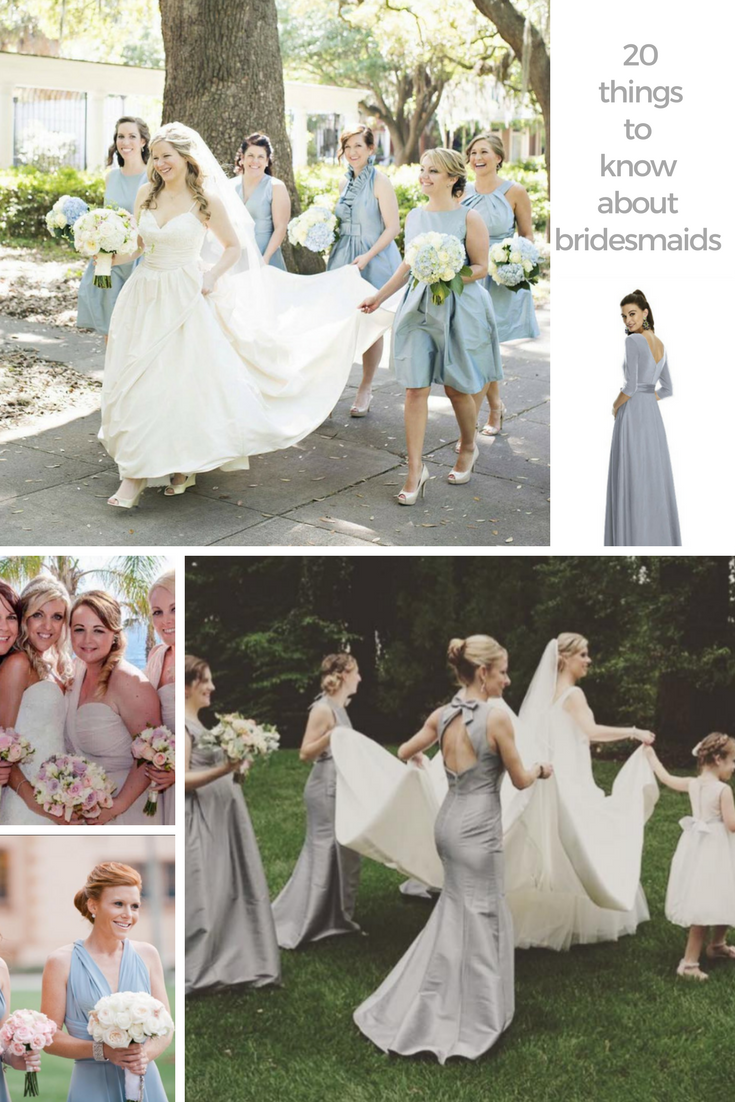 (Image credit: Dessy Facebook page)
A Sri Lankan bride currently holds the record for having the most number of bridesmaids - 126 - at her wedding in November 2013
The Romans started a tradition of dressing the bride and bridesmaids the same - something that continued until Victorian times. But not a tradition we're likely to follow today!
The oldest ever bridesmaid was Edith Gulliford, at the age of 105. She was maid of honour to Kyra and James in 2007 at Chatham, England. (Source: Guinness World Records).
Don't be a bridezilla and try and get involved in your hen party organisation. Leave that to your chief bridesmaid and the rest of the girls. It's meant to be a lovely surprise for you!
Your best friend might not be the best person to be your chief bridesmaid. She might a) live abroad b) have young children or be expecting c) not be a great organiser d) have a very demanding job e) be shy and retiring. You need to think about who is going to be able to commit to the job and do it well
Be sensitive about finances. Not everybody has big salaries or spare cash. So let it be known that you're not necessarily expecting to have a blow-out weekend in a European city or further afield for your hen do. (Remember what happened in the film 'Bridesmaids'?)
If you haven't seen the film 'Bridesmaids' then it's part of your wedding planning to catch it on Netflix or a DVD. Plenty of food for thought there
If you want your girls to have their hair and/or make-up professionally done on the morning of your wedding, then you really need to foot the bill for this (see note 6)
On the same note, don't suggest that your girls join you on your diet/boot camp, daily fitness sessions. If they want to, fine but don't put any pressure on them. They come as is!
Work with your girls to choose their bridesmaid dresses. Don't just tell them what they're wearing - let them get involved by giving them a choice of gowns
You should expect to pay for your bridesmaids dresses. Unless you've really given them carte blanche to pick out what they want to wear with no involvement. Make it clear ahead of time that you're expecting them to pay for their own dresses (if that's what you've decided to do)
Putting your bridesmaids all in the same frock and the same colour is a bit dated. Far better (and far more flattering for them individually) to have different styles of frock in styles that will suit them. For example, your well-endowed friend may not thank you for putting her in a strapless number(Image credits: Little White and Kaleigh Foster via Dessy Facebook)
Think necklines and hemlines. Your girls will probably have a good idea of which neckline suits them best - one-shoulder, strapless, sweetheart. And as for hemlines, not everybody will want to wear a short cocktail frock - if they're self-conscious about their legs they might prefer a tea-length gown.
The same goes for colours. The same colour won't necessarily suit everyone so consider having different tones of the same shade (for an ombre effect). And some colours work well together - royal blue and orange, pastels, pale blue and sand tones. Get a Dessy Pantone tool to help you work out your colour scheme.
If you're marrying in the summer, or one of your maids is going on a sunshine holiday just before your wedding, gently remind her of her style of bridesmaid dress so that she won't have strap-marks that will be noticeable.
Your bridesmaids should each be allowed to bring their boyfriends/partners/husbands as a plus one. Goes without saying!
Don't insist that your bridesmaids join you in endless favour-making afternoons/evenings. You can invite them along, but it's not everybody's idea of a good time to spend hours painting shells/boxes/making bunting
It used to be the tradition that bridesmaids were always single, unmarried women. That's no longer the case I'm glad to say
Girls are junior bridesmaids - not flowergirls - after the age of eight. Dessy has a fabulous selection of junior bridesmaid dresses designed to fit pre-teens - and many of them match the adult bridesmaid dresses by Dessy.
Remember that you want these girls to be your friends when you're married. So don't be a bridezilla. They're part of your big day and there to help and support you - so have fun too!