A rainbow wedding theme? These photographs will make you LOVE the idea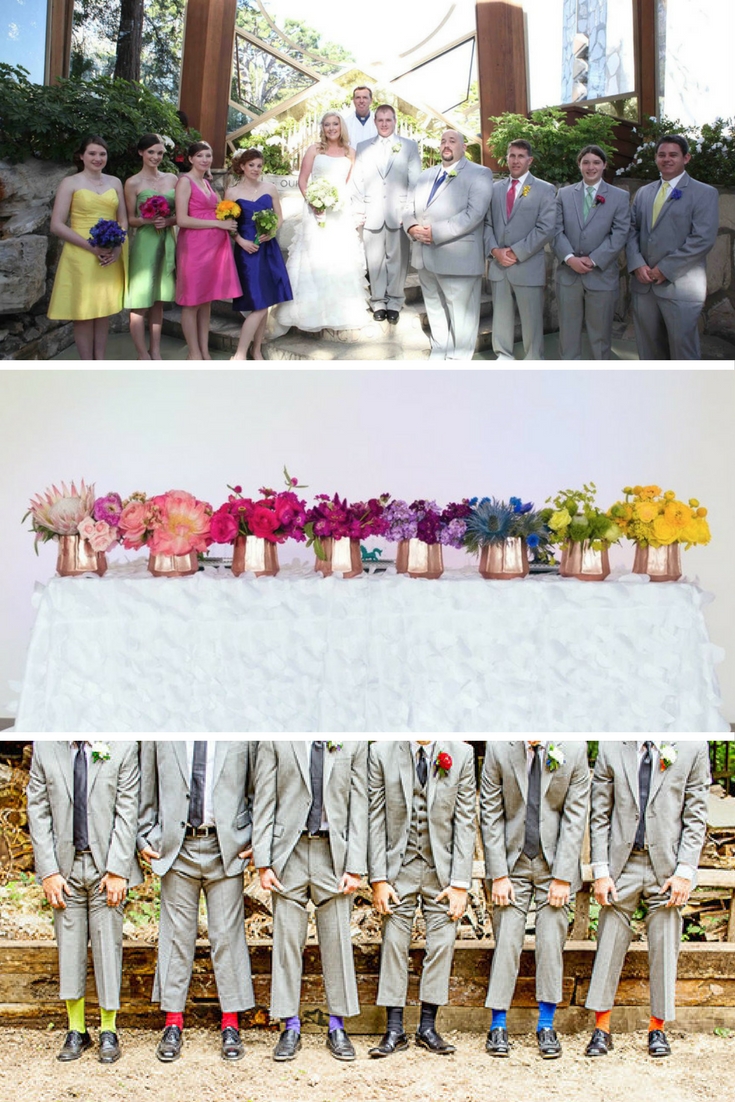 Wondering about colors for your wedding day?
Maybe you find pastels a bit too ... well pale.
You love brights but can't decide between scarlet, emerald green, electric blue or a striking mauve.
Nature has given you the perfect color theme - a rainbow
Put together red, orange, yellow, green, blue, indigo and violet and you have your colors right there. And they work together beautifully. There are all sorts of advantages to using a range of shades.

Color choices for your bridesmaids
Not all girls suit the same color. Well, not unless you're planning on having identical twins as bridesmaids! Depending on their complexion, some girls will suit a bright red or an orange. Particularly if they have dark hair. A blue often looks good on blondes, as can indigo. Maids with darker complexions will look fantastic in yellows or violet.
The thing is, if you go for a rainbow theme then you can offer your bridesmaids color choices. Try different dresses on until you find a shade that looks wonderful. And of course you can do the mis-matched bridesmaid style thing too, with different necklines and waistlines - but that's a whole other story.
Just take a look at Dessy's wide range of colors for bridesmaid dresses and you'll be well on your way. You can also order fabric samples in different colors too.
And of course, you can investigate different colored shoes. Maybe put purple shoes with a red dress, yellow shoes with a blue dress ... and so on.
Blooms in every hue
The same applies to flowers. You can take your pick between red roses, blue delphiniums, lilacs, sunny yellows. Talk to your florist about what's available to you in the season in which you're marrying.
We think it would be super stylish to have each of your maids carrying a bouquet in a separate rainbow color (your florist would just love to have a project like this).
Top photograph - from top: Shop Joielle, CW Wright Photography via Wedding Chicks , Volatile Photography via Wedding Chicks
Bottom photograph - clockwise from top: Volatile Photography via Wedding Chicks, Style Me Pretty, Volatile Photography via Wedding Chicks, Volatile Photography via Wedding Chicks