9 stunning photos of real Dessy weddings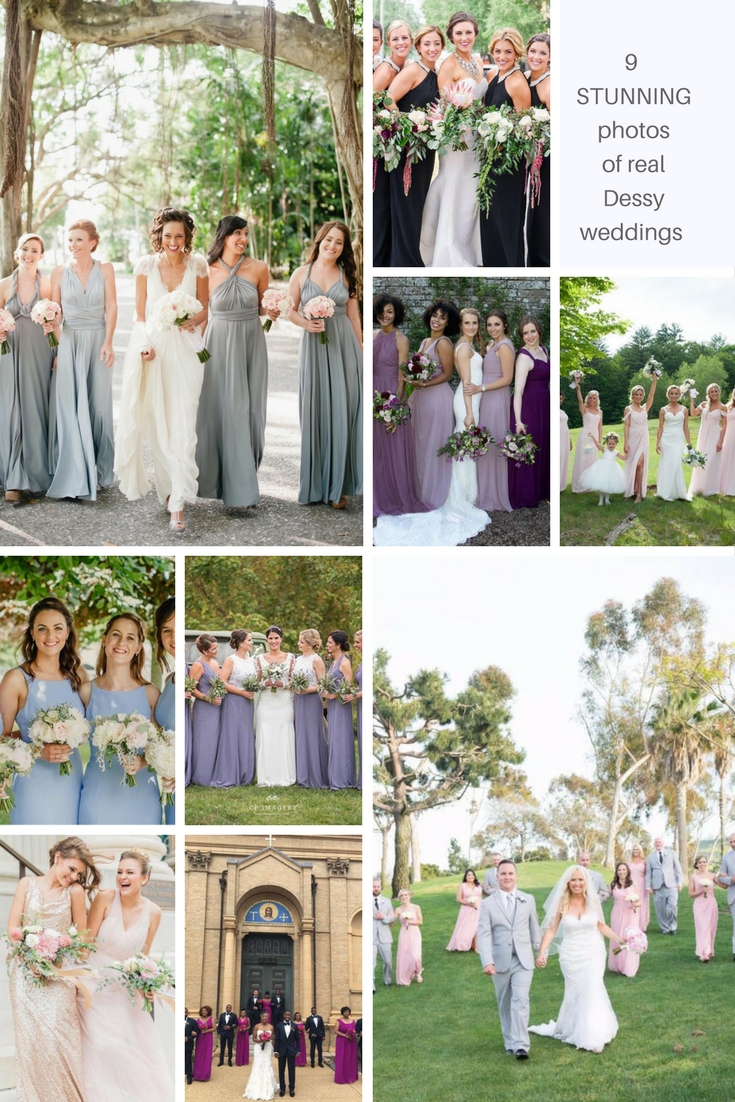 Today we thought we'd show you nine completely different Dessy weddings, with bridesmaids dressed in nine completely different styles of dress.
We know girls have different figures, different complexions and different personalities - which is why we offer such a variety of different designs, different necklines, different lengths, different fabrics, different colours.
But the best way of showing you this is by showing happy bridesmaids who know they are looking gorgeous.
Let's see how these brides got the look.
1. Rocking the Dessy twist wrap dress in greys
Look at the top left picture and you'll see the bride with her entourage of maids all dressed in our ever-popular Twist Wrap dress. She's let them each choose slightly different shades of silver and grey and most importantly, let them wrap the necklines themselves so they are showing off their best features. No wonder they are smiling. All these frocks are floor length, which provides visual continuity and best of all, these frocks are going to be taken out from the closet again and again. Twist wrap dresses are just so versatile!
2. Halter necklines
Moving to the right we see our bride has dressed her maids in Dessy halterneck bridesmaids frocks in aubergine - with a pearl choker detail. What a stylist!
3. A masterclass in ombre
Look below and you'll see how to get ombre in shades of mauve and purple absolutely right. Again, this gives you the opportunity to let your maids choose a color that suits them best - and again they've all got different necklines on their frocks (so they are doubly happy). Check out Dessy frocks in Passion, Tahiti, Dahlia and Plum shades to get a similar look.
4. Delicate pinks
To the right is the quintessential wedding in soft pinks. A light pink or blush demands a soft flowing fabric to set it off beautifully and we love this chiffon bridesmaid style chosen here. So perfect for a romantic summer wedding day.
5. Making pastels work harder
This bride really thought it through. She styled up her big day to perfection by getting the bridegroom and groomsmen to wear pale grey suits that worked perfectly with her bridesmaids pale pink gowns. We love this. (Get the bridesmaid look here).
6. Adding drama
This is one chic and sophisticated wedding day. Groomsmen in classic black. Bridesmaids in long column gowns in Persian Plum. A color combo that makes for awesome wedding photographs.
7. Sparkling sequins
To our left we have a bridesmaid frocks in sequins. Because we think sequins are just too pretty and perfect to be kept for evening affairs. Why not sparkle your way through the afternoon and carry on as the sun goes down? Get the look with a Dessy sequinned bridesmaid gown here.
8. Periwinkle blues
Look up. Having a rustic style wedding day? This bride chose simple periwinkle blue bridesmaid gowns for her maids, offset with classic white and pink flowers. Timeless, pretty perfection ... Get the Dessy look here.
9. It doesn't have to be a bridesmaid dress
If you're not sure - mix it up with different tops and skirts, in different styles and fabrics. We have sequinned bridesmaid tops, chiffon tops, or you could have a sequinned top with a chiffon skirt. And just about any color you can think of. Or maybe some maids wear a dress, the others mix it up. As choices go, this is a happy one.
All these real wedding images from Dessy Facebook page - follow us here (if you don't already!)